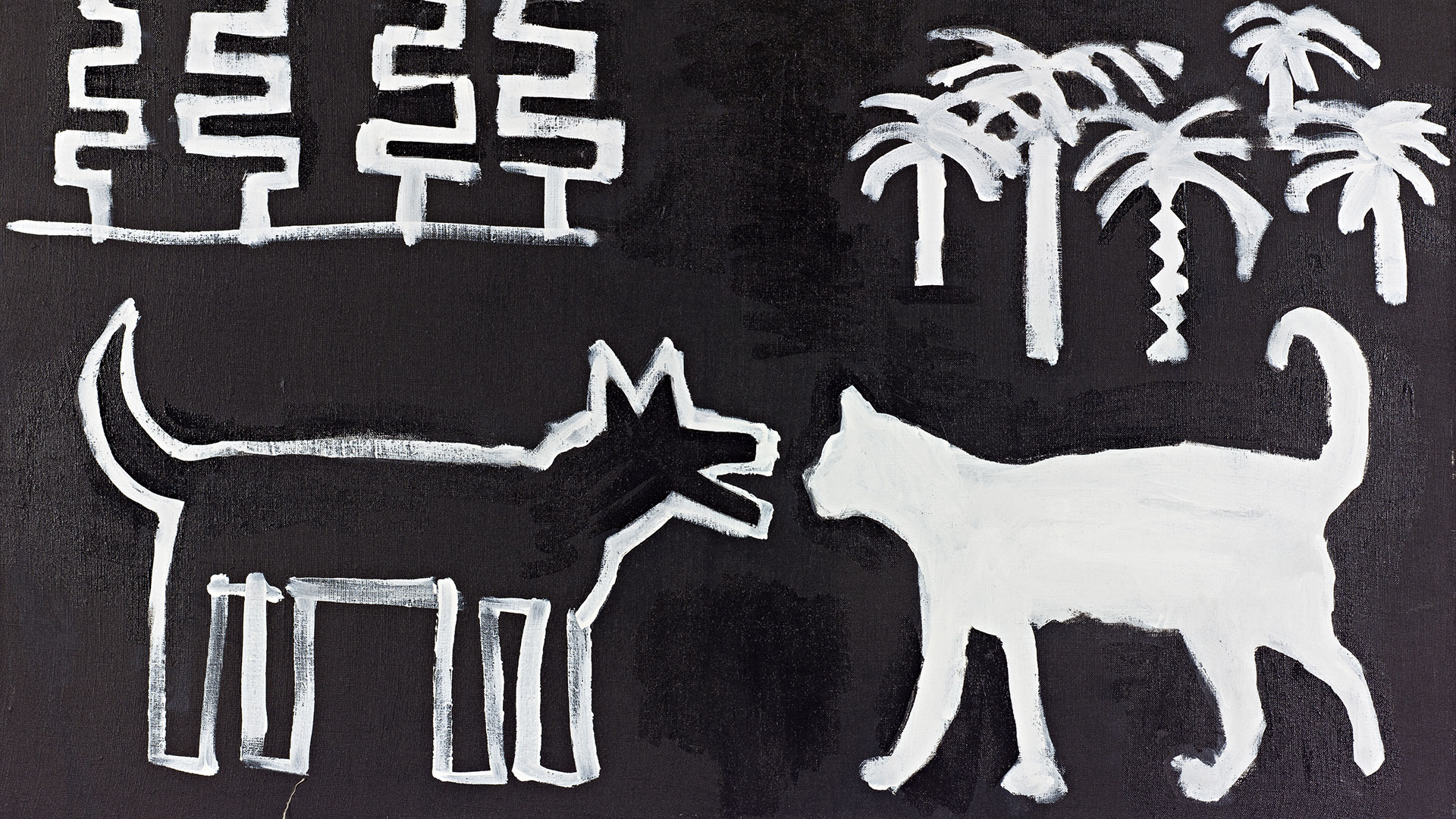 Cats and Dogs


May 9 2017 - April 7 2018
Curator: Orna Granot

Cats + Dogs
WELCOME TO AN EXHIBITION DEDICATED ENTIRELY TO THE WORLD'S MOST BELOVED PETS!
The dispute between cat-lovers and dog-lovers is never-ending — and one's preference tells us quite a bit about them. This exhibition explores the deep connection between dogs and humans and our particular view of cats through ancient artifacts, contemporary artworks, sculptures, videos, paintings, and photographs. Though presented by the artists with affection and amusement, the images also offer a mysterious, critical, and even ominous perspective on these animals.
Although all the images of animals on display were created by human hands, on this floor dogs and cats appear on their own — at times in the wild and at times with clear traces of our human world.Whether you have a dog, a cat, or neither; whether you prefer one, the other, or none — you are invited to examine these familiar animals in a new and at times surprising light.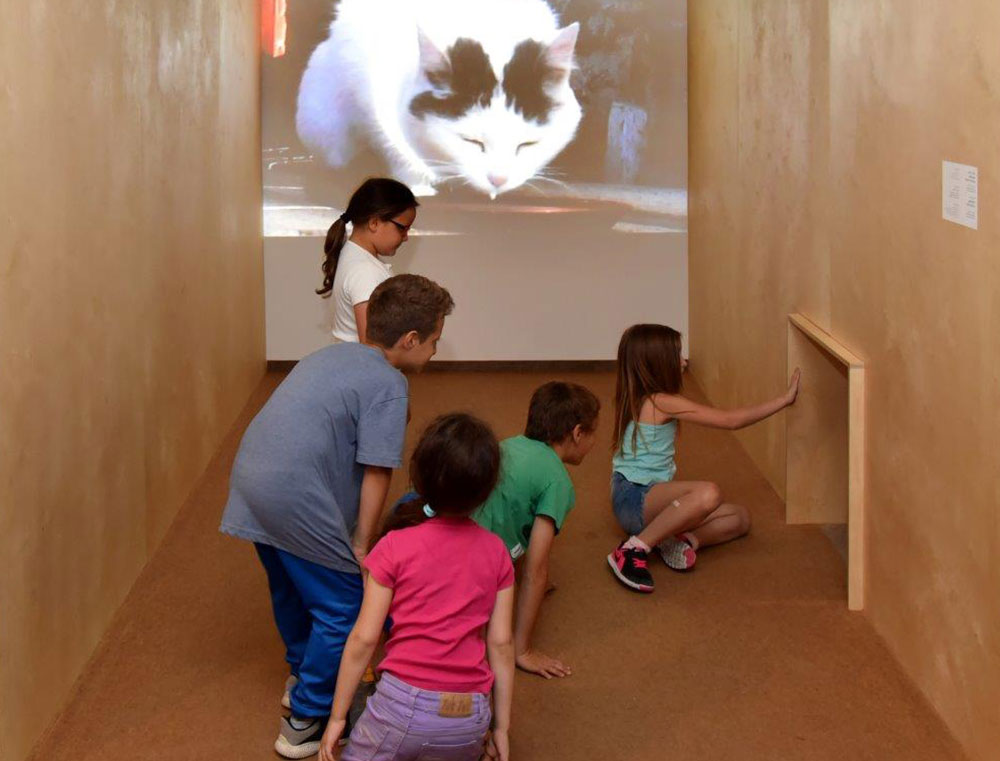 View of the Gallery (Peter Fischli David Weiss, Buzy, 2001, video, 6 min)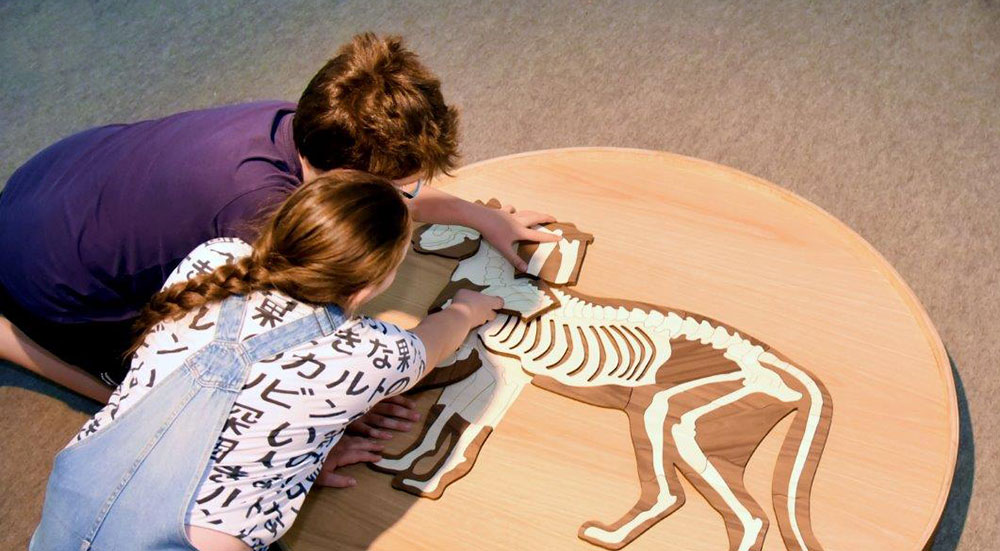 Sarit Shani Hay, Catdog, 2017,
Canvas, faux leather, and acrylic filling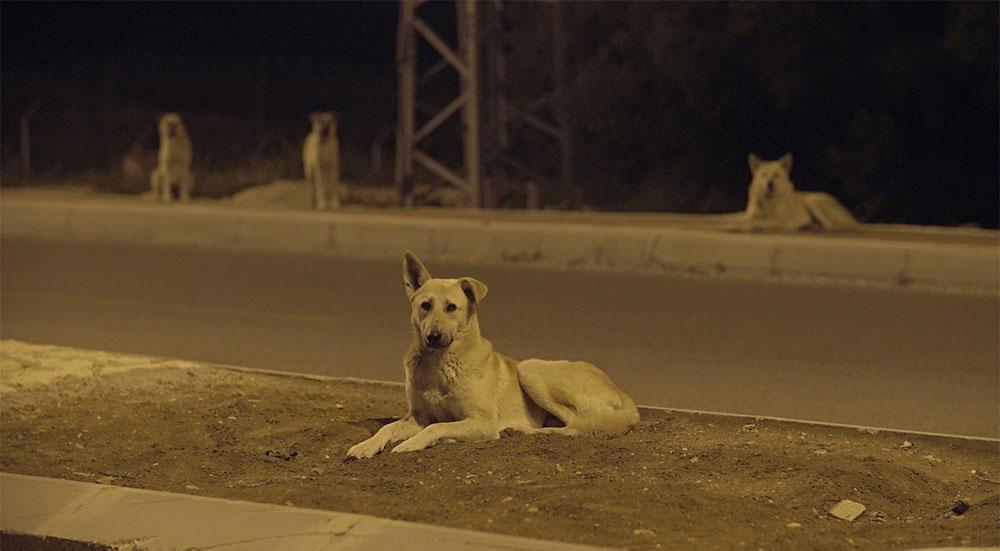 Itay Marom, Dogs, 2015, HD video; 11 mins, Sound design: Rotem Dror
---

CAT OR DOG?
Cats and dogs are the stars of this exhibition, which features over 100 artworks devoted to mankind's most beloved pets. These works invite the viewer to see these familiar animals in a light that is affectionate and bemused, while also mysterious, critical, and even ominous.
Who is truly "man's best friend"? Perhaps this question can never really be answered and, as the exhibition shows, the choice between cats and dogs
says more about us than about them. The photographs and drawings of cats and dogs on display call to mind the human hand behind these images and representations of these animals - together and apart - in art and in culture.
If you prefer dogs, begin in the dog area; if you are a cat person, follow the tails and the mews. Either way, you will end up in the section for people who love both or neither; there cats, dogs, and people all come together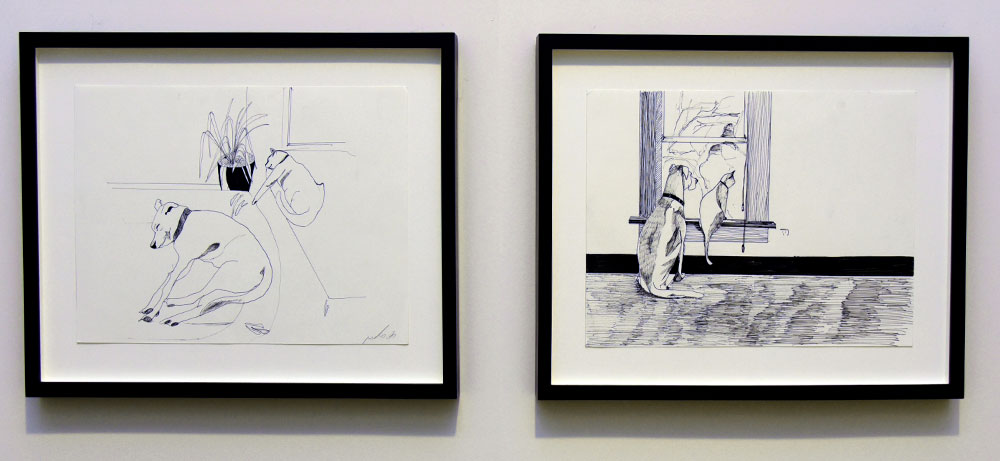 Rona Perlman, Alfi and Izzy, 2016, Pen on paper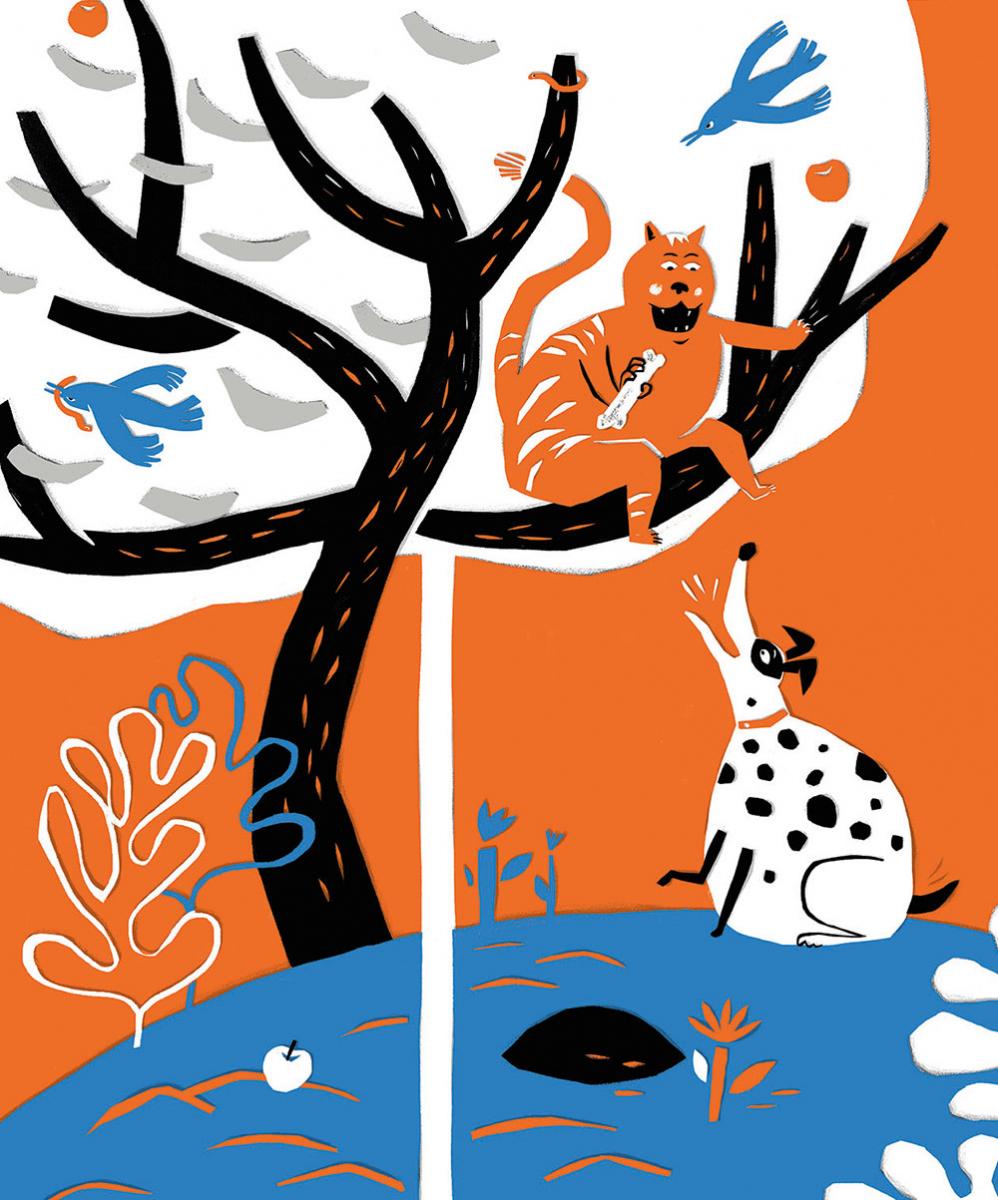 Eitan Eloa, Dogs and Friends, 2017, Digital illustration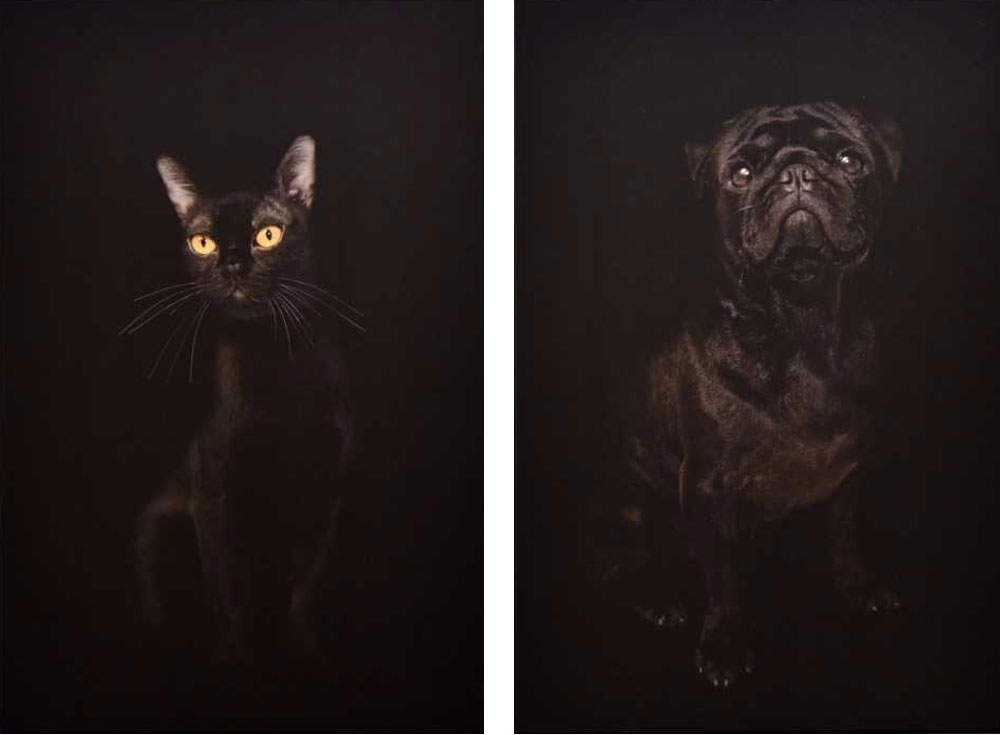 Netta Laufer, Cat and Dog from the "Black Beauty" series, 2013, Color print
---

Dogs
Dog is "man's best friend" in many languages, yet the relationship between human and dog is not one of equals. We select our dogs, own them, and take care of them. In the dog section of the exhibition, you are encouraged to see this strong and timeless bond from the other side.
Ancient and fascinating objects — such as the ruins of a prehistoric grave shared by a woman and her dog, and a coin depicting Odysseus's emotional reunion with his dog Argos (listen to the story here) - are on display alongside modern portraits in which dogs are companions, symbols of loyalty and obedience, and yet still cast as supporting characters.However, there are also works which place the dog as the central figure. Though the boy in Gal Weinstein's steel wool painting looks admiringly at his dog, it is the dog who looks straight at the viewer; in Anat Shalev's work, the dog's eyes captivate our attention, reflecting the boy and expressing eternal devotion; and in William Wegman's photograph the double image of the dog and his penetrating gaze convey his wisdom and importance. By shifting focus to the dog, these works challenge the accepted superiority of humans over dogs, perhaps posing a new question: dog may be man's best friend, but is man dog's best friend?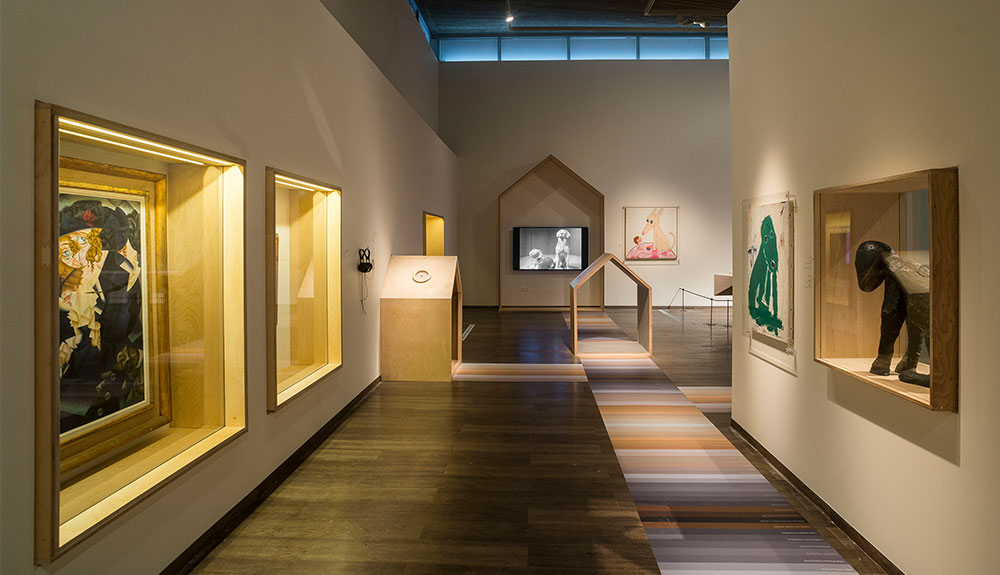 View of the gallery, dogs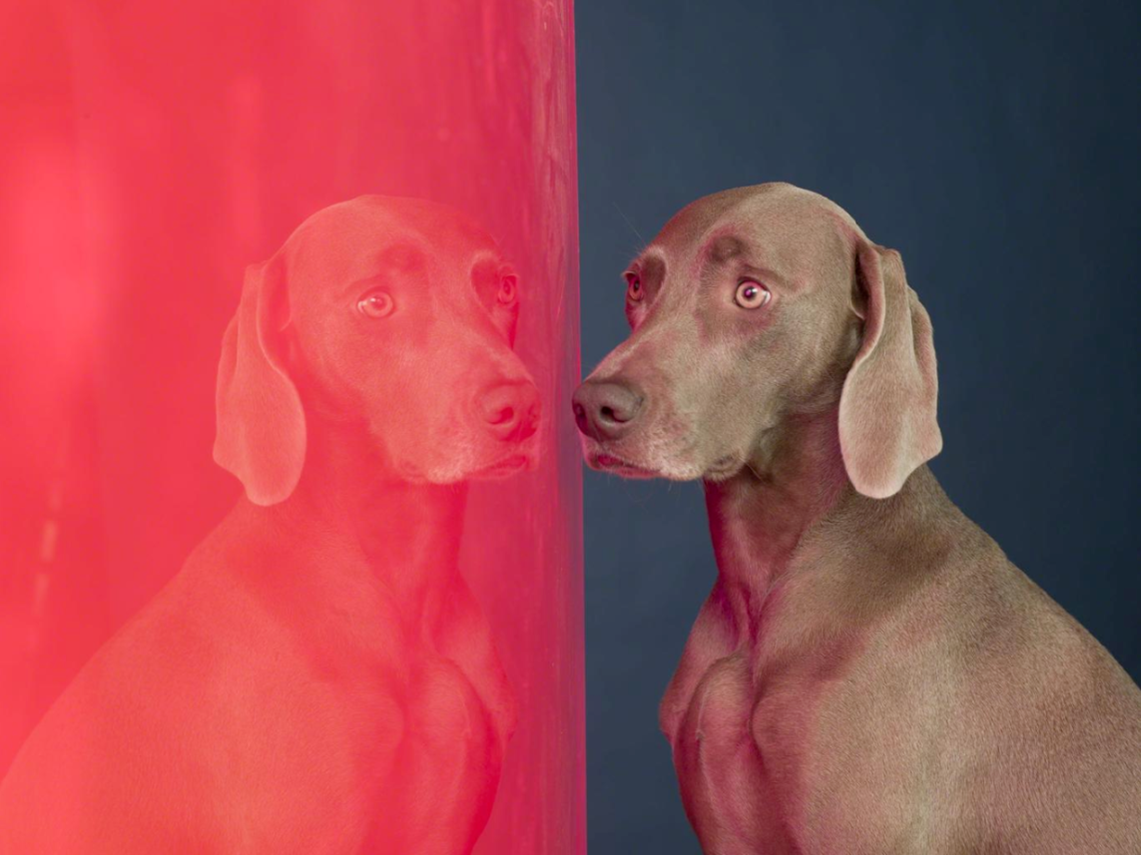 William Wegman, Dog Duet, 1975-6, Video, 2:38 mins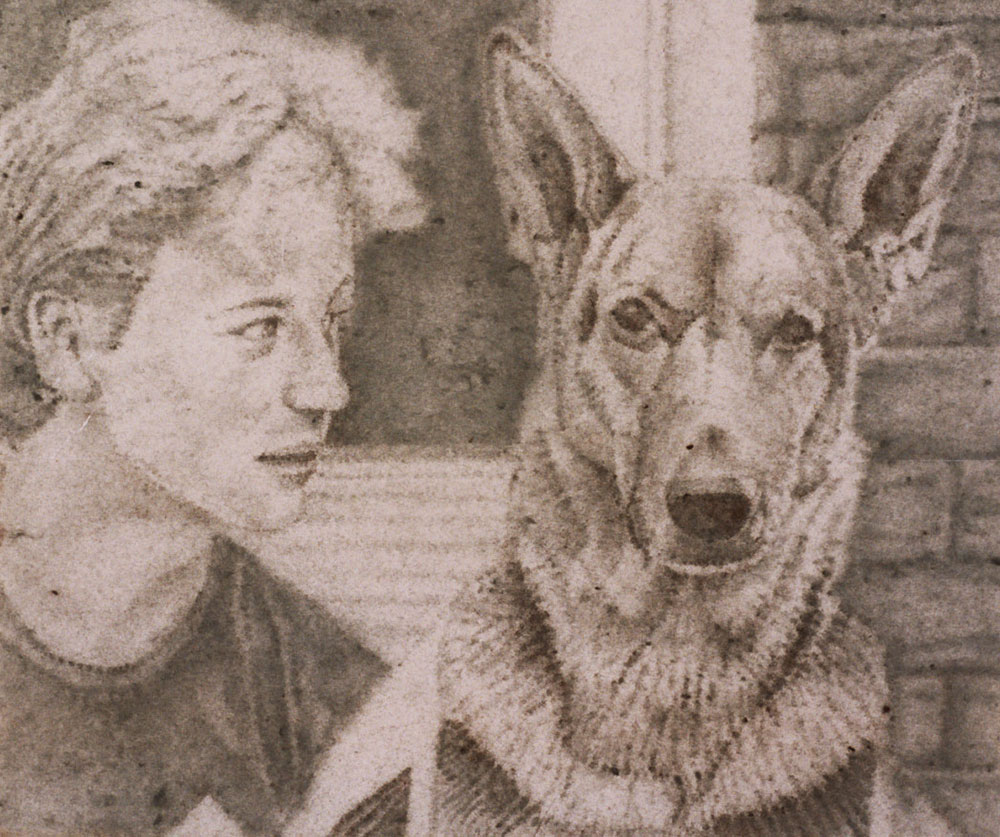 Gal Weinstein, Untitled, 2001, Gal Weinstein, Untitled, Steel wool on cardboard
---

Cats
House cats, street cats, and even black cats (eek!) can be found throughout the galleries. They do not scratch or mew, but their tails most definitely move. Beware of the cat transformed into a samurai
warrior, don't miss the Mona Lisa as a giant crosseyed cat, and observe the well-dressed cats who exude self-importance in both photographs and paintings.
Unlike dogs, who are generally considered to possess human attributes, the cats here adopt external items of the human world but remain — definitively — cats. Indeed, relationships between cats and humans are more complicated both in real life and in art; for example, in the painting of a woman and three cats adorned with ribbons, it is she who adapts her appearance to theirs. Though her cats — and the others seen here — look at us, their gaze is empty, indifferent, and even patronizing.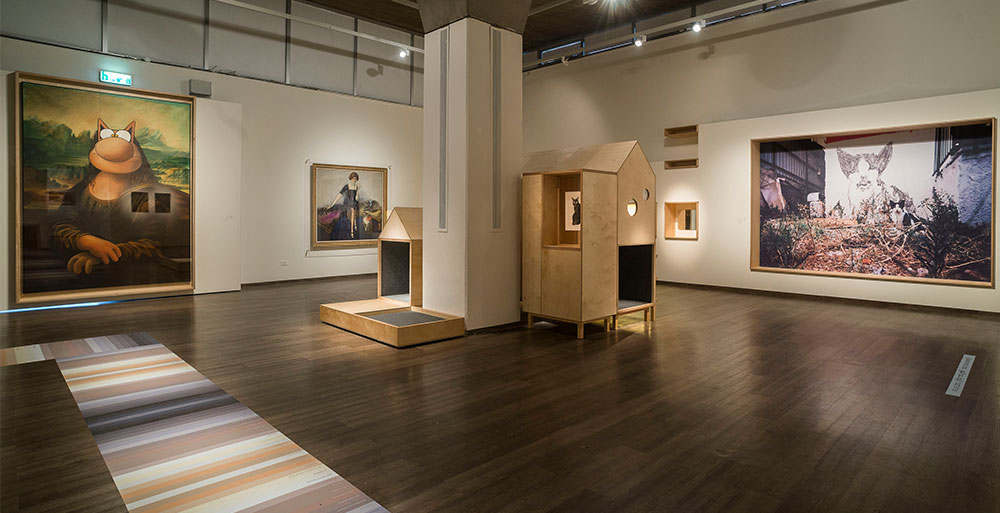 View over the gallery - in the background on the left: Philippe Geluck, Mono Liso ou le Jocond (Mona Lisa), 2003, Acrylic on canvas, Yaron Attar, Posing, 2014, Felt pen on a photograph, digital print, Photograph: Ayelet Politi
Rona Yefman, Alex, 1998-2005, Color photograph on Plexiglass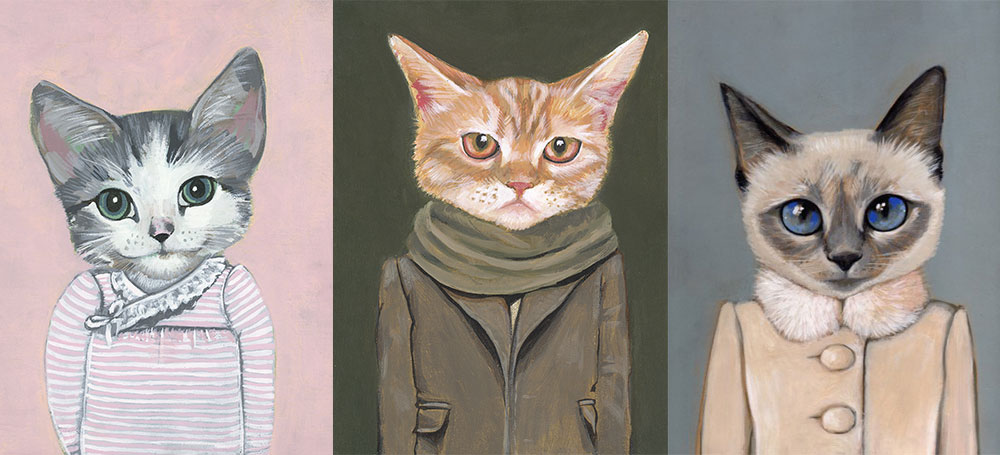 Heather Mattoon, Cats in Clothes, 2012, Acrylic on board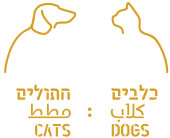 Cats, Dogs and People
But why choose at all? Maybe our instinct to pick one or the other is pointless, stemming from a human need to view cats and dogs as opposites. Thus this exhibition presents cats and dogs who are not that different after all, and who become even more similar when they are transformed into artworks. Though the exhibition is called Cats and Dogs, we could have called it Cats, Dogs, and People, since both the works on display and the visitors who view them explore the depth and complexity of our connection to these animals from a perspective that is at once human and personal.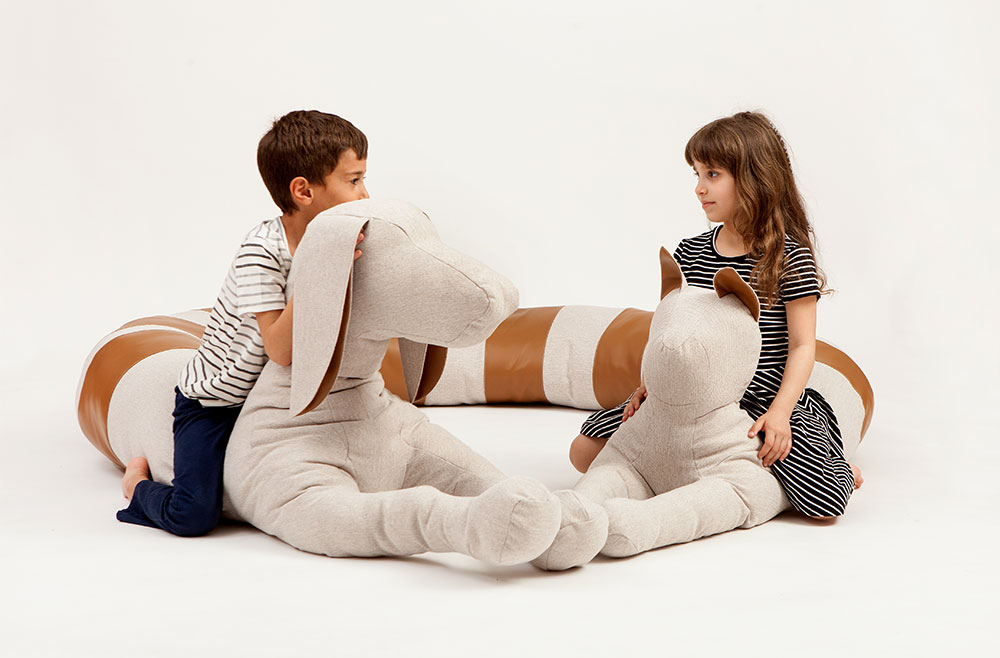 Sarit Shani Hay,Catdog, 2017, Canvas, faux leather,and acrylic filling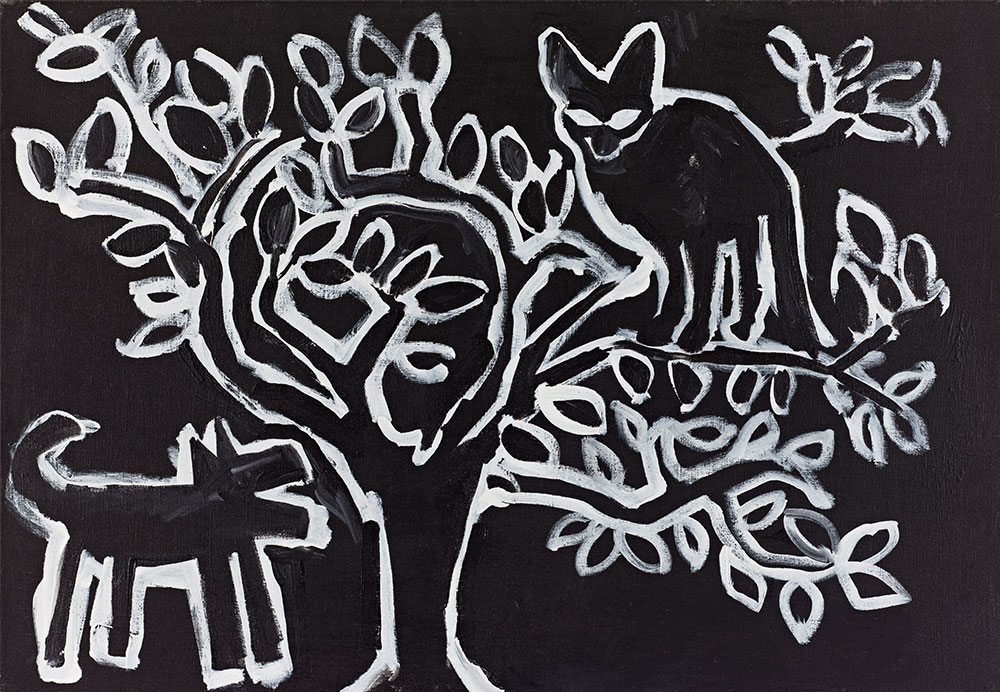 David Reeb, Treed Cat with Cresent Moon, 2012, Acrylic on canvas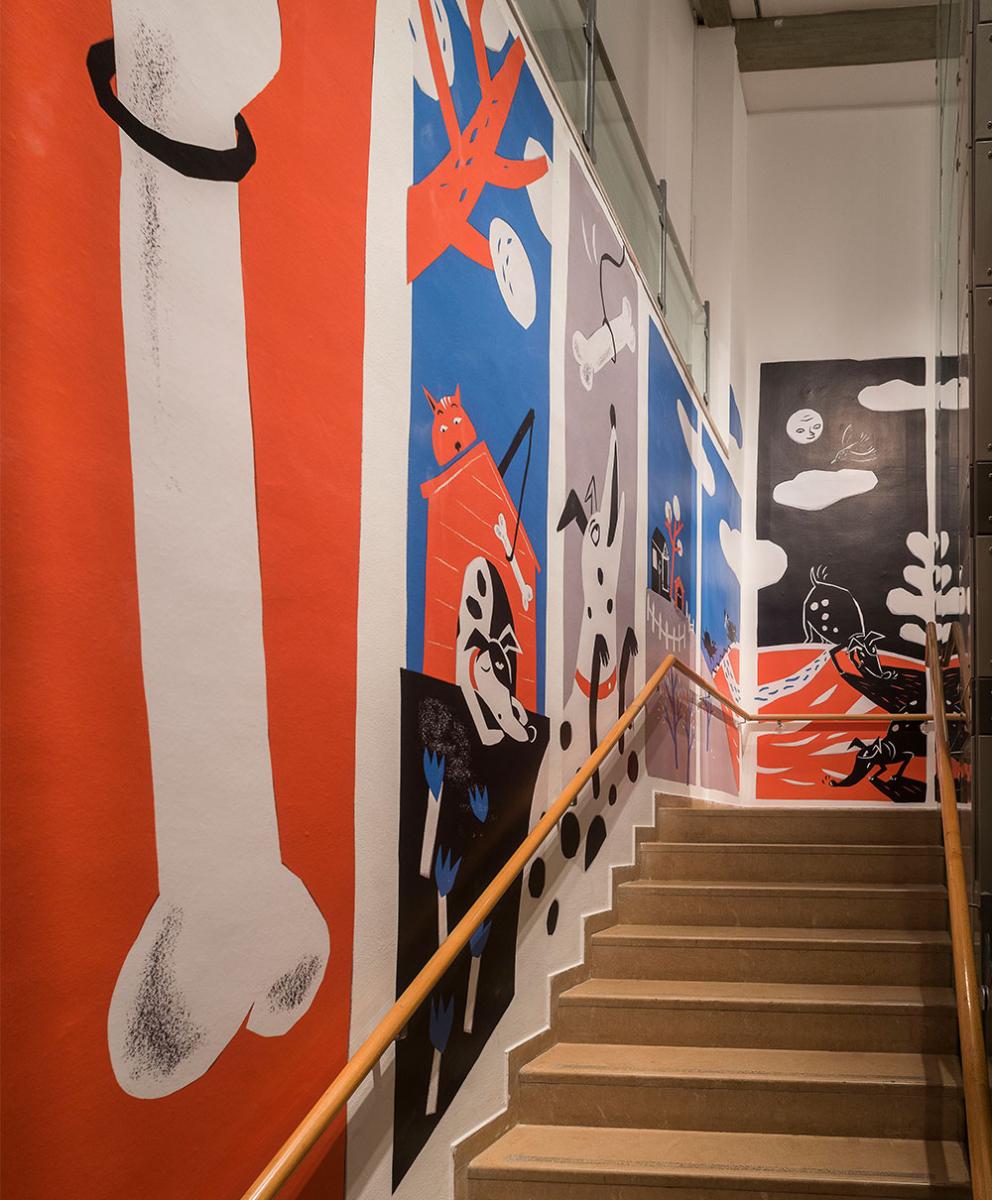 Gallery view: in the background Eitan Eloa, We are All Friends, 2017