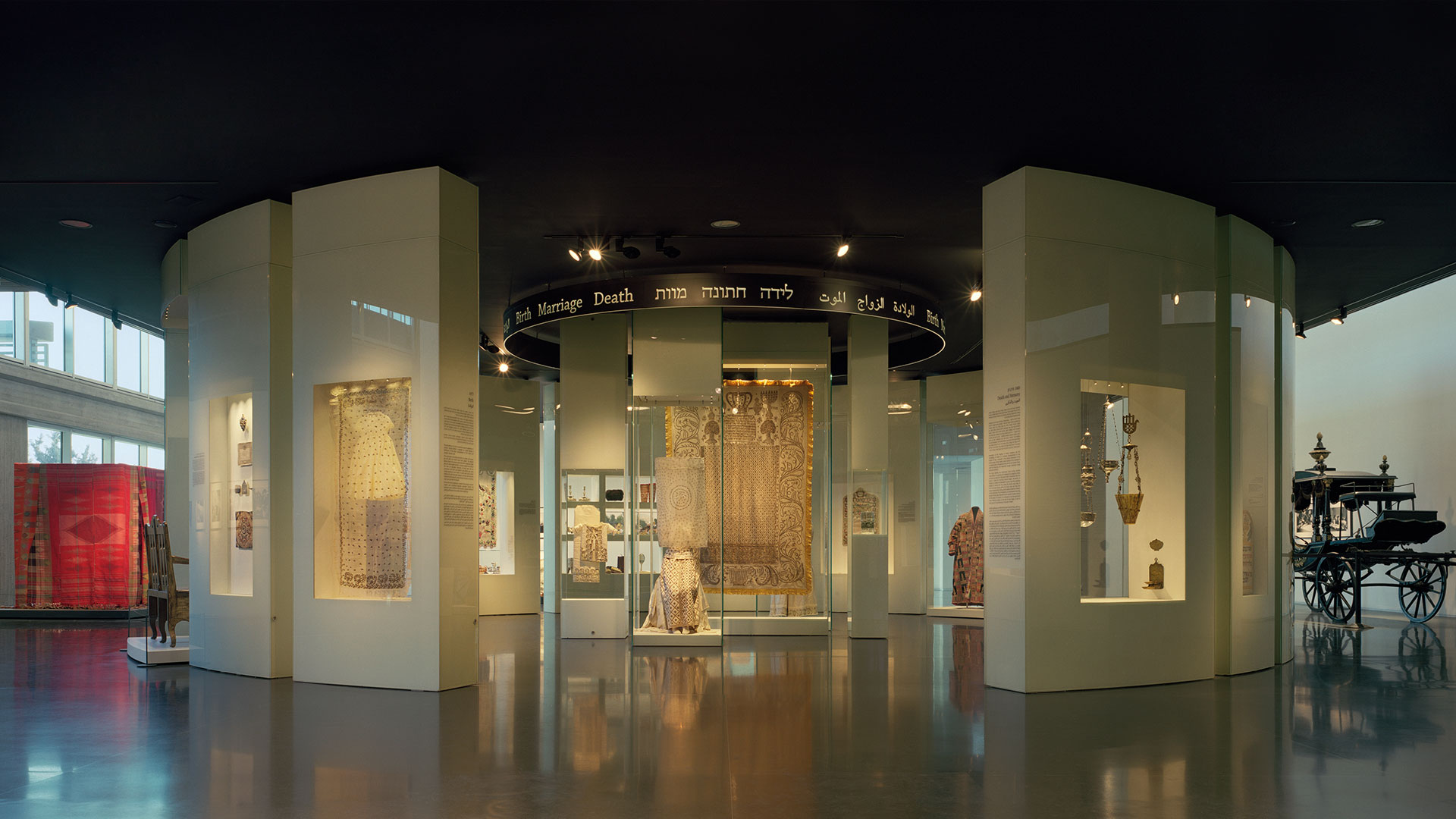 The Jack, Joseph, & Morton Mandel Wing for Jewish Art & Life
The Wing for Jewish Art and Life presents the religious and secular material culture of Jewish communities worldwide, spanning from the Middle Ages to the present day.
Most of the objects on display were used by Jews from various parts of the world, such as North Africa, Central Asia, Europe and Israel. Their artistic styles, materials, and different uses reveal both similarities and differences among the traditions, and customs of the various Jewish communities. Thus, the collection depicts a vivid cultural tapestry, weaving together the individual and the communal; the sacred and the mundane; the heritage of the past together with the creative innovations of the present.
This comparative display explores the objects' history, and the social context in which they were used, while underscoring their aesthetic qualities and emotional resonance.
Five principal themes unfold as you walk through the galleries:
The Rhythm of Life: Birth, Marriage, and Death. The gallery presents objects from different communities which used for major life passages, from birth to death. Highlighting the coexistence of joy and sadness, life and death, memory and hope at each of these junctures in the life cycle
Illuminating the Script. Rare illuminated Hebrew manuscripts from the Middle Ages and the Renaissance shed light on their artistic importance and their central role in the history of the Hebrew book.
The Synagogue Route: Holiness and Beauty. Four interiors of synagogues from Europe, Asia and America, each characterized by its own architectural style and decoration, are displayed with Torah scroll ornaments and Torah arks from Jewish communities around the world.
The Cycle of the Jewish Year. The sanctity of the Sabbath, and the traditional celebration of religious holidays, as well as the new commemoration of special days in the State of Israel, have given rise to a wealth of finely crafted objects and imaginative artworks.
Costume and Jewelry: A Matter of Identity. Unique examples of Jewish dress and jewelry reflect Jewish identities from East and West, and influenced by the laws and customs of each individual local community.
Read more +
Chief Curator: Daisy Raccah-Djivre
Current exhibitions
Hadassa Goldvicht
The House of Life
13 Mar - 01 Jan 2037
In 2013, Beit Venezia (the Venice Center for International Jewish Studies) invited Hadassa Goldvicht for a residency, and she began to interview members of the local Jewish community, returning to film in Venice over a period of several years. She found herself increasingly drawn to the...
Jerusalem Rebuilt
Boris Schatz's Utopia Revisited
28 Nov - 01 Jan 2037
"From above the city appeared wonderfully beautiful, spread out over hills and valleys, with its many high towers, domes, flat roofs, gardens, pools, and bridges suspended above the valleys."
Boris Schatz, Jerusalem Rebuilt, 1918
In December 1917, tow...