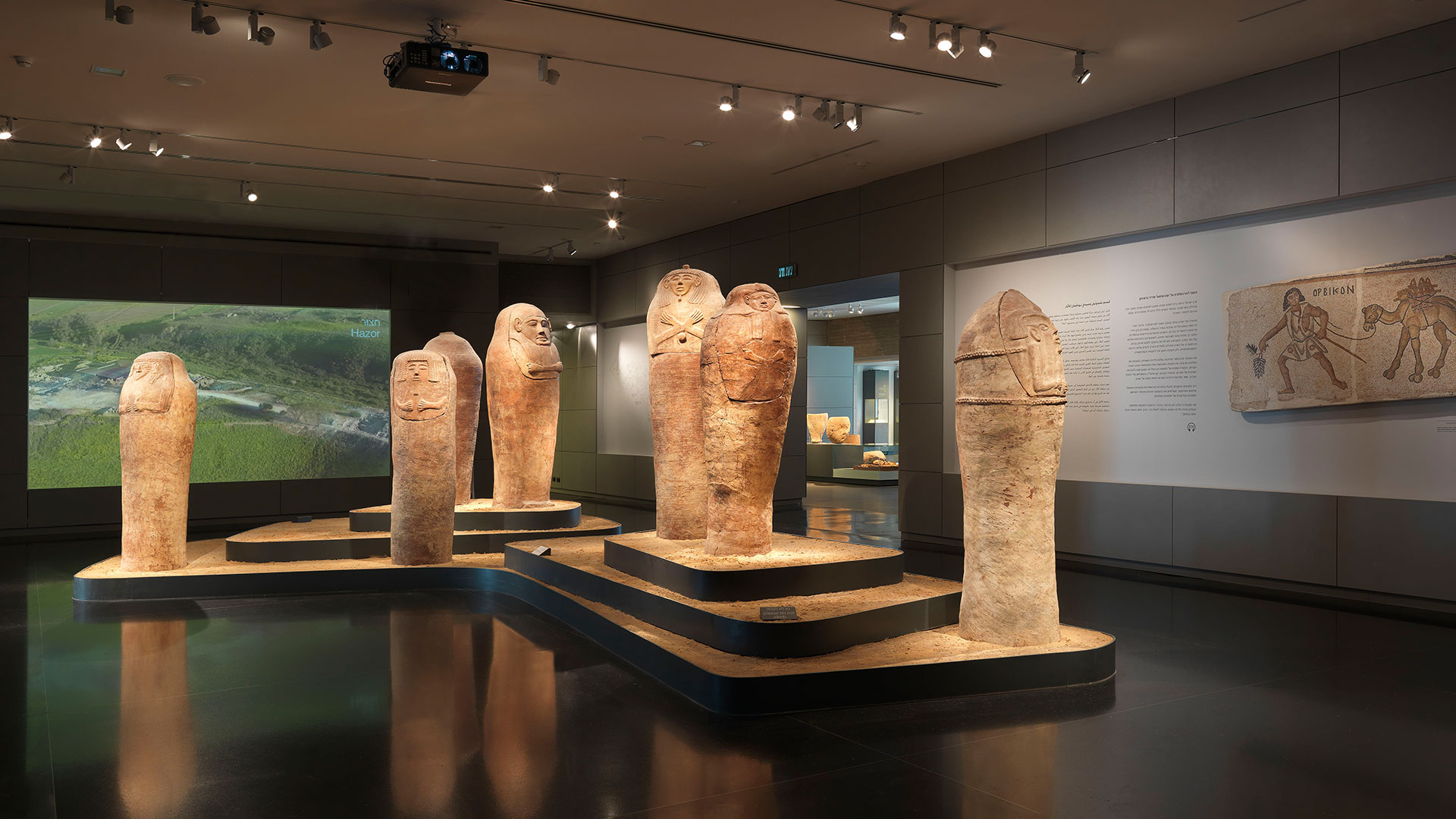 Samuel and Saidye Bronfman Archaeology Wing
The land of Israel has been the home of peoples of different cultures and beliefs for some one and a half million years. It is to these people and their cultures that the exhibition galleries of the Archaeology Wing is dedicated, serving as primary showcase to the rich and fascinating local archaeological heritage. The archaeological collection on display here is considered among the world's leading collections of its kind, for its scope and quality.
It takes the visitor on a journey of unparalleled depth into the historical course of ancient Israel; the birthplace of the Bible, and the cradle of the three monotheistic religions; from prehistoric times - to the beginning of the Ottoman period.
Historical events of prime importance, cultural achievements, technological innovations, and artistic creativity are all displayed in the galleries through thousands of ancient artifacts, many of them are one of a kind. These objects offer a close look to the lifestyle, beliefs, and worldview of the peoples of this area – from ordinary people to kings and monarchs – in distant and fascinating times.
Broadening the scope are the galleries devoted to Neighboring Cultures: Egypt, the Ancient Near East, Greece, Italy, and the Islamic Near East. They tell the story of the civilizations which left deep imprints on the land of ancient Israel over the centuries.
The exhibition is further enriched by thematic galleries: Early Hebrew Writing, Coins in Context, and Glass Through the Ages, which shed light on some of the important achievements of local culture.
All these offer the visitor a comprehensive overview of the history of the region and an extraordinary experience. Most of the objects on display were found in local archaeological excavations and loaned to the Museum by the Israel Antiquities Authority and other sources; the display is further enhanced by the museum collections, built over the years thanks to the generosity of donors and lenders. We are grateful to them all.
The Archaeology Wing includes the Shrine of the Book, home to the Dead Sea Scrolls, and the Model of Jerusalem in the Second Temple Period, illustrating the city in one of the most crucial periods in its history. This exceptional complex, placed on the Israel Museum Campus, is one of Jerusalem's topmost attractions.
The Rockefeller Archaeological Museum is an off-campus branch of the Wing, located next to the Old City of Jerusalem. This museum displays an impressive collection of important archaeological objects, which were discovered in excavations, from the days of the beginning of local archaeology until the establishment of the State of Israel in 1948.
Read more +
Dr. Haim Gitler, Tamar and Teddy Kollek Chief Curator of Archaeology