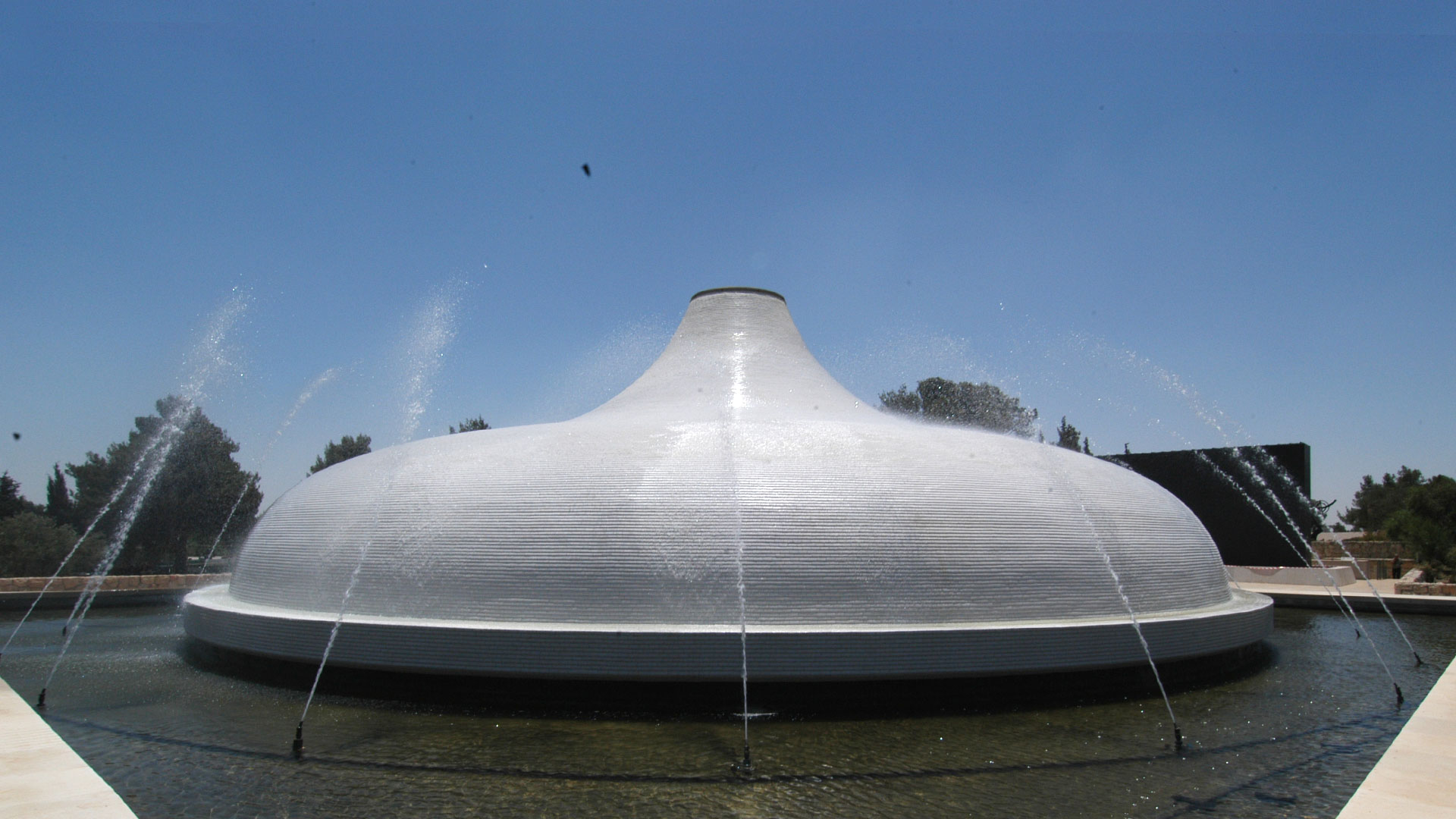 The Shrine of the Book Complex
The Hebrew Bible is the cornerstone of the Jewish people and this fundamental text has left its imprint on Christianity and Islam.
The Shrine of the Book was built as a repository for the first seven scrolls discovered at Qumran in 1947. The unique white dome embodies the lids of the jars in which the first scrolls were found. This symbolic building, a kind of sanctuary intended to express profound spiritual meaning, is considered an international landmark of modern architecture. Designed by American Jewish architects Armand P. Bartos and Frederic J. Kiesler, it was dedicated in an impressive ceremony on April 20, 1965. Its location next to official institutions of the State of Israel—the Knesset (Israeli Parliament), key government offices, and the Jewish National and University Library—is appropriate considering the degree of national importance that has been accorded the ancient texts and the building that preserves them.
The contrast between the white dome and the black wall alongside it alludes to the tension evident in the scrolls between the spiritual world of the "Sons of Light" (as the Judean Desert sectarians called themselves) and the "Sons of Darkness" (the sect's enemies). The corridor leading into the Shrine resembles a cave, recalling the site where the ancient manuscripts were discovered.
Providing a vivid context for the Shrine of the Book and the Dead Sea Scrolls and for many contemporaneous archaeological artifacts displayed throughout the Museum, the Model Illustrates one of the most formative periods in the history of the Jewish people and bears a deep connection to the symbols of modern statehood that surround the Museum campus.
Read more +
Collection Galleries
The Dea Sea Scrolls
The Dead Sea Scrolls are ancient manuscripts that were discovered between 1947 and 1956 in eleven caves near Khirbet Qumran, on the northwestern shores of the Dead Sea.
The Model of Jerusalem in the Second Temple Period
The Jerusalem Model recreates the city at the height of its glory, with the Temple Mount in its center and the Second Temple still standing. The city is portrayed as it was on the eve of the great Jewish revolt against the Romans, in 66 CE.