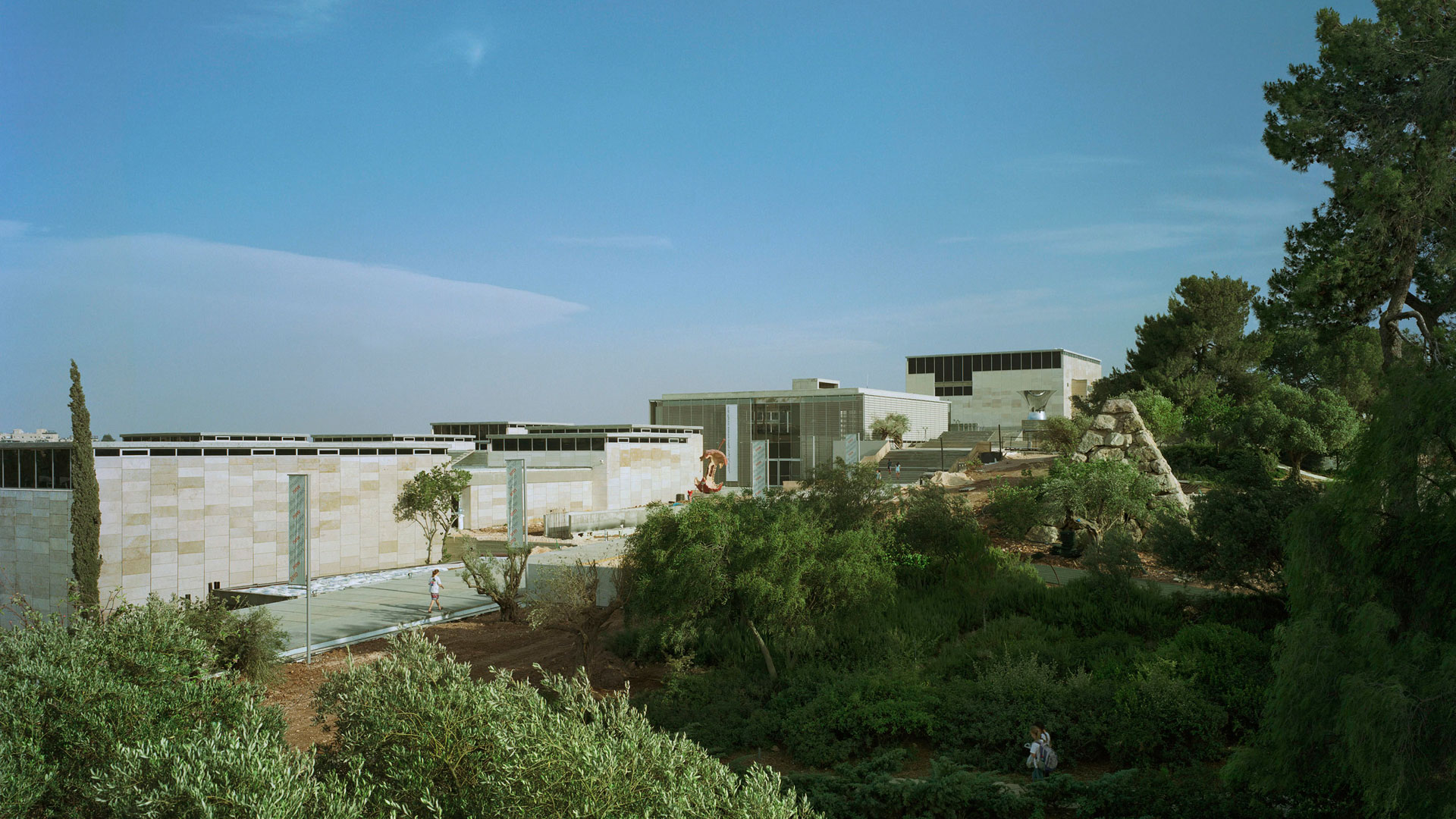 Friends of the Israel Museum

The generosity of our international family of friends helps us to provide the rich program of exhibitions, publications, and special events that have become the Israel Museum's hallmark, and which ensure our continued standing as one of the world's leading museums. Contributions to the Israel Museum are tax-deductible in Israel. If you require a receipt for tax deduction in a country other than Israel, please consider directing your gift through one of our International Friends associations.
---
Friends of the Israel Museum: Annual Gifts
ISRAEL MUSEUM INTERNATIONALS (IMJIs) make up the Israel Museum's global network of young leaders, with active chapters in the United States, Brazil, Canada, and England. IMJIs are invited to exclusive art weekends and events around the world. To join, please contact your local Friends chapters.
DONORS ($2,000) are listed in the Israel Museum Journal, and are invited to events with their local Friends chapters.
INTERNATIONAL PATRONS ($3,000) are listed in the Israel Museum Journal and receive invitations to international events around the world, as well as an International Art Pass entitling free entry to North American and European museums.
GUARDIANS ($7,500) sponsor a week in honor of a person or occasion of your choice, subsidizing entrance fees for children, students, soldiers, disabled persons, and senior citizens. Guardians also receive all benefits of Patrons.
---
Friends of the Israel Museum: Cumulative Gifts
Cumulative gifts totaling $100,000 or more are recognized in the three special categories:
Sponsors ($100,000 - $249,999)
Benefactors ($250,000 - $999,000)
Founders ($1,000,000 upwards)
Contributors' receive all donor benefits and their names are permanently inscribed in the Museum's Donor Court and are listed in each edition of the Israel Museum Journal.

If you are interested in pursuing possible avenues of involvement, please contact Laura Gilinski, Deputy Director for International Relations and Development, at
lauragi@imj.org.il
or +972-2-6708827.
---
Newsflash
· 01/10/2018 - IMJ Leadership Newsflash | January 2018
· 11/20/2017 - IMJ Leadership Newsflash | November 2017
· 09/12/2017 - IMJ Leadership Newsflash | September 2017
· 08/15/2017 - IMJ Leadership Newsflash | August 2017
· 07/13/2017 - IMJ Leadership Newsflash | July 2017
· 06/15/2017 - IMJ Leadership Newsflash | June 2017
· 05/29/2017 - IMJ Leadership Newsflash | May 2017
· 04/30/2017 - IMJ Leadership Newsflash | April 2017
· 03/20/2017 - IMJ Leadership Newsflash | March 2017
IMJI Newsflash
18/01/2018 - IMJI Newsflash | January 2018
01/11/2017 - IMJI Newsflash | October 2017
Insider
· 04/26/2018 - IMJ Insider | Spring 2018
· 07/10/2017 - IMJ Insider | Summer 2017
· 02/27/2017 - IMJ Insider | Winter 2017
---
Friends of the Israel Museum on Instagram
---
International Friends Calendar
---
Focus on our Friends
The amazing success story of the Israel Museum can be attributed to our ever-growing network of International Friends who support our activities in a number of ways. Here are some highlights of Friends events around the world.
Swiss Friends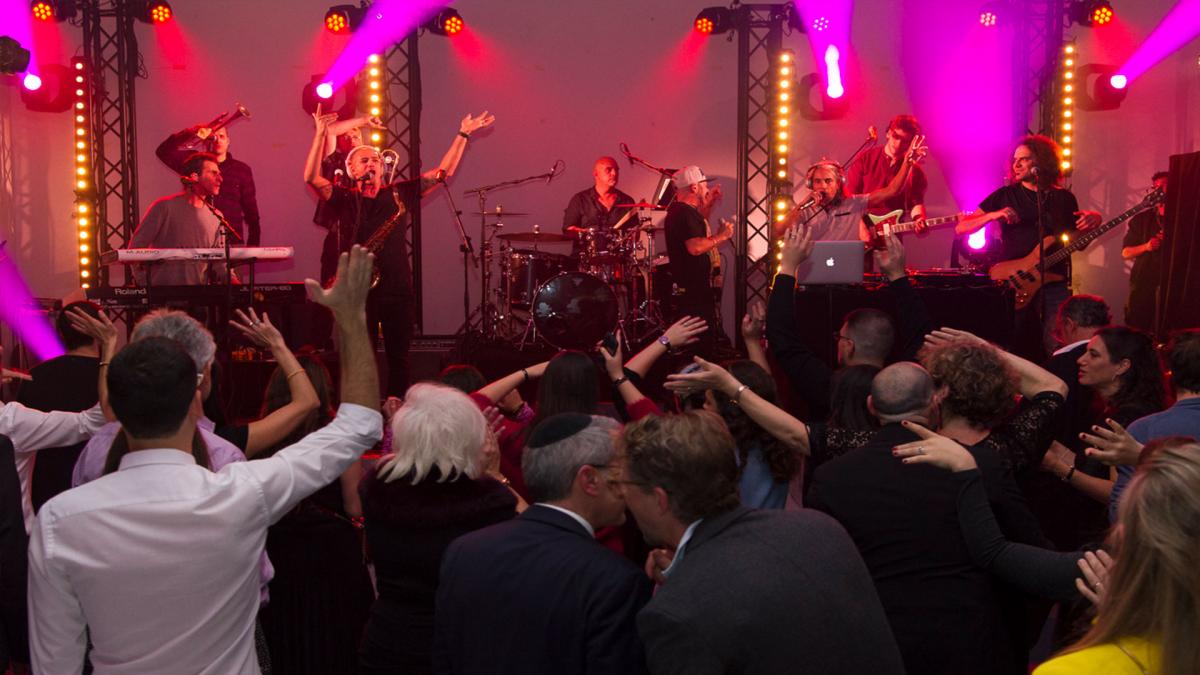 At Culture on the Cutting Edge: The Swiss Friends of the Israel Museum Gala in Zurich, guests enjoyed cocktails and dinner by a guest Israeli chef, a live auction, and a performance by Israeli hip-hop group HaDag NaHash. The Swiss Friends were delighted to welcome a group of IMJIs – the Museum's network of young patrons – to the evening organized by Co-Chairs Lori Spector and Max Lang.
German Friends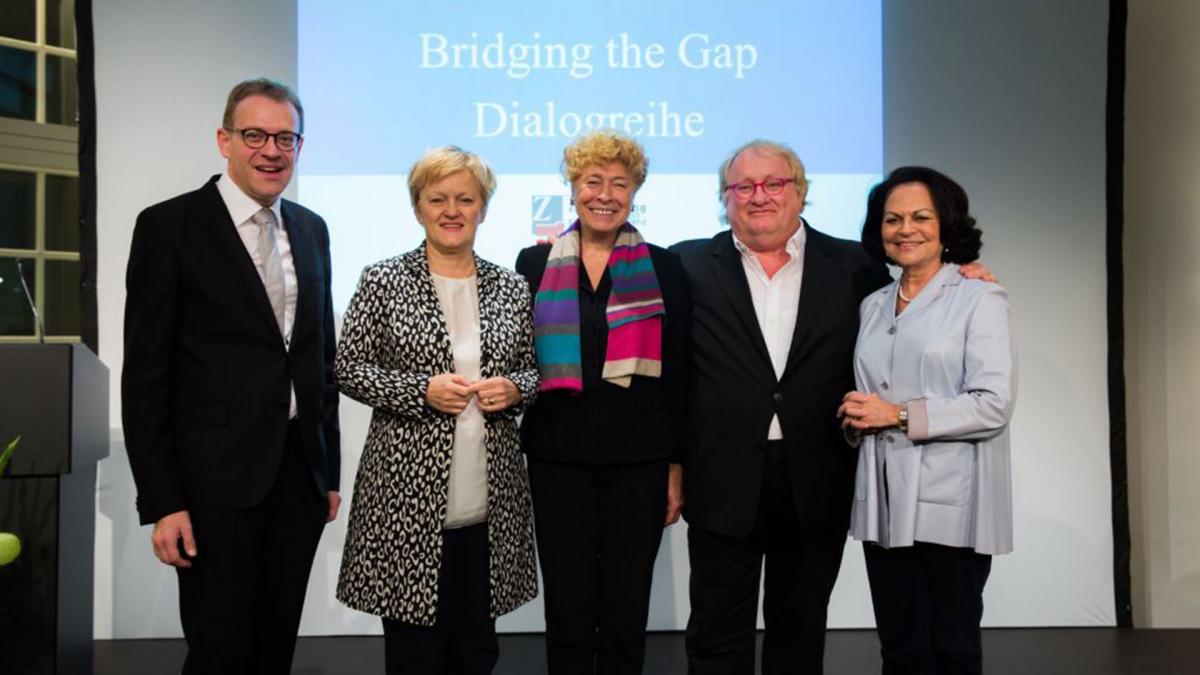 Photo © BKF, Ulrich Perrey, courtesy of our German Friends
The German Friends of the Israel Museum's successful 2017 "Bridging the Gap" dialogue series, dedicated to the great challenges of the 21st century – reducing prejudices and conflict by building bridges – attracted over 14,000 participants to date. The series is inspired by the IMJ Youth Wing Arab-Jewish art program of the same name supported enthusiastically by the German Friends for many years.
The October lecture explored the duality of political correctness which can be seen as an achievement of liberal democracy, protecting against discrimination, or an ideology that hinders free thought. It was moderated by Dr. h.c. Sonja Lahnstein. Speakers included Renate Künast, Member of the German Bundestag/Green Party; Prof. Dr. h.c. Gesine Schwan, President and Co-founder of HUMBOLDT-VIADRINA Governance Platform gGmbH; and Tuvia Tenenbom, an author and director living in New York.
---
Canadian Friends

Photo courtesy of our Canadian Friends
Toronto gallery owner and Canadian Young Associate Troy Seidman (pictured here with his mother Carol) expertly led a private, behind-the-scenes tour for Canadian Friends Annual Partners at Art Toronto, Canada's largest international modern and contemporary art fair. The tour also included a presentation by world-renowned Canadian photographer Edward Burtynsky.
Photo by PBL photography, courtesy of our Canadian Friends
Our Canadian Friends in Montreal hosted a spectacular evening celebrating the life and legacy of Leonard Cohen at the Montreal Museum of Contemporary Art. Guests enjoyed cocktails, dinner, and a private viewing of A Crack in Everything — an ode to the beloved Montreal icon.
---
Israeli Friends Gala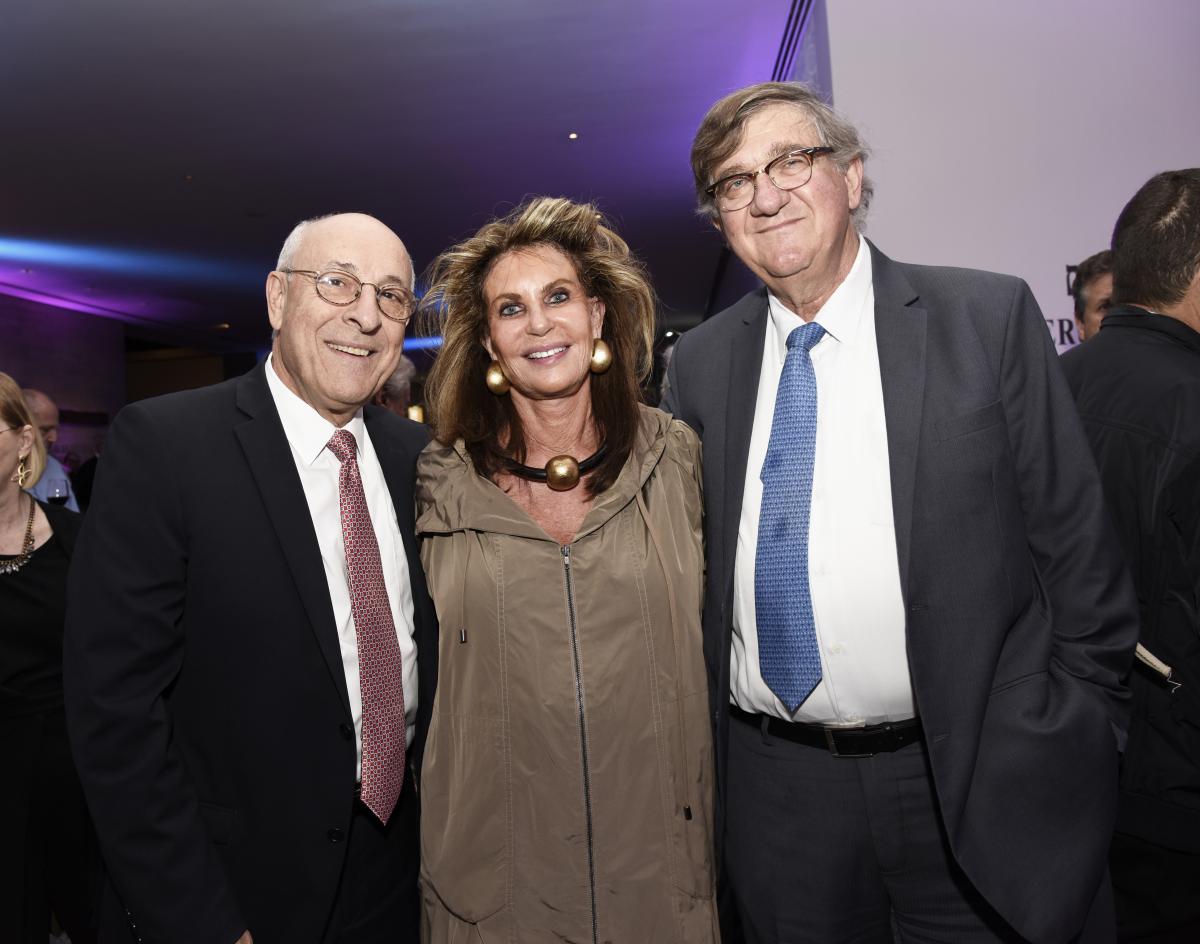 Some 500 guests got a behind the scenes glimpse of the Museum at the recent Israeli Friends of the Israel Museum Secrets and Seeds Gala. Museum friends visited the conservation laboratories, learned about the process of researching ancient Andean textiles, and encountered new perspectives about current exhibitions from IMJ curators. Lightning lectures on the Bible, European painting, a secular haggadah, and a multidisciplinary work of art rounded out the evening.
---
IMJ Sukkot Open House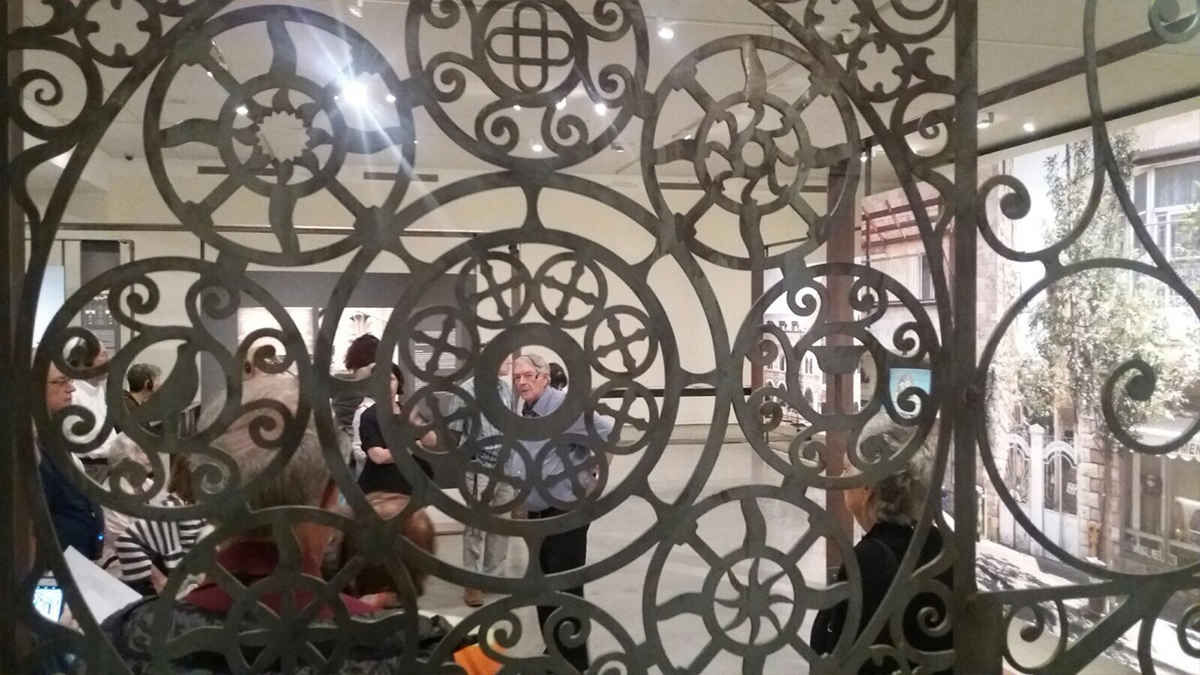 Seventy friends from around the world participated in the IMJ Sukkot Open House which took place on October 9. Following a light snack in the Museum Sukkah, participants enjoyed a tour of the newly opened Jerusalem in Detail exhibition led by architectural historian David Kroyanker, whose research inspired the exhibition. After Chief Archaeology Curator Haim Gitler presented Faces of Power: Roman Gold Coins from the Victor Adda Collection, attendees visited Museum storerooms for a sneak preview of new antiquities finds not yet on display.
---
French Friends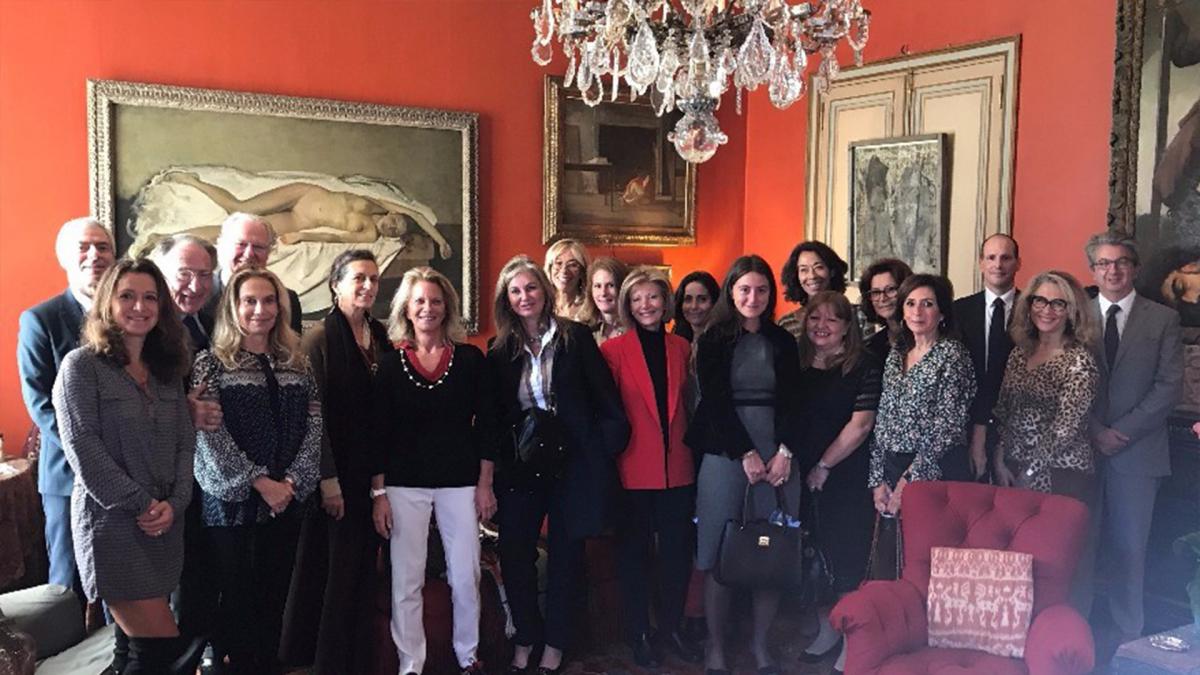 On October 3, the French Friends enjoyed an exceptional breakfast at the Parisian home of Baron Eric and Baroness Beatrice de Rothschild, special longtime friends of Les Amis.
---
AFIM CELEBRACION Gala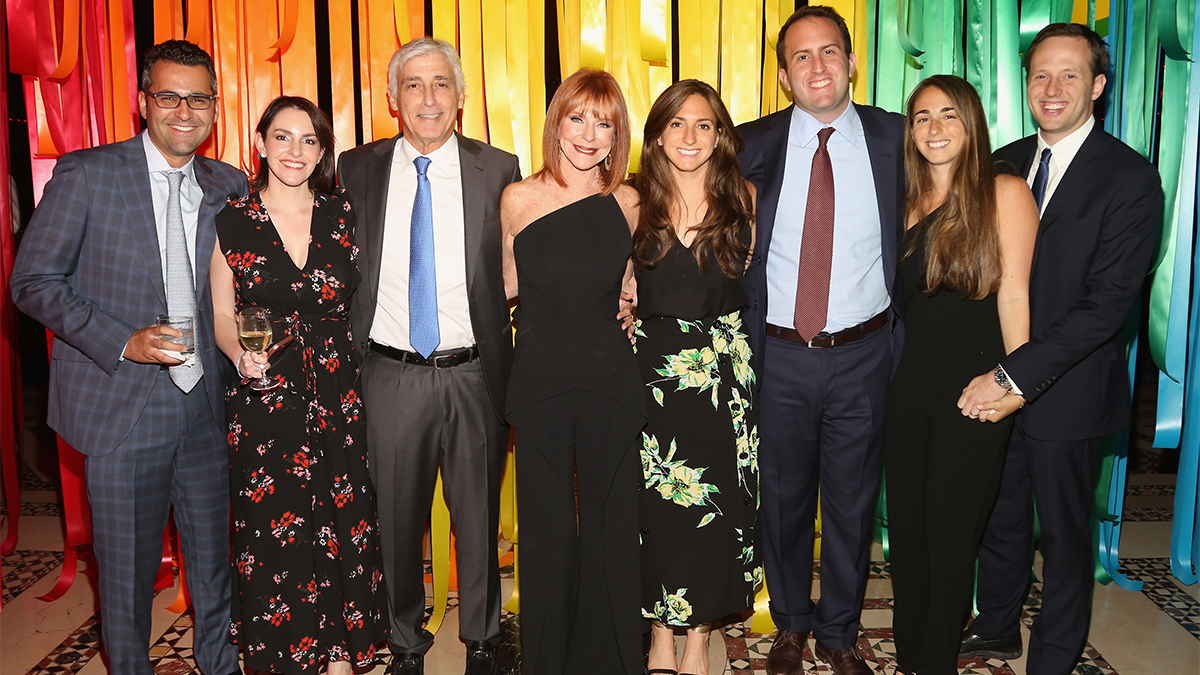 The AFIM CELEBRACION Gala took place on October 2 at Cipriani 42nd Street with over 425 guests in attendance. The event was chaired by Lisa Kaufman and Pam and Ed Pantzer. Guests were greeted at the entrance by a mariachi band, and enjoyed music throughout the evening by Migguel Angello. Israeli singer-songwriter and activist David Broza, whose music blends modern pop and Spanish music, gave a special surprise performance.
---
The Italian Friends of the Israel Museum (AIMIG)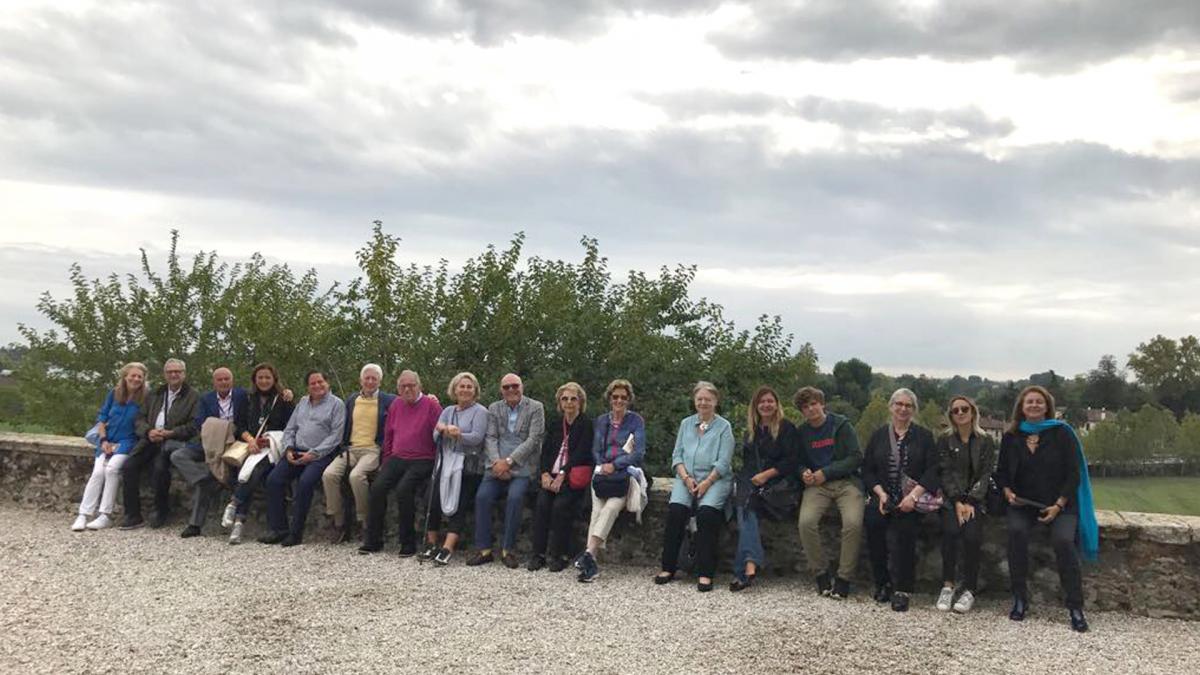 The Italian Friends of the Israel Museum (AIMIG) hosted a group of 37 friends from around the world for a tour of the Venice Biennale led by IMJ Chief Curator of Fine Arts, Mira Lapidot. A highlight of the trip was a visit to Hadassa Goldvicht's The House of Life installation, presented at Palazzo Querini Stampalia—an IMJ collaboration with Meislin Projects. Participants also toured the city of Vicenza and the Palladian Villas of the Veneto with Guido Beltramini, Director of the International Center of Architecture Studies and a world expert on Palladio.
---
Canadian Friends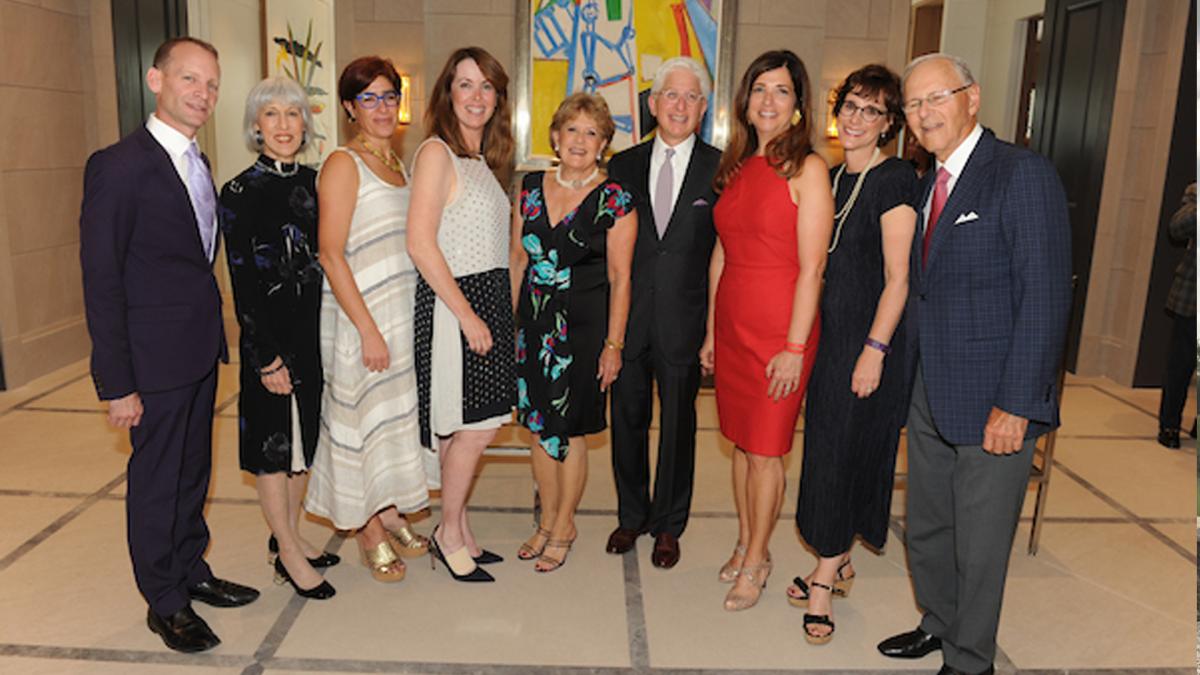 On August 9, the Canadian Friends of the Israel Museum Toronto hosted the "One Night Only" POP-UP Museum curated by David Moos. The "Museum," designed in a custom-built home by Matthew Sapera Fine Homes, featured artwork from some of Toronto's top collections. The event raised funds for free entrance to the Israel Museum for Israeli children. Present were Darren Sukonick, CFIM Board Member; Maureen Cogan; Laura Gilinski; Caurie Glickman, CFIM Board Member; Wendy Eisen, CFIM National Co-Chair; James Snyder; Tamara Fine, CFIM Board Member; Pearl Berman, CFIM National Director; and Elliott Eisen, CFIM National Co-Chair (pictured left to right).
---
Austrian Friends (AFOTIM)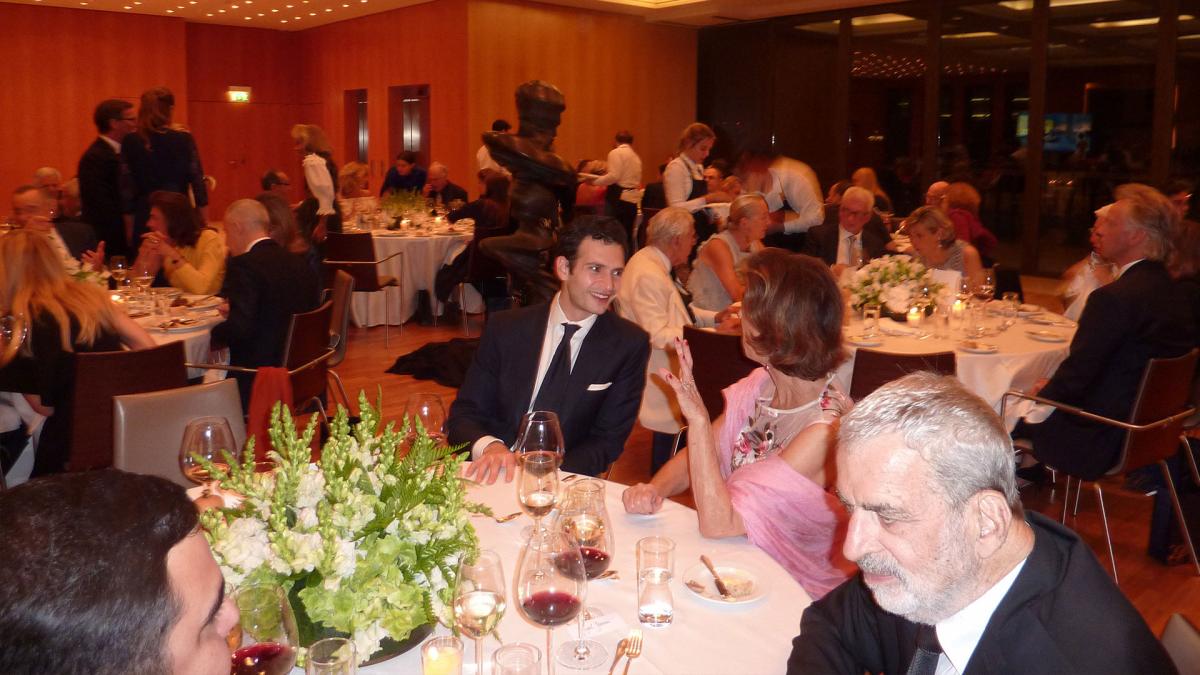 Austrian Friends founding Chair Thaddaeus Ropac and Co-Chair Sylvia Liska brought some 75 international friends together for this sixth annual gathering during the Salzburg Festival in July. Highlights of the rich program included the premiere of the La clemenza di Tito opera by Mozart, a welcome dinner at the famous Goldener Hirsch Restaurant hosted by Sylvie Liska, and a Gala Dinner and auction, which took place at the Haus für Mozart. The three-day program included exhibition previews and openings; meetings with artists; and lunches graciously hosted by Richard Feigen and Isabelle Harnoncourt-Feigen, and Galerie Thaddaeus Ropac.
---
International Council 2017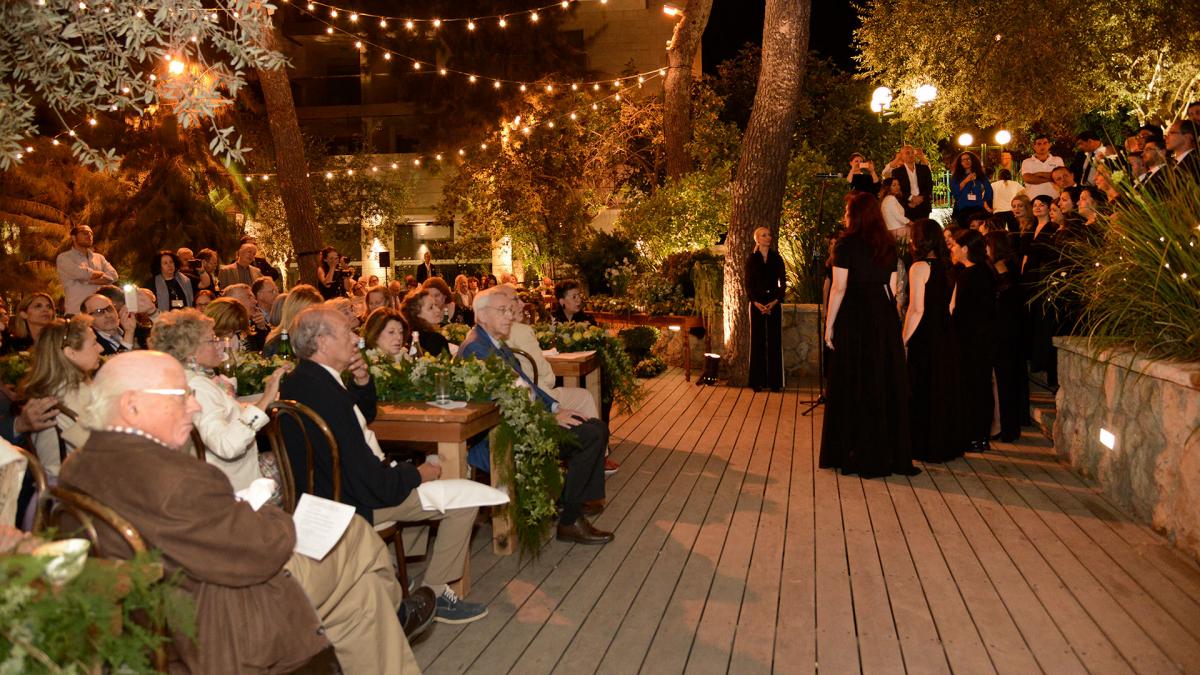 International Council 2017 - Festive Dinner and Concert at Ticho House. Dinner and See the Sounds: Classical Music Festival concert at Ticho House featured world-renowned harpist Xavier de Maistre, baritone Christopher Maltman, and the National Chamber Choir Marin Madrigal of Romania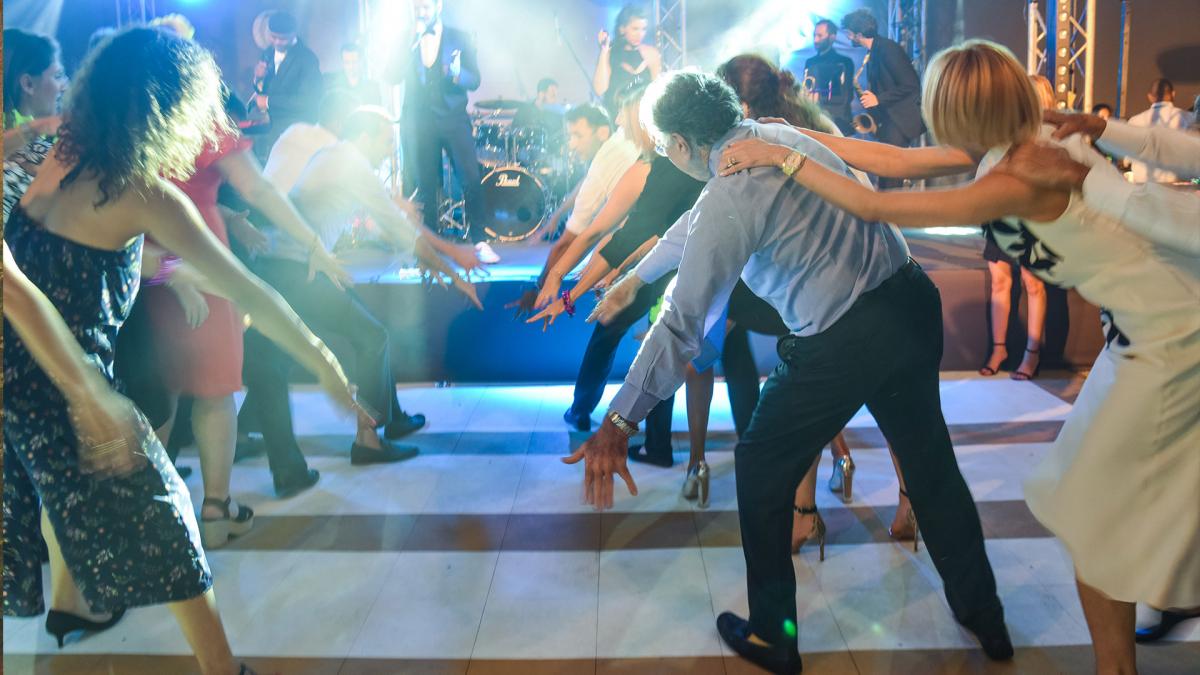 International Council 2017- Gala Dinner. Dancing at the IC Gala. Our festive IC Gala dinner featured stunning video art, a bold June tone pallet, and a 70's theme.
---
American Friends (AFIM)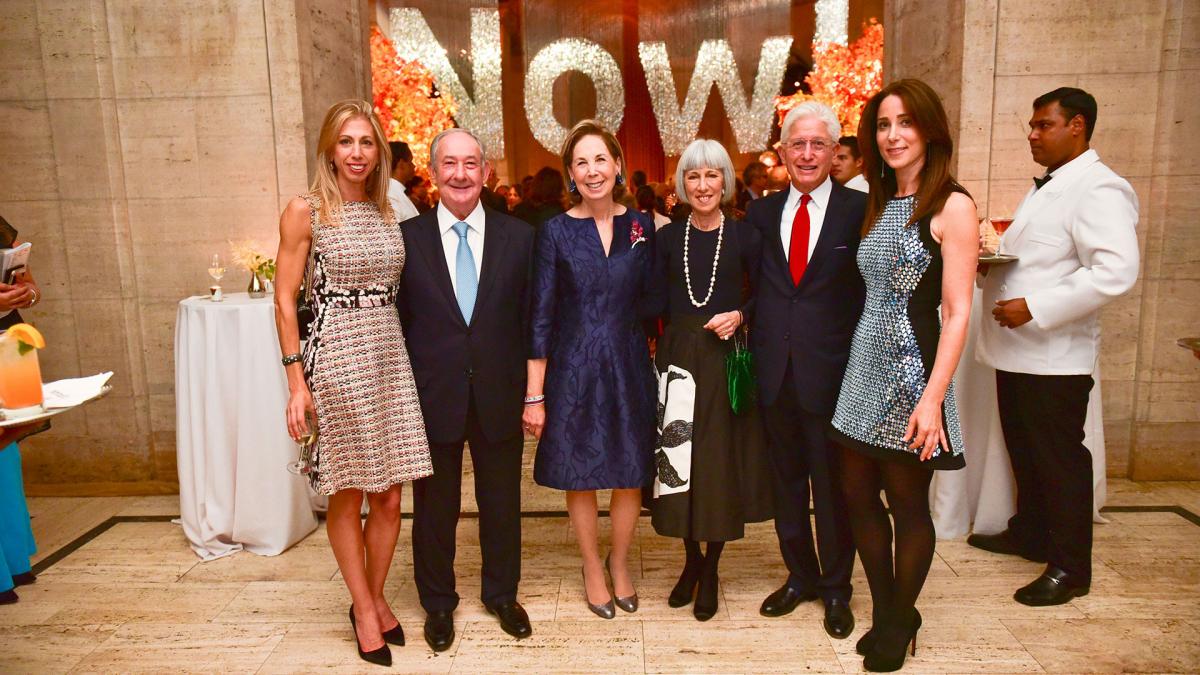 American Friends (AFIM) Spring Luncheon, New York- April 2017. Gala Co-chairs (L-R): Lisa Kaufman, Pamela and Edward Pantzer; Maureen Cogan; James Snyder; and Stacey Bronfman. AFIM's annual Gala raised more than $2.3 million for the museum. The Gala theme was NOW, celebrating dynamic landscape of art and culture in Israel today while referencing trends in contemporary Israeli Cuisine.
---
Brazilian Friends (AABIM)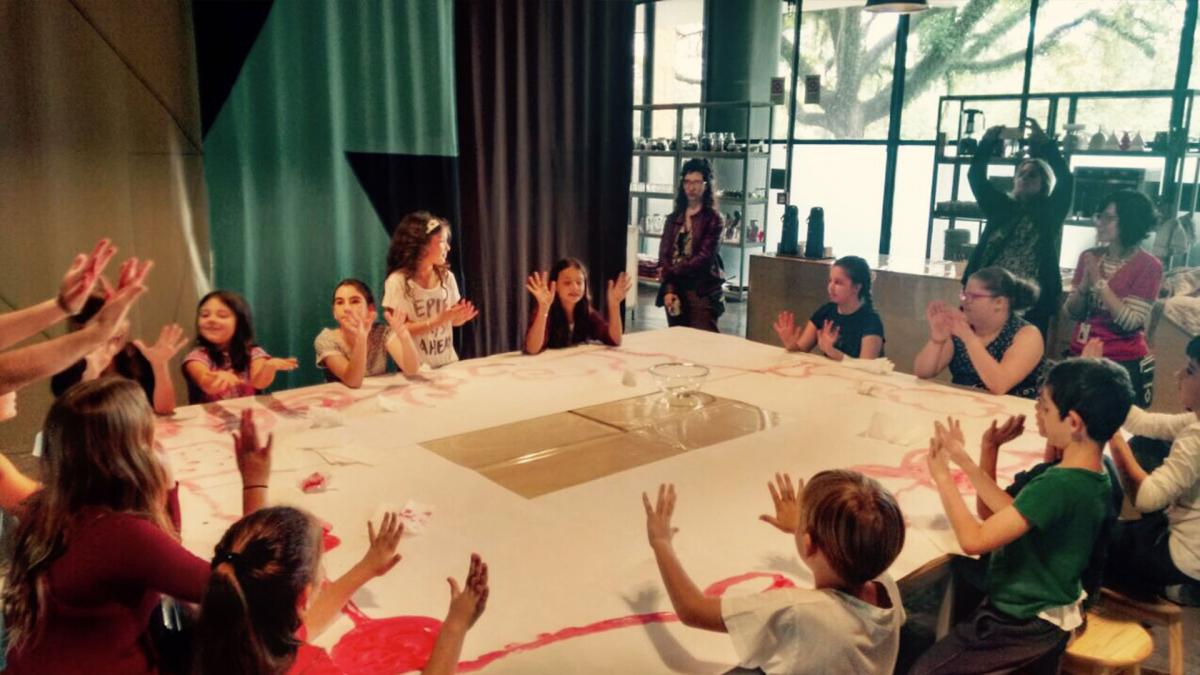 Brazilian Friends( AABIM)- art workshop for the younger generation- April 2017. Brazilian Friends (AABIM) held private visit for children which included a hands on art workshop at the Sao Paulo Bienal
---
Italian Friends (AIMIG)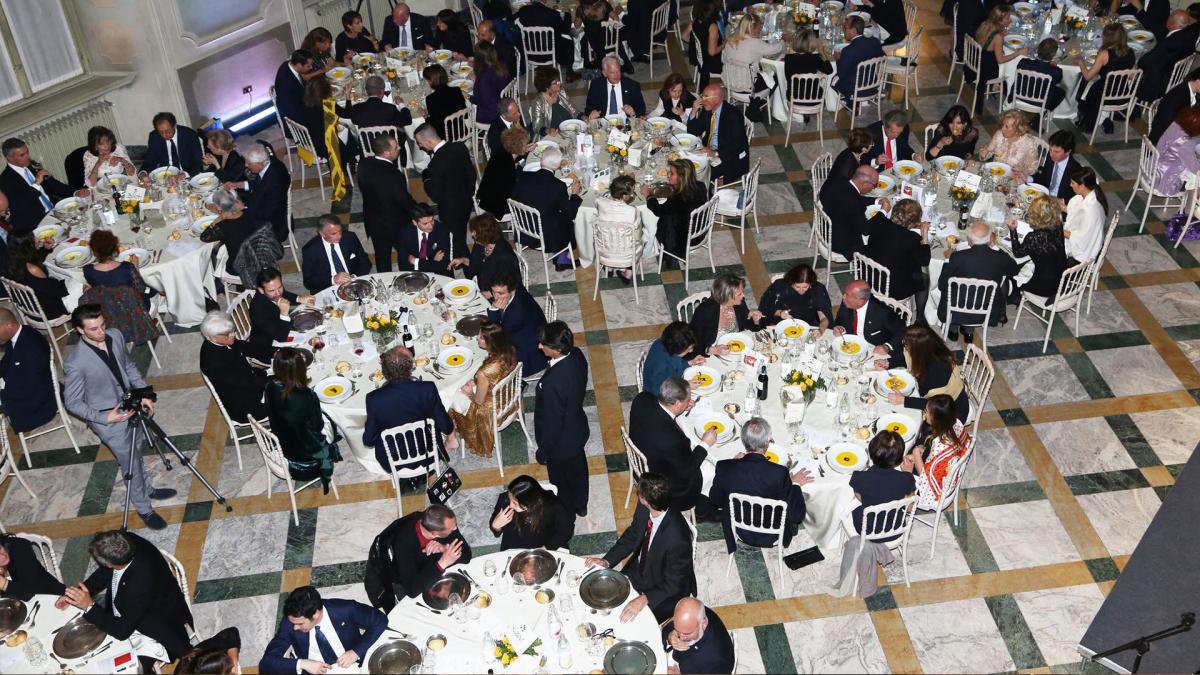 The AIMIG Gala Dinner at the Palazzo Clerici included an auction of modern and contemporary art by Italian and Israeli artists
---
French Friends ( Les Amis)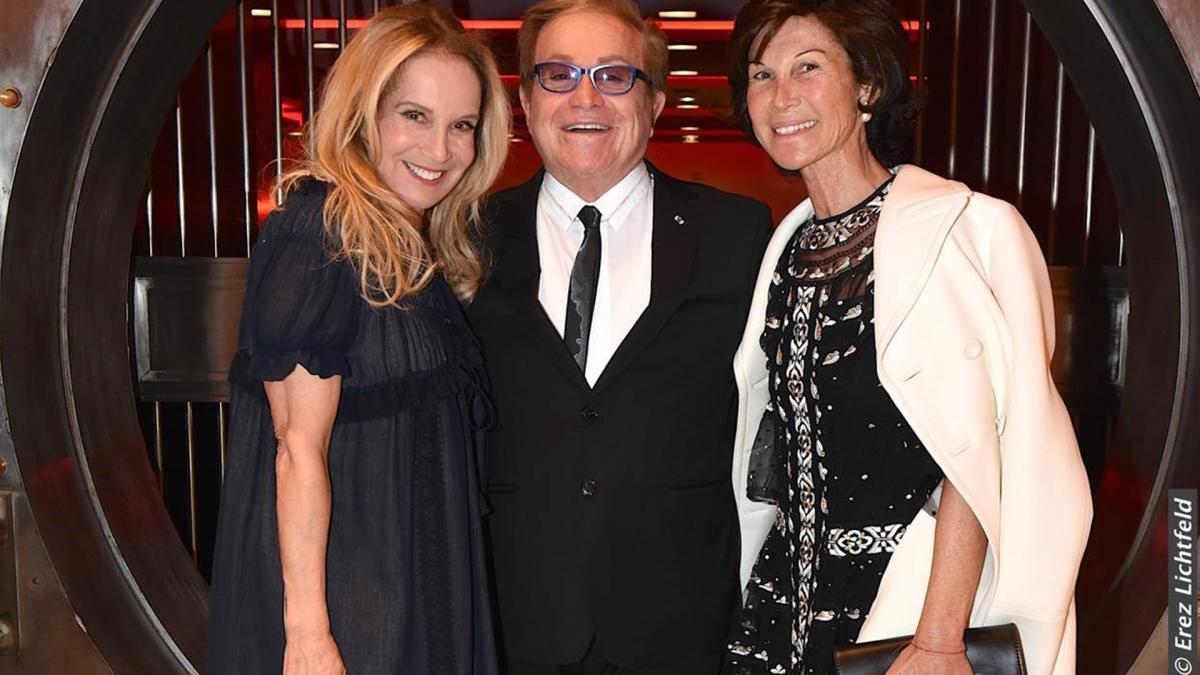 French Friends ( Les Amis) Gala at the Pavilion Vendome, Paris- March 2017. The gorgeous March 2017 Paris Gala drew 200 guests. Friends and artists from France and abroad included the Israel Ambassadress to France Aliza Bin Noun, director of the Centre Pompidou Bernard Blistene, , avid contemporary art collector Laurent Dumas, Baron Eric de Rothschild, director of Christian Dior Sylvie Rousseau, Natalie Rykiel, president of Sonia Rykiel, and artist Christian Boltanski. The successful Gala auction included bestselling pieces by Adel Abdessemed, Fabrice Hyber, Friedrich Kunath and Sigalit Landau.
---
South African Friends (SAFIM)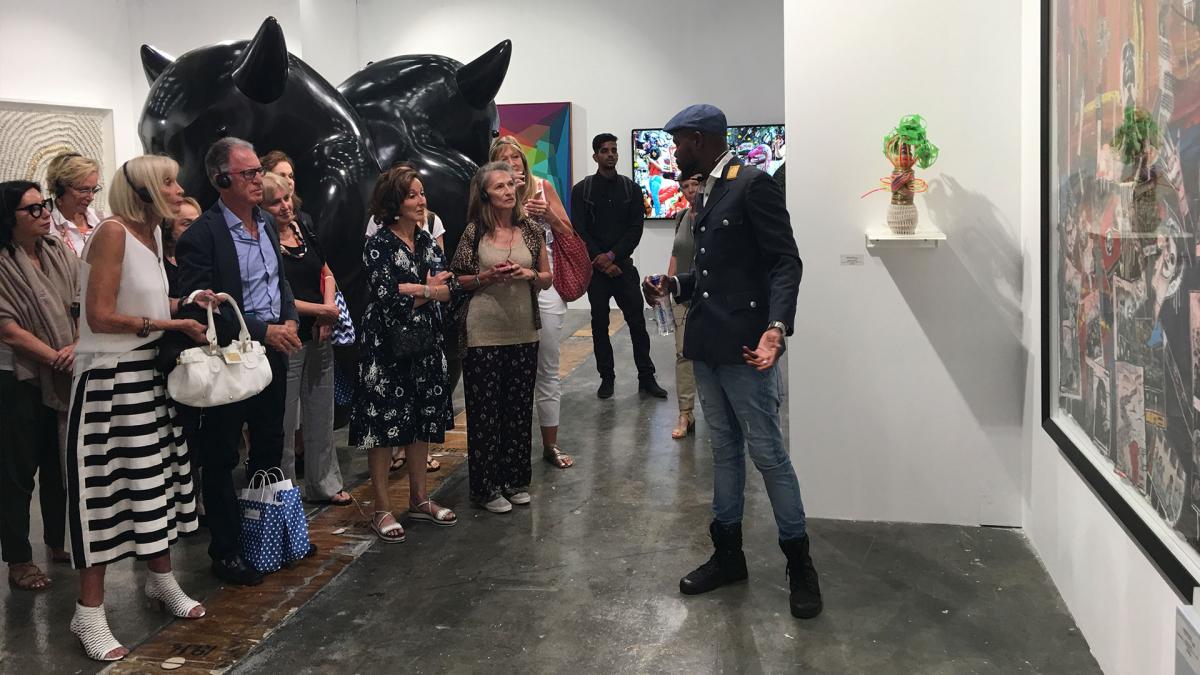 South African Friends (SAFIM) VIP program at the Art Fair, Cape Town- February 2017. Chief Art Curator of the Cape Town Art Fair 2017, Tumelo Mosaka, welcomes SAFIM members to their private visit. Cape Town members enjoyed a VIP experience including tickets to the vernissage opening night, a networking breakfast with gallerists, artists, and collectors; a guided tour; and a panel discussing on investing in art.
---
German Friends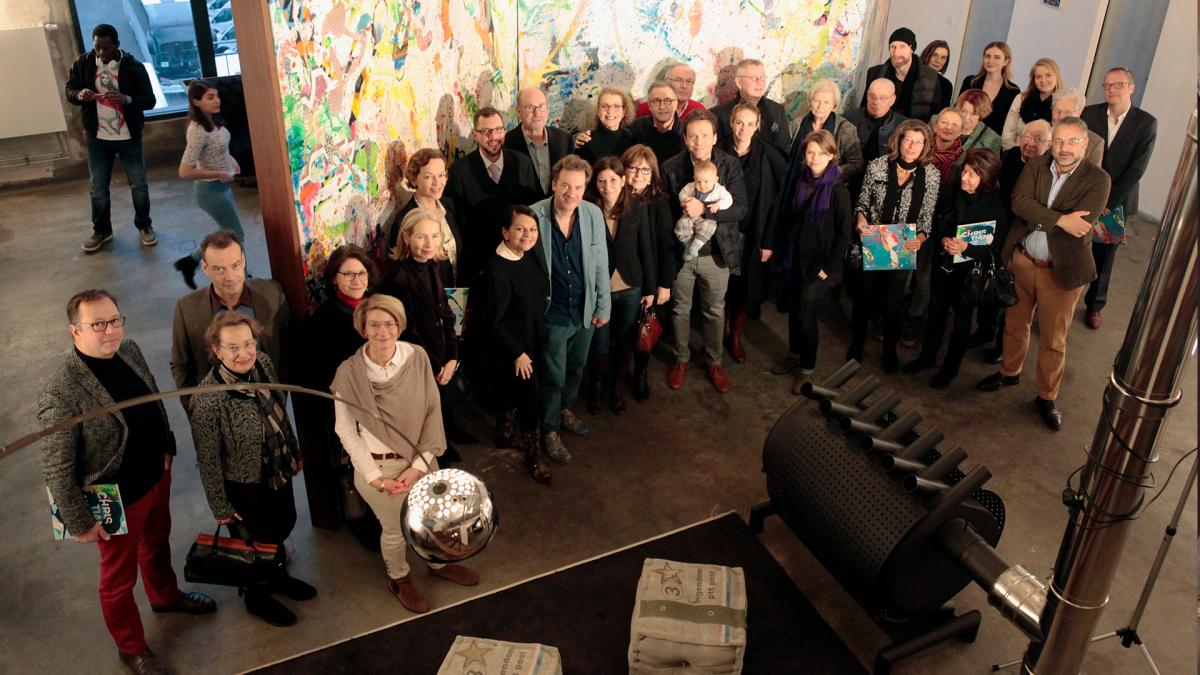 German Friends studio visit- January 2017. The Annual Meeting of our German Friends took place in Berlin as part of a rich weekend program of cultural activities. German friends and other guests enjoyed visiting art studios, special dinners, and an exclusive guided tour of the restored 18th century Berberini Museum in Potsdam
---
British Friends (BFAMI)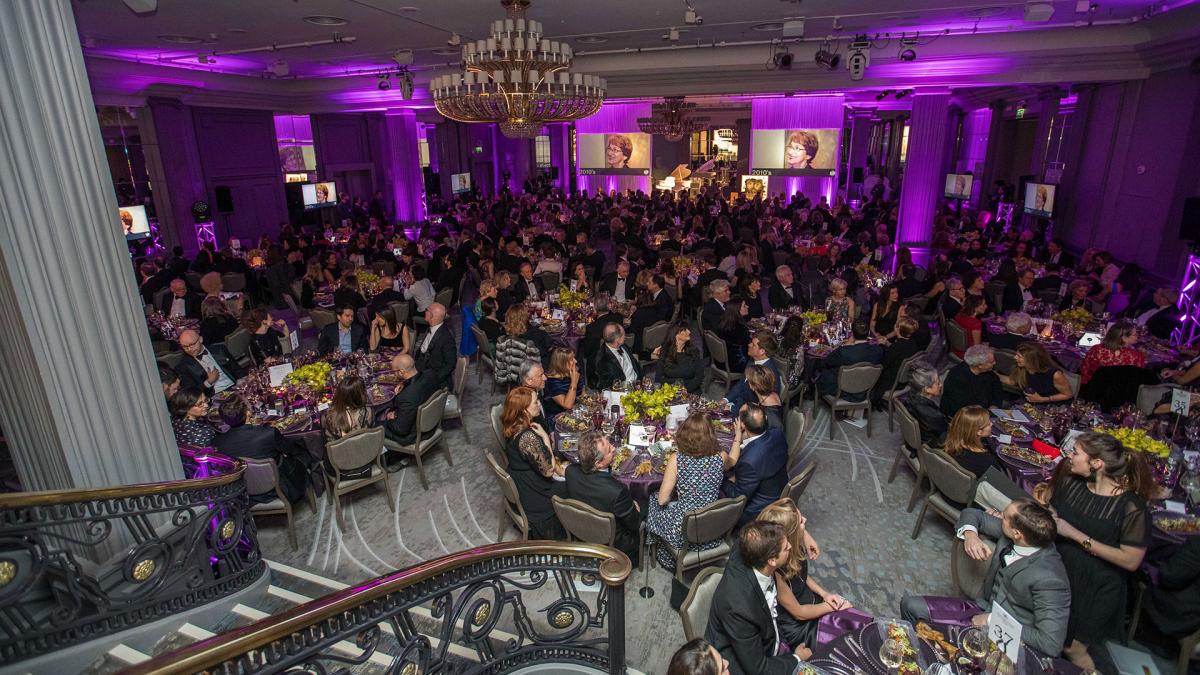 British Friends (BFAMI) 70th Anniversary Gala Dinner- January 2017. The elegant setting of BFAMI's 70th Anniversary Gala. Celebrated through a gala dinner and an auction; which included works by prominent, emerging Israeli artists, including the guest of honor Ron Arad.
---
In 2005, the Israel Museum's International Council Co-Chair, Marion Naggar, initiated a series of special commissions by cutting-edge artists to be sold in exclusive limited editions for the benefit of the Museum. Following the success of the commissioned works by Damien Hirst (2005 – Sold Out), limited editions have been released by Yinka Shonibare, MBE, (2007), Ron Arad (2008), Liza Lou (2010), William Kentridge (2011– Sold Out), Arik Levy (2014), Jeff Koons (2015– Sold Out), Olafur Eliasson (2016) and most recently Ai Weiwei (2017)

To purchase a limited edition of any of the works below, please contact Carina Auerbach at carinaue@imj.org.il, +972-2-670-8890
Hands without Bodies, 2017, Ai Weiwei

Porcelain, life-sized (approx. 50 x 20 cm), edition of 50. Price: $50,000
Hands without Bodies is a life-sized work done in celadon-glazed porcelain, reflecting the artist's deep commitment to the belief that the future of humanity relies on the strength of the connections between people.
---
Ai Weiwei, 2013, Hans Werner Holzwarth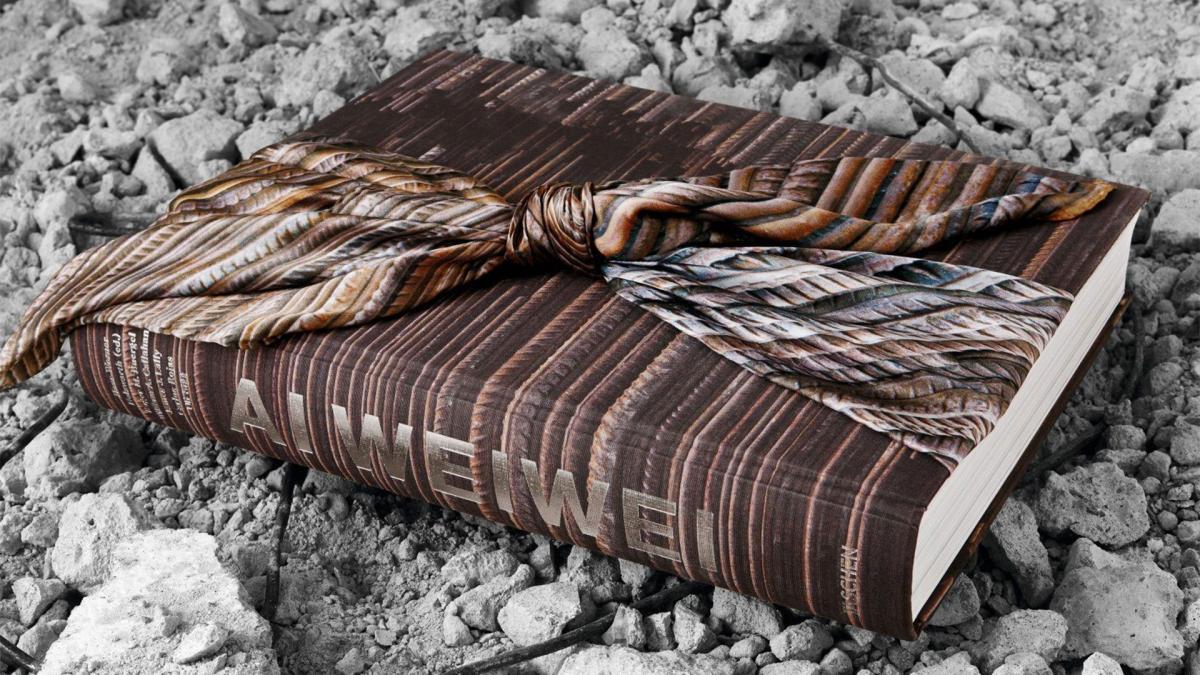 Hardcover, clothbound, wrapped in a silk scarf, 33 x 44 cm, 724 pages, edition of 1,000 + 200 APs. Price: £900
This book, signed by the artist, is the first comprehensive monograph on Ai Weiwei's life and work. Compiled in close collaboration with Ai and with direct access to his own archives, it explores the artist's particular brand of expression and activism over more than 700 pages of images and text.
---
Your Reversed Berlin Sphere, 2016, Olafur Eliasson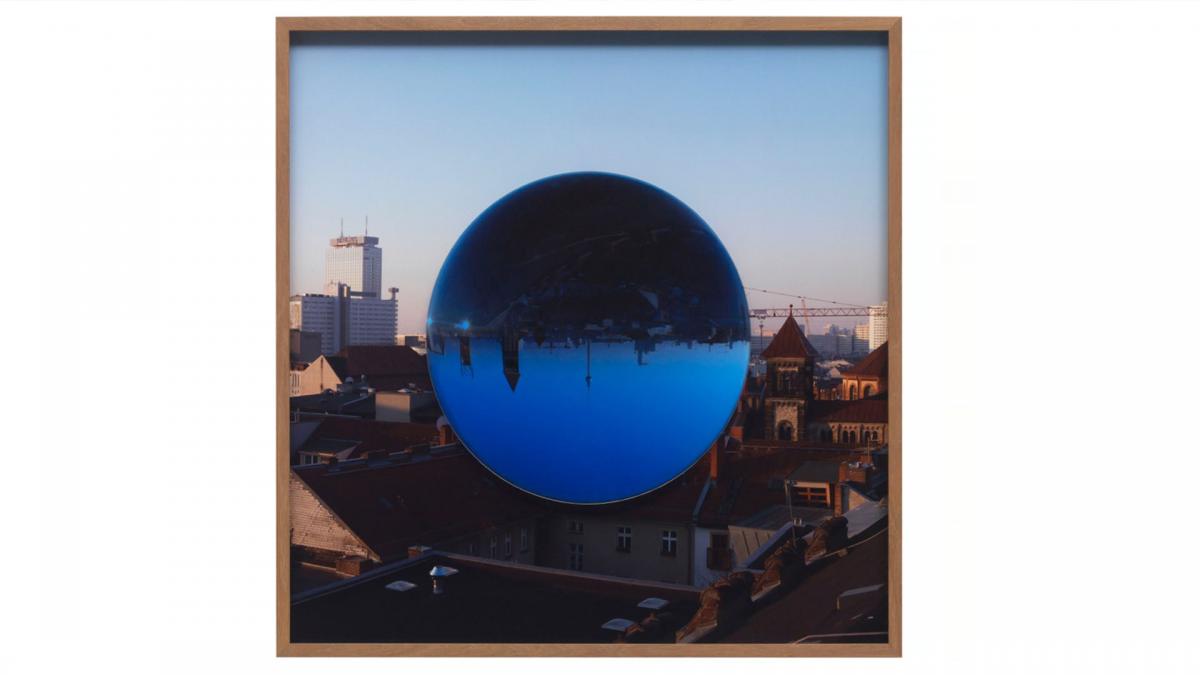 Color print on Fuji crystal archive II paper (matte) mounted on dibond, color-effect filter glass, glass, wood frame, 92.7 x 92.7 cm, limited edition of 40. Please contact cfim@rogers.com for pricing.

Your Reversed Berlin Sphere
was commissioned by the Canadian Friends of the Israel Museum in consortium with Benefit Print Project to mark the Museum's 50th Anniversary
---
Seated Ballerina, 2015, Jeff Koons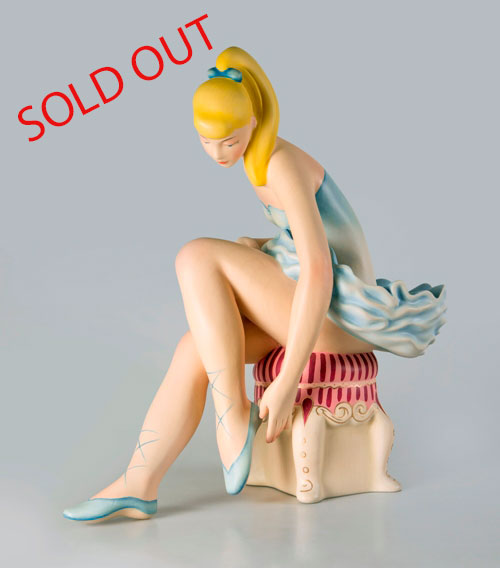 ​Wooden sculpture (46 x 43 x 25 cm), produced in an edition of 50 + 10 APs in commemoration of the Museum's 50th Anniversary year in 2015. Seated Ballerina is priced at $50,000 (excluding VAT and shipping). All pieces are signed and numbered.
---
Illusion, 2014, Arik Levy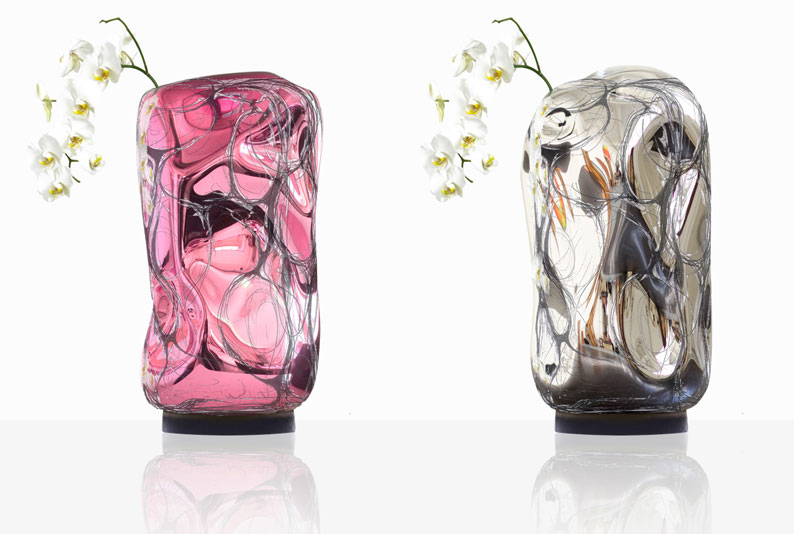 Series of unique, mouth-blown sculptured vases in silvered and colored art glass (40 x 20 cm). The silver vase is an edition of 40 + 2 APs, priced at $10,000 and the colored vase is part of an edition of 20 + 2 APs, priced at $15,000 (excluding VAT and shipping). All pieces will be signed by the artist and issued a certificate of authenticity.
---
Glass Water Jug, 2012, by William Kentridge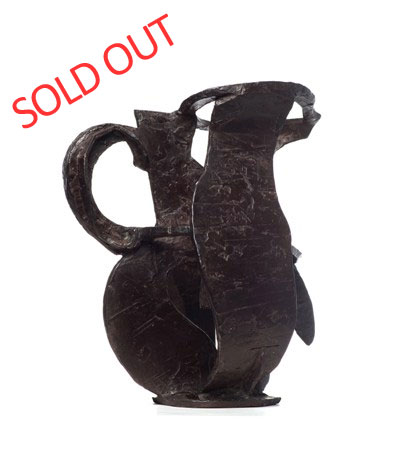 Followed the retrospective exhibition, William Kentridge: Five Themes Glass Water Jug (25 x 24 x 18 cm) is signed WK and numbered, and is available at $22,500 (excluding VAT and shipping).
---
Gather Forty, ​2010, Liza Lou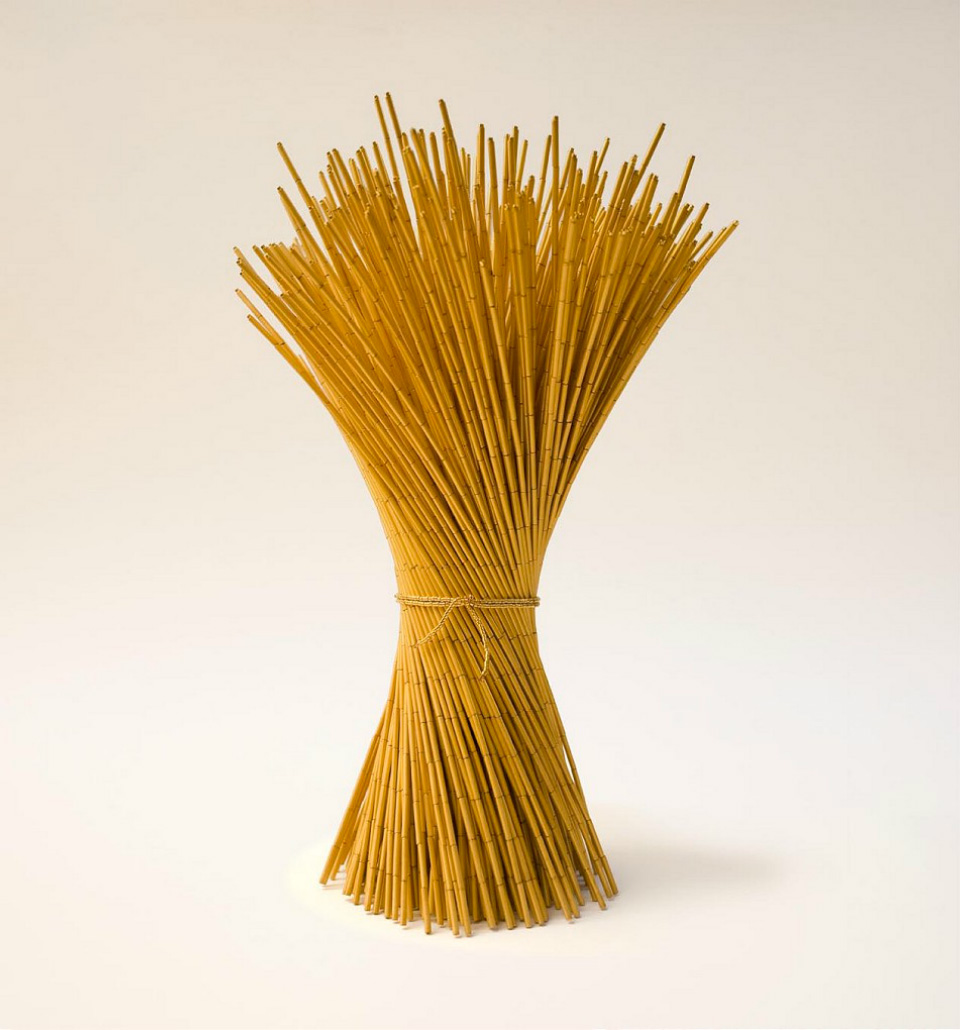 Series comprised of 40 individual sculptures featuring gold-plated beads threaded onto 400 individual strands of stainless steel wire and bound into a single sheaf (25 x 12 cm) to create a circular field. The sculpture is available for $22,500 (excluding VAT and shipping) and is accompanied by a signed certificate of authenticity from the artist.
---
Culture Flower, ​2007, Yinka Shonibare, MBE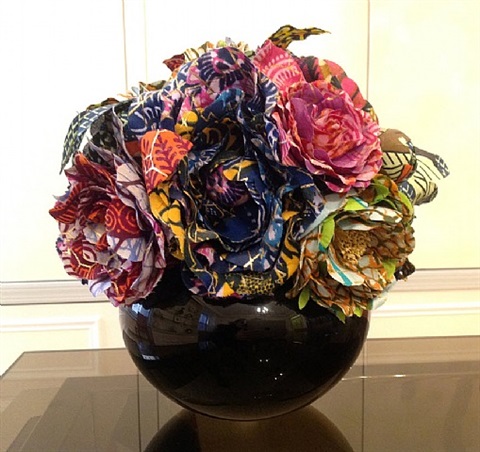 Image courtesy the artist and Stephen Friedman Gallery
A delicate bouquet of hand-made fabric flowers arranged in a hand-blown opaque black glass vase. (30 x 27 cm). The exuberant bouquet of gardenias, camellias, peonies and roses is made from the artist's signature African fabric. Each flower has been hand selected by the artist from a different batik cloth, and in each arrangement in this edition of 40, the choice of fabric flowers is varied, making each piece unique. The work is priced at $30,000 (excluding shipping and VAT) and includes a signed certificate of authenticity by the artist.
---
PizzaKobra Light, 2014, designer and architect Ron Arad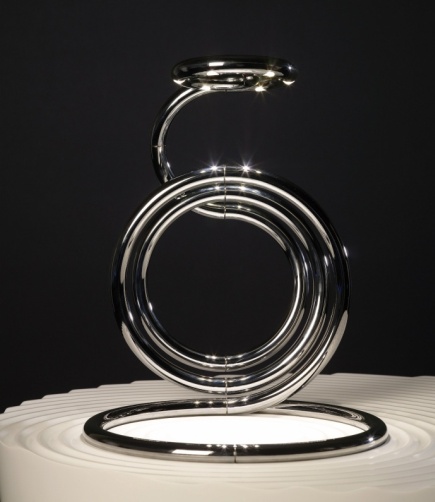 Small masterpiece of art technology that can be transformed from a flat coil into a unique object of fluid design and can be positioned into a variety of configurations. PizzaKobra is part of an edition of 40, available at $15,000 (excluding VAT and shipping). Each piece is signed by the artist and numbered.
---
Traveling Loans and Exhibitions
Traveling Exhibitions

Bologna, Italy: October 15, 2017-February 11, 2018 and Madrid, Spain: March 22-July 15, 2018 –
Duchamp, Magritte, Dalí: The Revolutionaries of the XX Century: Masterpieces from The Israel Museum, Jerusalem is on display at the Palazzo Albergati in Bologna, Italy until February 11, 2018. The exhibition will then travel to Palacio Gaviria in Madrid.
NYC, USA:  November 3-March 18, 2018 and San Francisco, USA:  August 30, 2018-January 6, 2019 – Veiled Meanings: Fashioning Jewish Dress, currently on display at the Jewish Museum, New York, will travel to the Contemporary Jewish Museum in San Francisco. In the Press>>

Lisbon, Portugal: February 28-May 27, 2018 – No Place Like Home will be on display at Museu Colecção Berardo.

Tokyo, Japan: June 6-July 29, 2018 – The Miracle of M.C Escher: Prints from The Israel Museum, Jerusalem will be on display at the Ueno Royal Museum.

Paris, France: September 15-December 20, 2018 – Doing Time in Holot will be on display at the Musée d'Art Moderne, accompanied by a special French/English edition of the exhibition catalogue.
Loans

Munich, Germany: October 30, 2017-April 4, 2018; Humlebæk, Denmark: May-August 2018; Cologne, Germany October 2018-January 2019 – Kandinsky at Tea is on loan as part of the Gabriele Münter – Creative Vision exhibition at Städtische Galerie im Lenbachhaus und Kunstbau München in Munich, the Louisiana Museum of Modern Art in Humlebæk, and Museum Ludwig Köln in Cologne.

Berlin, Germany: December 10, 2017-April 30, 2019 – Rosh Hashanah Greeting Cards and replicas from the Archaeology Wing are on display in Welcome to Jerusalem, an exhibition at the Jewish Museum Berlin.

Augsburg, Germany: January 29-June 30, 2018 – A Torah ark curtain from Kriegshaber, Germany circa 1724 will be part of an exhibition on the Kriegshaber Jewish Community at the Jewish Culture Museum.
Frankfurt, Germany: February 8-May 21, 2018 – Peter Paul Rubens' The Death of Adonis is on loan as part of the Rubens: The Power of Transformation exhibition at the Stadel Museum.