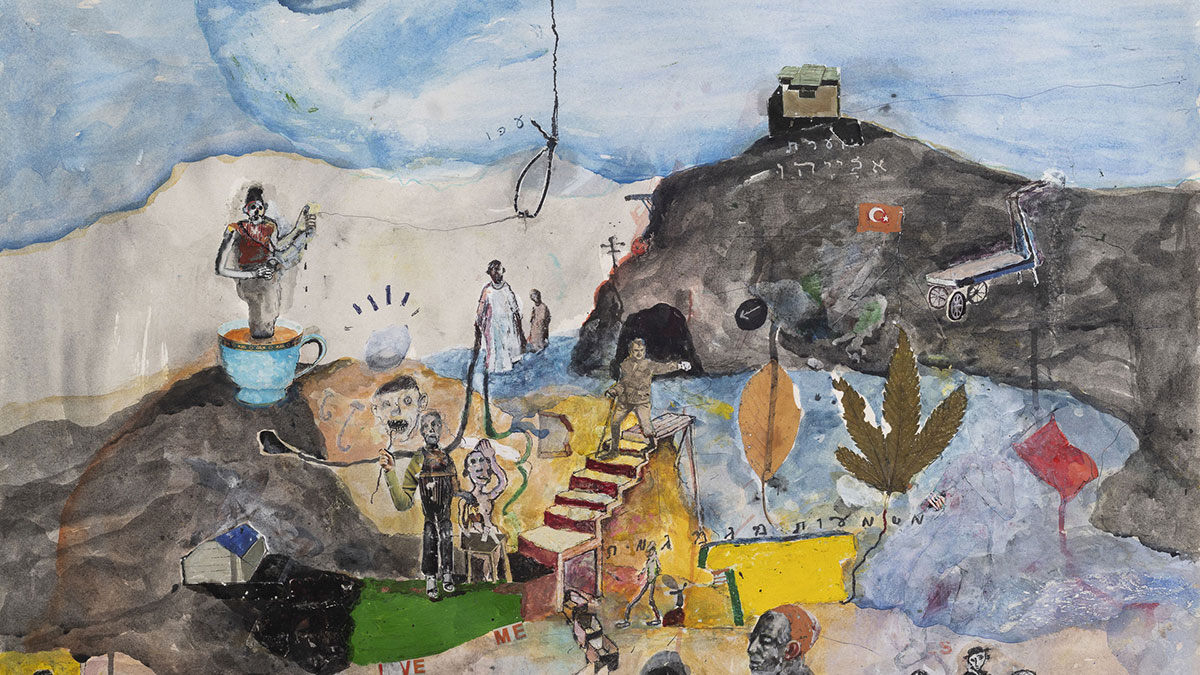 Zvi Tolkovsky: Pilgrimage in the Holy Land


March 5 2023 - September 2 2023
Curator: Ronit Sorek
Assistant to the curator: Loti Gombosh
Designers: Michal Aldor and Libat Eden
Hagit Gallery, Edmond and Lily Safra Fine Arts Wing
The pilgrimage of Zvi Tolkovsky doesn't lead to any holy tomb or site of divine revelation. It doesn't take a familiar route, and it isn't intended – unlike many of today's pilgrimages – to bring about a life change or to attain blessings. Instead, for 50 years, Tolkovsky has taken a journey of longing in the Holy Land, seeking what once was and is no longer. The artist calls this inner process "a pilgrimage without a destination, a work in parts that is also a prayer." Immersing ourselves in the exhibition may also turn us into pilgrims in this land, as he shares not only yearnings, but also his critique of what has happened here and of our responsibility for the situation today.
Tolkovsky sees himself as both a pilgrim and a guerrilla fighter against a "cruel establishment." Following his own personal artistic path, he analyses what he finds along that road. To the holy sites on his pilgrimage maps – the Valley of Hinnom, Golgotha, Mount Tabor, the Ka'ba in Saudi Arabia – he adds the Israeli Arab town Jisr az-Zarka and nearby Nahal Taninim. He has delved into the pilgrims' beliefs, practices, and material culture; he has read their chronicles and collected objects related to them, as well as to his childhood in pre-State Israel. From all of this testimony, he creates his own imaginary world, a place that is simultaneously mystical, political, and confrontational. Every object draws him into its story, provides inspiration, and is transformed. Thus the pretty dried flowers that Christian and Jewish pilgrims took home as souvenirs become toxic when he reworks them with paint and text.
Inviting us to join him on his journey of observation, interpretation, and nostalgia, Tolkovsky presents us with a wealth of words – including those of his friend the poet Harold Schimmel – and images. Many are iconic, such as Mickey Mouse, Tolkovsky's transgressive alter ego. But alongside the humor, there are harsher messages about empires that rose and fell, corrupt institutions and occupied land, and disruptive, aggressive social phenomena.
The exhibition was made possible by the Hagit Lalo (née Shtriet) Memorial Fund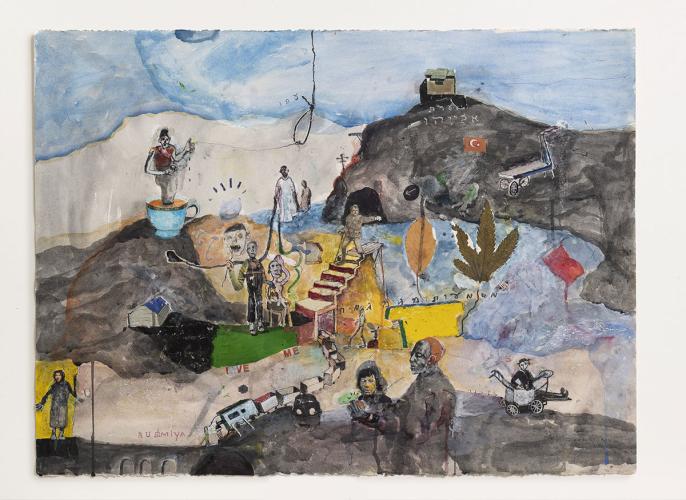 Elijah's Cave, 2022
Collage; watercolor, ink, and ballpoint pen on industrial paper
From the artist's collection
Photo © The Israel Museum, Jerusalem by Zohar Shemesh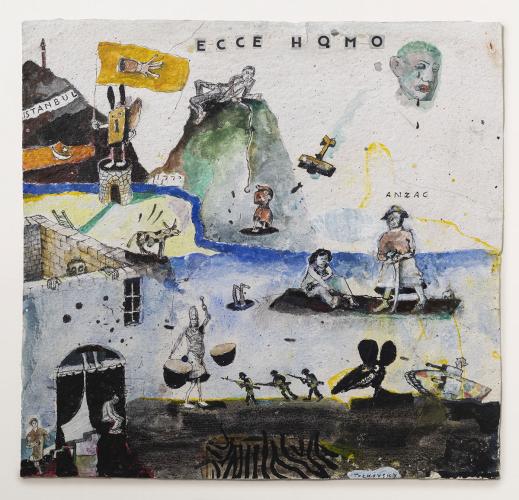 Ecce Homo, 2018
Collage; watercolor and ink on handmade paper
From the artist's collection
Photo © The Israel Museum, Jerusalem by Zohar Shemesh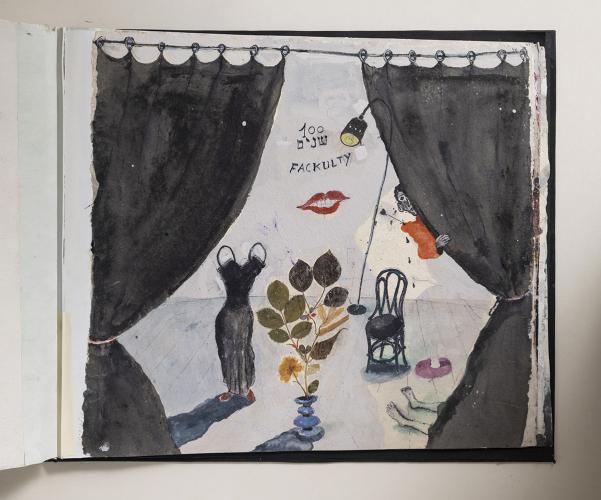 From the artist's book Pilgrimage to the Holy Land, 2016
Collage; watercolor and ink on handmade paper
The Israel Museum, Jerusalem: Purchase, Ruth and Joseph Bromberg Fund
Photo © The Israel Museum, Jerusalem by Zohar Shemesh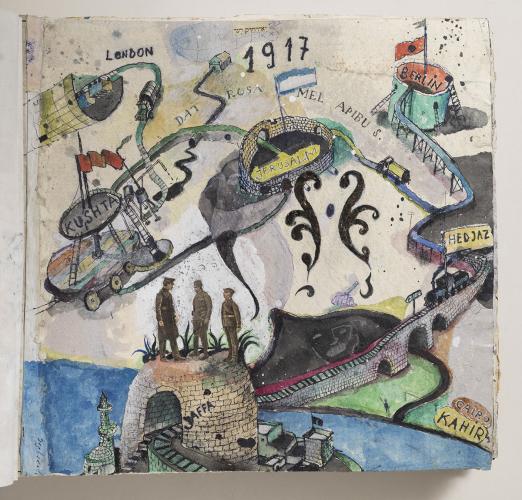 From the artist's book Pilgrimage to the Holy Land, 2016
Collage; watercolor and ink on handmade paper
The Israel Museum, Jerusalem: Purchase, Ruth and Joseph Bromberg Fund
Photo © The Israel Museum, Jerusalem by Zohar Shemesh
Other exhibitions in
Israeli Art