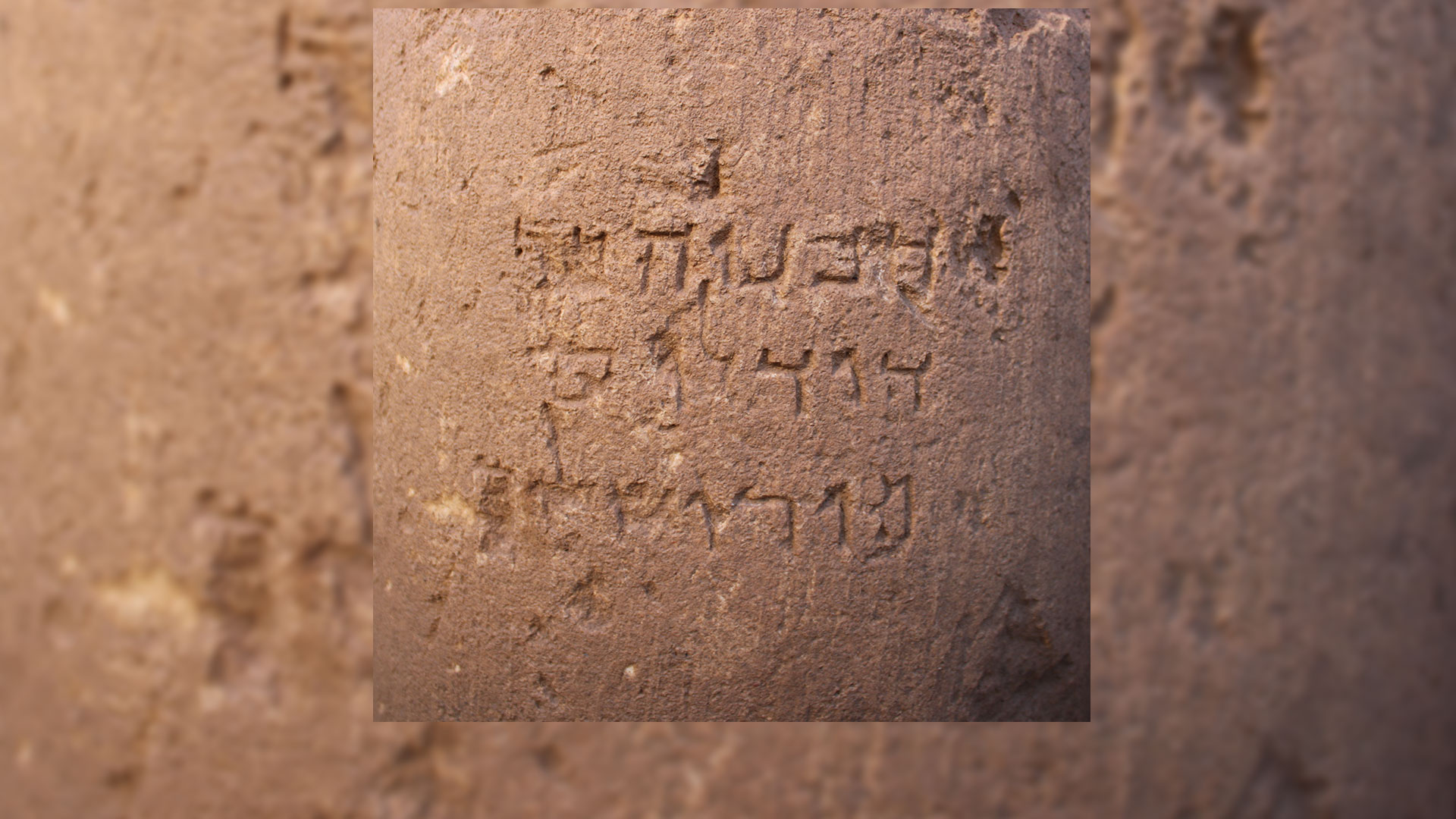 Hanania son of Dudolos of Jerusalem

Special exhibit
October 9 2019 - October 9 2019
Curator: David Mevorach and Rachel Caine-Kreinin
Designer: Michal Aldor
A 2,000 Year-Old Stone Inscription has been Unearthed, Noting the Full Spelling of Jerusalem for the First Time
This column drum bears an Aramaic inscription: "Hanania son of Dudolos of Jerusalem." It represents the first epigraphic testimony to the name Jerusalem spelled Yerushalayim (as it is written in Hebrew today), as opposed to Yerushalem or Shalem.
The column drum, discovered out of context, was originally part of a building that stood in a Jewish potters' village on the outskirts of Jerusalem. The site was eventually converted by the Tenth Roman Legion into a workshop for ceramic building products. The column drum probably came from a workshop or some other structure belonging to Hanania or a public building that he helped finance. Hanania's father's name – Dudolos – is based on the name of the mythological Greek artist Daedalos; it may have been a nickname alluding to the father's artistic abilities. It is interesting to note that although the village was very close to the city, Hanania still found it meaningful to mention his Jerusalem origins.
Prof. Ido Bruno, Director of the Israel Museum, stated: "As a resident of Jerusalem, I am extremely excited to read this inscription, written 2,000 years ago, especially when I think that this inscription will be accessible to every child that can read and uses the same script used two millennia ago. The important and interesting cooperation between the IAA and the Israel Museum, brought to light in the handling and display of new finds, provides an opportunity for the public to be exposed to important discoveries from all over the country, learning about the ancient cultures that developed in Israel over generations."
Dr. Yuval Baruch, Jerusalem Regional Archaeologist of the Israel Antiquities Authority, and Prof. Ronny Reich of Haifa University, who read and studied the inscription, note that "First and Second Temple period inscriptions mentioning Jerusalem are quite rare. But even more unique is the complete spelling of the name as we know it today, which usually appears in the shorthand version. This is the only stone inscription of the Second Temple period known where the full spelling appears. This spelling is only known in one other instance, on a coin of the Great Revolt against the Romans (66-70 CE). The unusual spelling is also attested to in the Bible, where Jerusalem appears 660 times, with only 5 mentions – of a relatively late date – having the full spelling (Jeremiah 26:18, Esther 2:6, 2 Chronicles 25:1, 2 Chronicles 32: 9, and 2 Chronicles 25: 1)."
According to David Mevorach, Senior Curator of Archaeology at the Israel Museum, "the archaeological context of the inscription does not allow us to determine where it was originally displayed, or who Hanania son of Dodolos was. But it is likely that he was an artist-potter, the son of an artist-potter, who adopted a name from the Greek mythological realm, following Daedalus, the infamous artist. It is interesting that he decided to add his origin from nearby Jerusalem to his family name."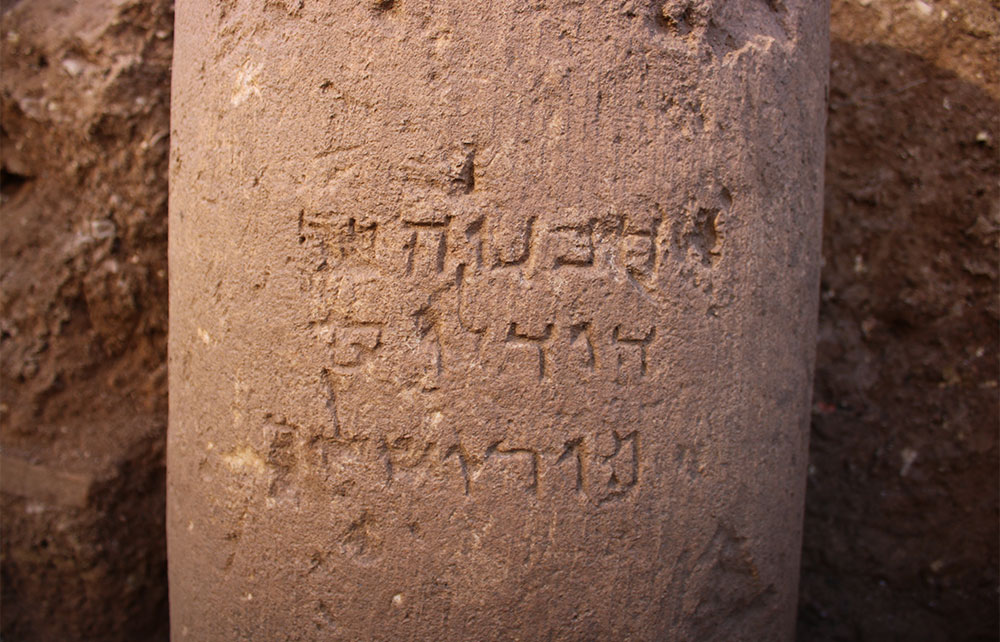 Column drum bearing an incised Aramaic inscription
International Convention Center, Jerusalem, 1st century BCE, limestone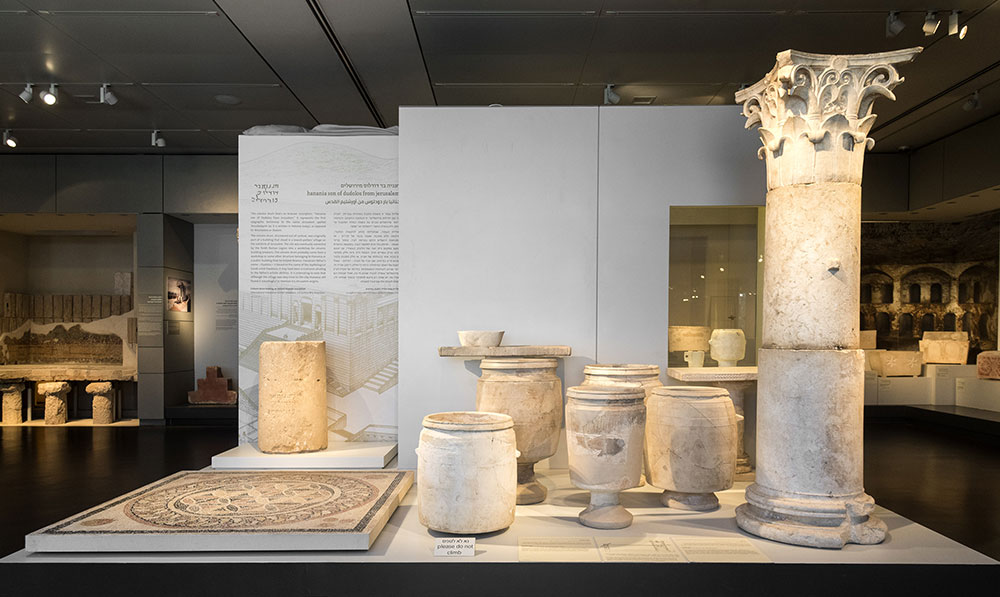 View of the special exhibit