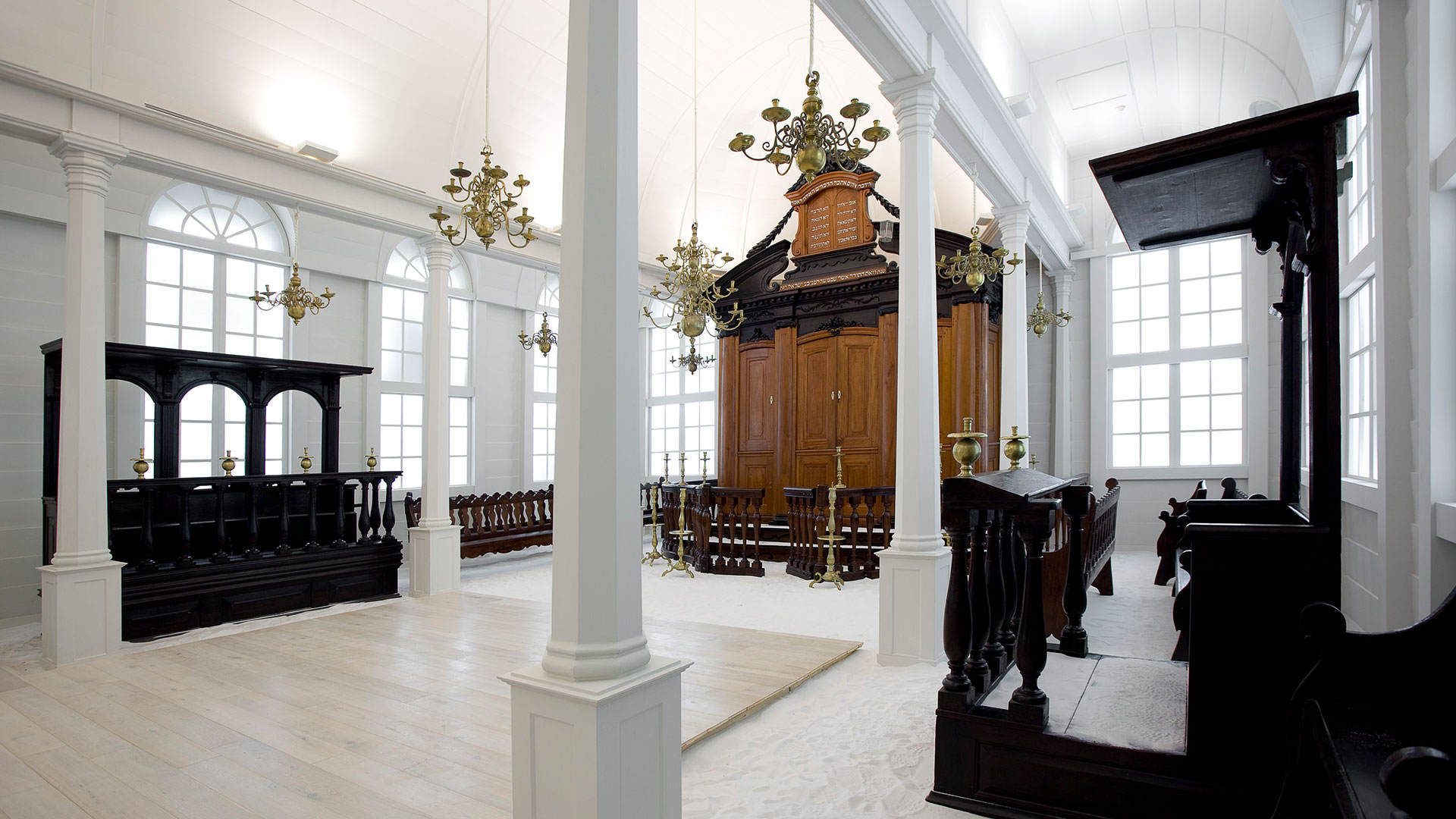 The Synagogue Route

The synagogue is the focal point of Jewish life -- the main place of communal worship as well as the scene of educational, social, and cultural activity.
Four original, reconstructed synagogues, from three continents are displayed in the Jewish Art and Life Wing, with their Torah ark, the Torah reader's platform, benches and other synagogue furnishings. The diversity in their architectural styles reveals the direct influence of the local surrounding culture, and the character of each community.
The synagogue from Vittorio Veneto, a small town in northern Italy, was built in 1700. Its interior is elegantly decorated in typical Italian Baroque style, reminiscent of a reception room in an aristocrat's palace.
The Kadavumbagam synagogue from the town of Cochin in southern India, built in the 16th century is a wooden structure, with an exquisitely carved and painted ceiling directly influenced by the decorations of mosques and Hindu temples.
The wooden synagogue from Horb, southern Germany, was built in the first half of the 18th century. Its walls and the ceiling were completely covered with paintings and inscriptions, thus being one of the rare testimonies of an old tradition of painted Synagogue common in Poland and Germany.
The Tzedek ve-Shalom synagogue from Suriname, northern South America, was built in the 18th century, and it tells the story of the Spanish-Portuguese Jews who came from Europe to the New World.
The synagogue route is accompanied by a rich display of ritual objects such as Torah mantles and cases, shields and finials, as well as Torah ark curtains, all of them originating from communities around the world; from Morocco to Poland; from Afghanistan to the Netherlands.
Walking through the Synagogue Route visitors can enjoy a historical and geographical journey through a variety of traditions and influences.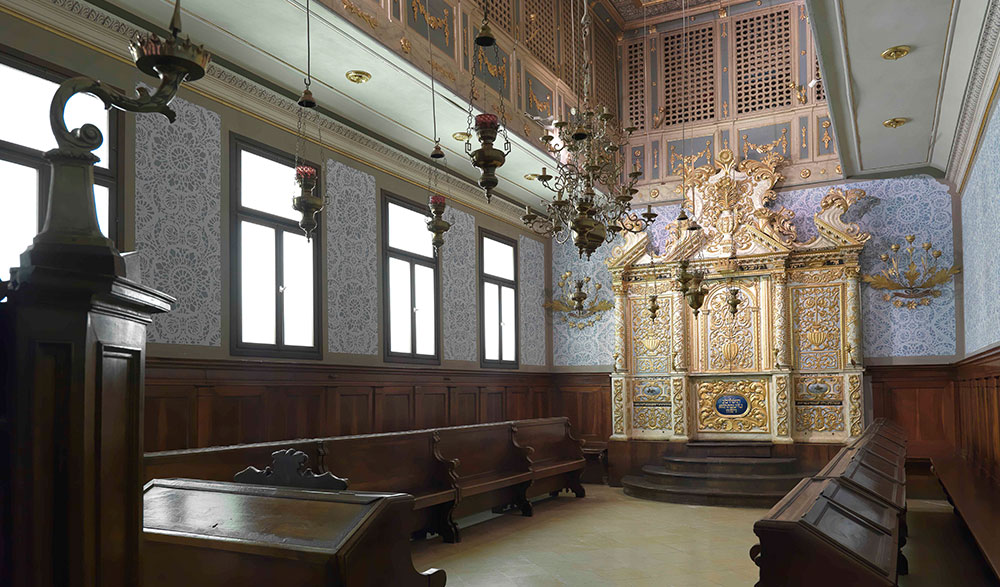 Synagogue interior from Vittorio Veneto, Italy, 1700, Carved wood, gold leaf, 10.5 x 5.8 m Gift of Jakob Michael, New York, in memory of his wife, Erna Sondheimer-Michael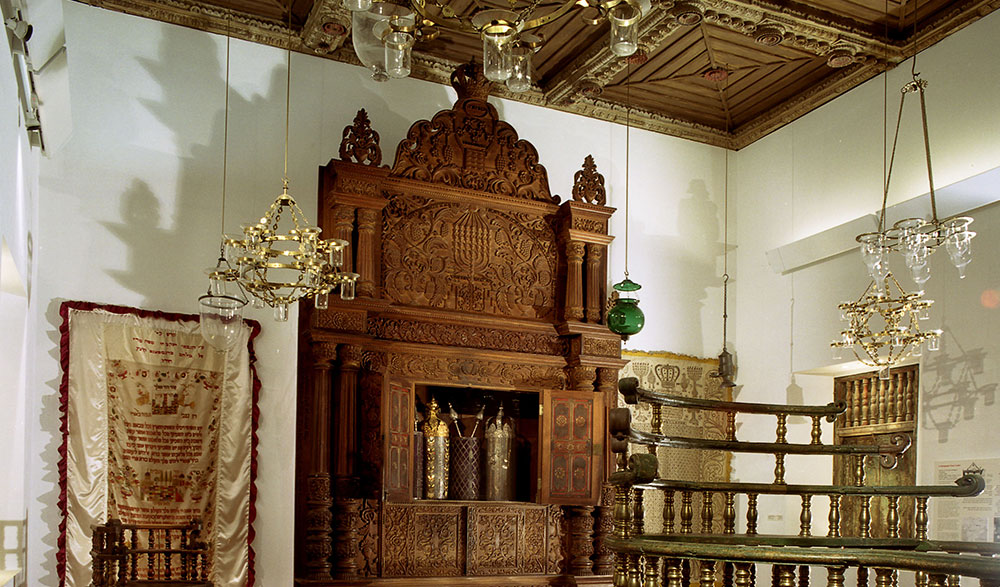 Synagogue interior of the Kadavumbagam synagogue Cochin, Southern India Date of construction: 1539–44 Wooden decoration: 17th–18th centuries Teak wood, carved and painted 550 x 880 x 520 cm Gift of Della and Fred Worms, London and Jerusalem
Interior of the Horb synagogue. Horb am Main, Germany, 1735, Painted wood,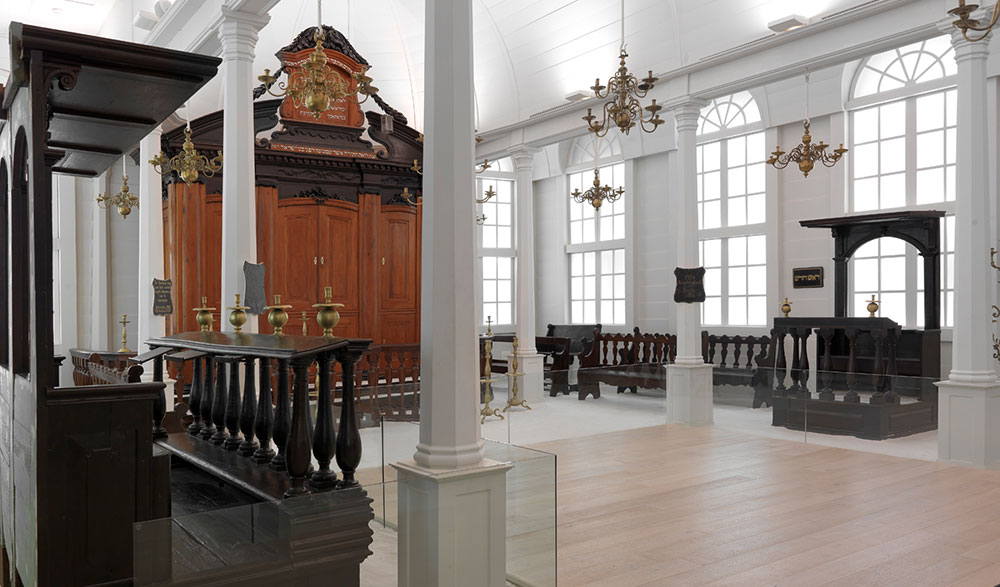 The Tzedek ve-Shalom Synagogue, 1736, Paramaribo, Suriname