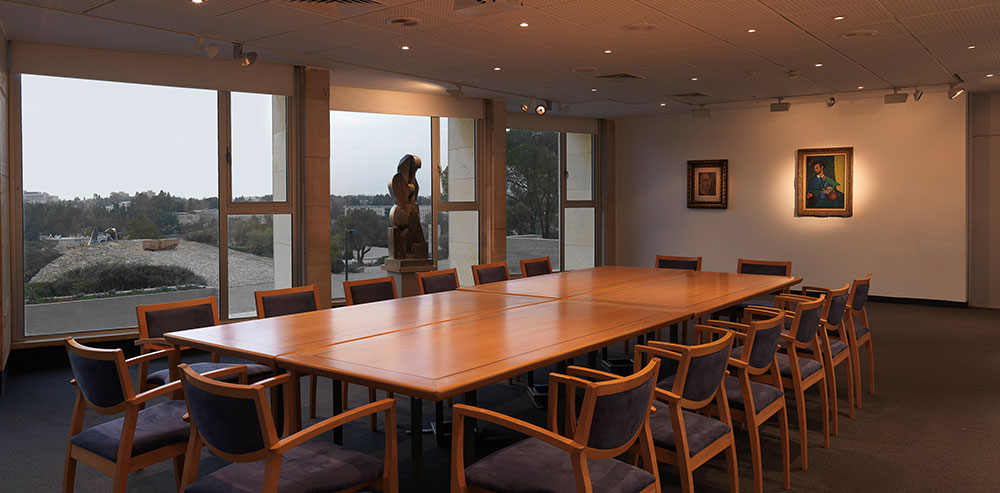 Libraries and Study Rooms
Axel Springer Art and Archaeology Library

The Library of the Israel Museum was established in 1965 in order to provide research tools to the Museum's curators. The Israel Museum, Jerusalem is home to an encyclopedic collection, and its Library Collections also cover a comprehensive range of subjects related to the Museum exhibits. In addition, the Library houses collections which integrate, support, and address subjects associated with the Museum's function. The unique collections donated to the Library of the Israel Museum, over the years, reflect the Museum's areas of expertise and enhance its Collections. Housing over 170,000 titles in a variety of languages. The Library subscribes to more than 120 up-to-date publications about relevant subjects, some of them in digital format. Readers are also welcome to access a number of significant, digital databases, available in the Library.
The readers are invited to use the electronic databases from within the library. The library has Wifi, photocopyers and scanners.

Opening Hours:
The library will be closed during Passover
Sun, Mon, Wed, Thurs 10 am - 4 pm
Tues 4- 8 pm
The Library will be closed during Sukkot, October 13-21
Email: library@imj.org.il
Tel. 02 670-8886
---
Study Rooms
---

Study Room for Prints, Drawings, and Photographs; The Arturo Schwarz Dada and Surrealist Library; The Norman Bier Section for Maps of the Holy Land
By appointment only
Prints and Drawings, Schwarz Library, and Bier Map Section: Tel. 02 670-8853
Photographs: Tel. 02 670-8843
---

The Isidore and Anne Falk Information Center for Jewish Art and Life
By appointment only: Tel. 02 677-1304
About the Center
---

Information Center for Israeli Art
Study room adjacent to the Library
The Center offers a comprehensive resource representing thousands of Israeli painters, sculptors, photographers, graphic and industrial designers, ceramists, jewelers, and related arts and crafts.

Visitors to the museum can search artist files both physically and digitally, including biographical notes, press cuttings, videos, slides, and photographs of artworks, as well as current and past exhibitions both in Israel and abroad.

Opening hours:
Mon, Wed
10 am - 2 pm
Tuesday
4 pm - 8 pm

Study room adjacent to the Library
By appointment only
Tel. 670- 8018
Email: artcent@imj.org.il
---

The Information Center for Israeli Art updates artist files for 12,000 Israeli artists in house. Online there is a selection of information about some 6000 Israeli artists.
Search for artist A-Z
The Information Center for Israeli Art contains important and unique archival collections of galleries and artists. To view these archives please contacts us in order to schedule a visit. The Information Center for Israeli Art archives include:
Works of the artists and information are from catalogs published by the museum, and from documentation deposited in the Information Center for Israeli Art, by the artists themselves, or from various other sources. Copyright of the individual works of art resides with the artist or the artist's heirs. The works may not be copied, published or distributed without the artist's permission.
By appointment only
Tel. 02 670-8018
Email: artcent@imj.org.il

---

Dorot Foundation Dead Sea Scrolls Information and Study Center
in Memory of Joy Gottesman Ungerleider
Sun, Mon, Wed, Thurs 10 am - 4 pm
Tues 4- 9 pm
Fri and Holiday Eves 10 am - 2 pm
Sat 10 am - 5 pm
For further information, call 02 633-2564
About the Study Center
Closed on Saturdays
---

Rockefeller Archaeological Museum
Tel. 628-2251
Email: fawzii@imj.org.il
---

Youth Wing Illustration Library
Tel. 02 670- 8952 ywl@imj.org.il
Computerized catalog