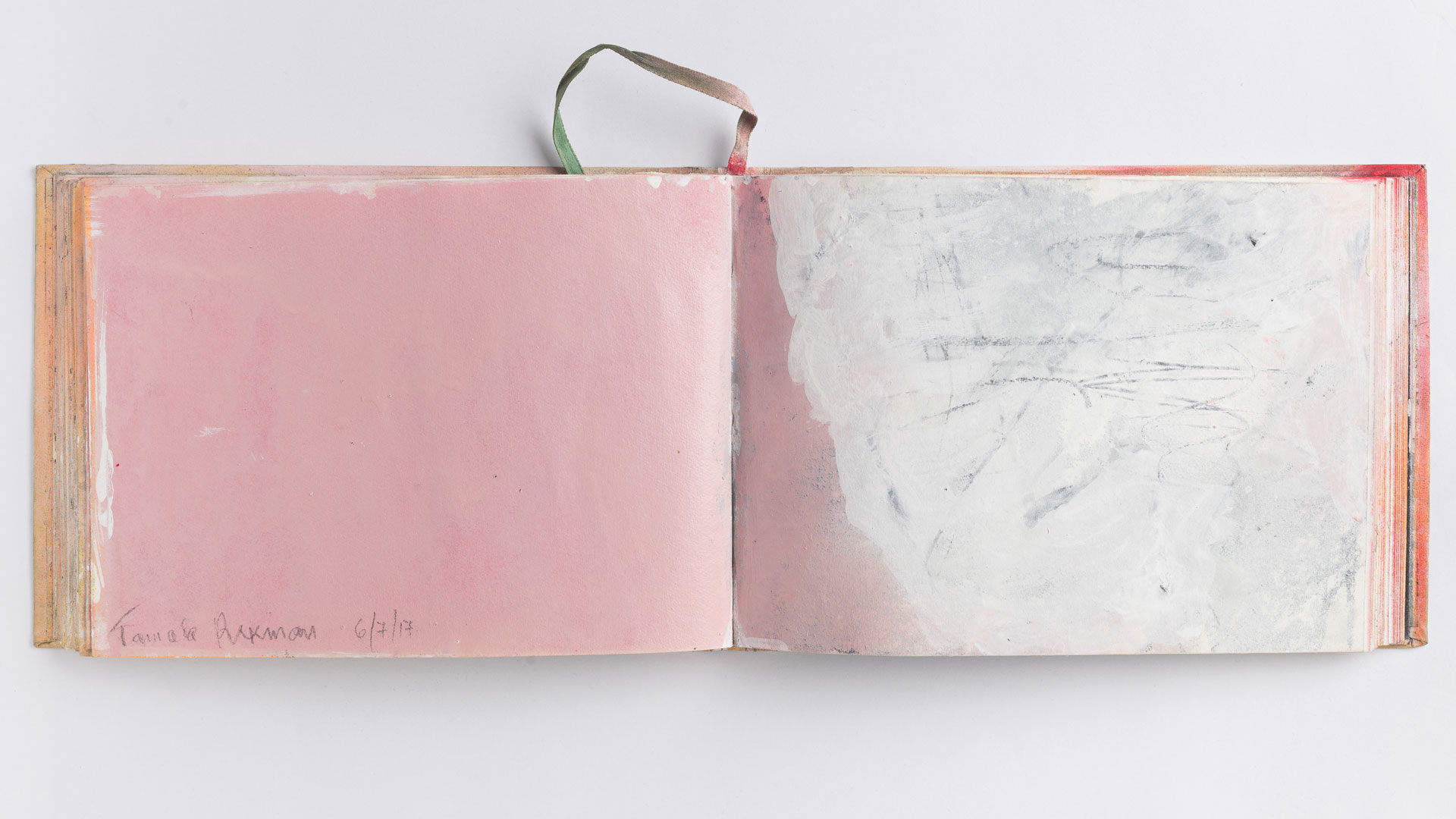 Tamara Rikman
Mostly Pink

December 1 2020 - November 20 2021
Curator: Ronit Sorek
Assistant curator: Risa Fuchs
designer: Michal Aldor
Hagit Gallery
Tamara Rikman's drawings progress rhythmically from one to another, an internal succession which reverberates in her artist's books. Born in 1934, Rikman has worked with engraving, drawing, metal, and sculpture. This exhibition displays works from recent years, incorporating pastels, industrial paints and intuitive pencil strokes.
Rikman instructs her many students to "gather everything you care for into storage; without such storage you cannot work," meaning a "memory warehouse" storing sources of inspiration. Her own storehouses are filled with memories of the artists who influenced her abstract approach. Above all, Rikman's work reveals her deep familiarity with the art of Arie Aroch, Aviva Uri, Moshe Kupferman, and Rafi Lavie.
In Rikman's cardboard drawings from 2019, she is striving for the charm of the painting, This is a surprising objective, given the nature of the material: tattered cardboard whose previous use is clearly discernible. Rikman, however, sees no contradiction: for her the desired effect can be achieved even through humble materials. The works' appeal stems from her bold choice of pink, despite the color's many connotations. Rikman is uninterested in provocation, sweetness, or issues of gender, but is rather focused on the extent to which industrial paint may transform a rough surface into a soft and sensual drawing.
Similarly bold and unexpected is the bright yellow paint sprayed in a series from 2018. For these works, Rikman draws the pencil lines using a stencil. Though this technique is generally implemented to mark clear outlines, Rikman does not commit to clear boundaries; instead they are implied and deliberately blurred. In the series of light blue paintings on handmade paper from Nepal – also from 2018 –the uninterrupted and curved graphite lines seem to disappear into the gentle pastel shades.
Rikman's artist's books offer the most distilled expression of what she calls "my drawing persona." These abstract works can be viewed as diaries documenting the artist's moods, though Rikman rejects any attempt at interpretation: "I do not translate my feelings into painting – not joy, not pain, not memories."
Exhibition made possible by Hagit Lalo neé Shtriet Memorial Fund