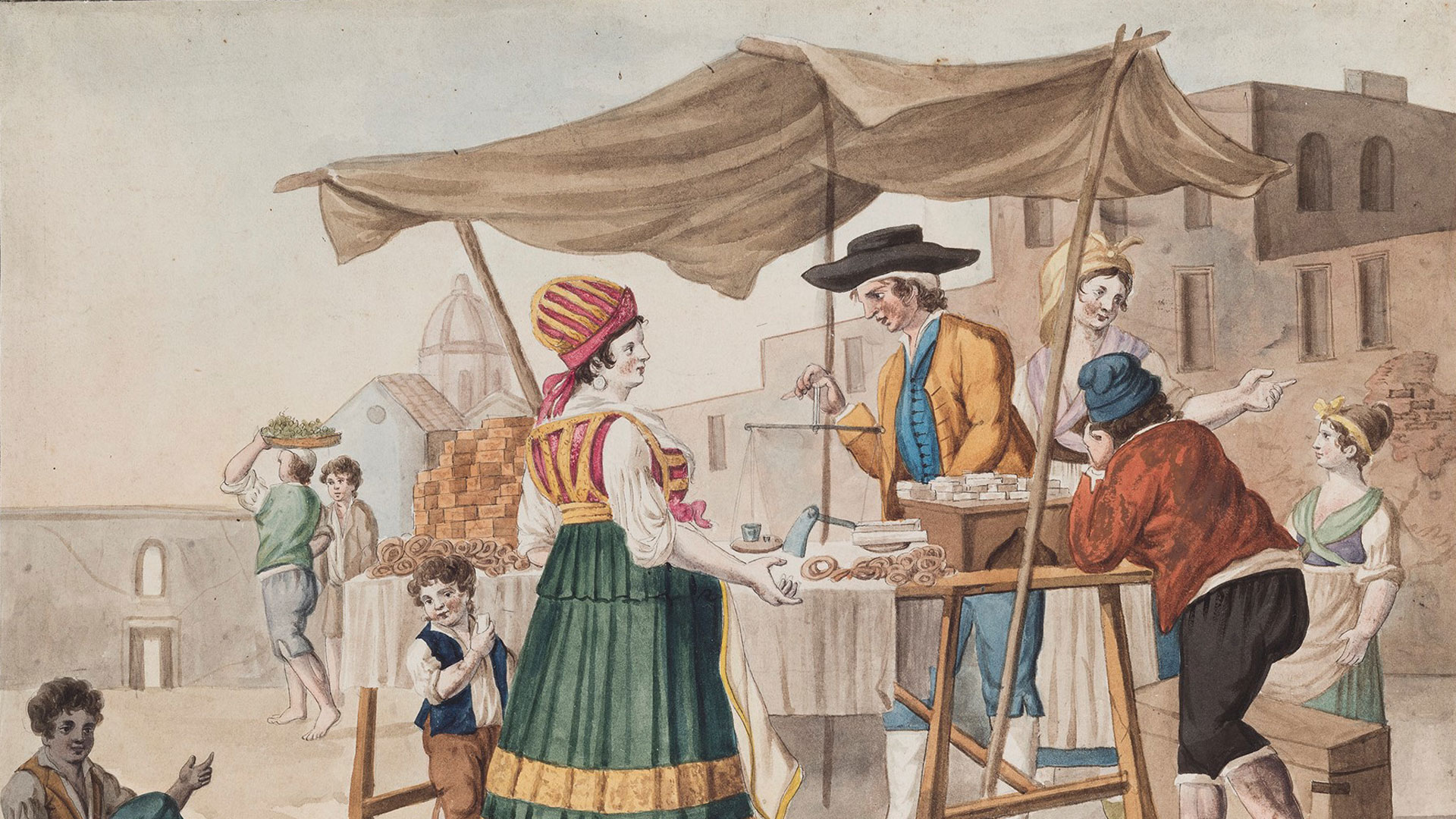 Market Day


November 18 2021 - October 15 2022
Curator: Shlomit Steinberg
Assistance to the curator: Yael Misheiker
Della and Fred Worms OBE Gallery
From time immemorial, the marketplace – whether in major cities or in towns and villages – has served not only as a collection of stalls for selling food and other merchandise, but also as a meeting place for the local population and incidental visitors. Besides engaging in commerce, participants could expect to meet friends and acquaintances, catch up on the latest news, eat and drink to their heart's content – and perhaps even witness a public execution. At the market, matchmakers plied their trade, upcoming marriages and births were announced, and money was borrowed or lent in the hope that it wouldn't disappear while the parties watched a magic show.
Buyers would scrutinize the fruit and vegetables, crumple herbs and spices between their fingers, inspect the eyes of a fish they considered cooking for dinner, and, in Mediterranean countries, tap the watermelons for ripeness and listen to the sound they produced. A day in the marketplace was a multisensory experience, in which vendors' calls, the tastes of delicacies, the fragrances of newly baked bread, and the smells of animals combined into a cacophonous – or harmonious – blend.
All these found expression in literary depictions, folk songs, and visual art. This exhibition features the work of European artists in a variety of media – painting, drawing, and miniature porcelain sculptures – from the 16th century and up until modern times. Alongside depictions of local markets, some inquisitive artists ventured beyond the borders of their own cities or countries, depicting the markets of such faraway places as North Africa and the Far East, as well as the markets of Jewish communities in Eastern Europe, which, to them, seemed just as exotic.