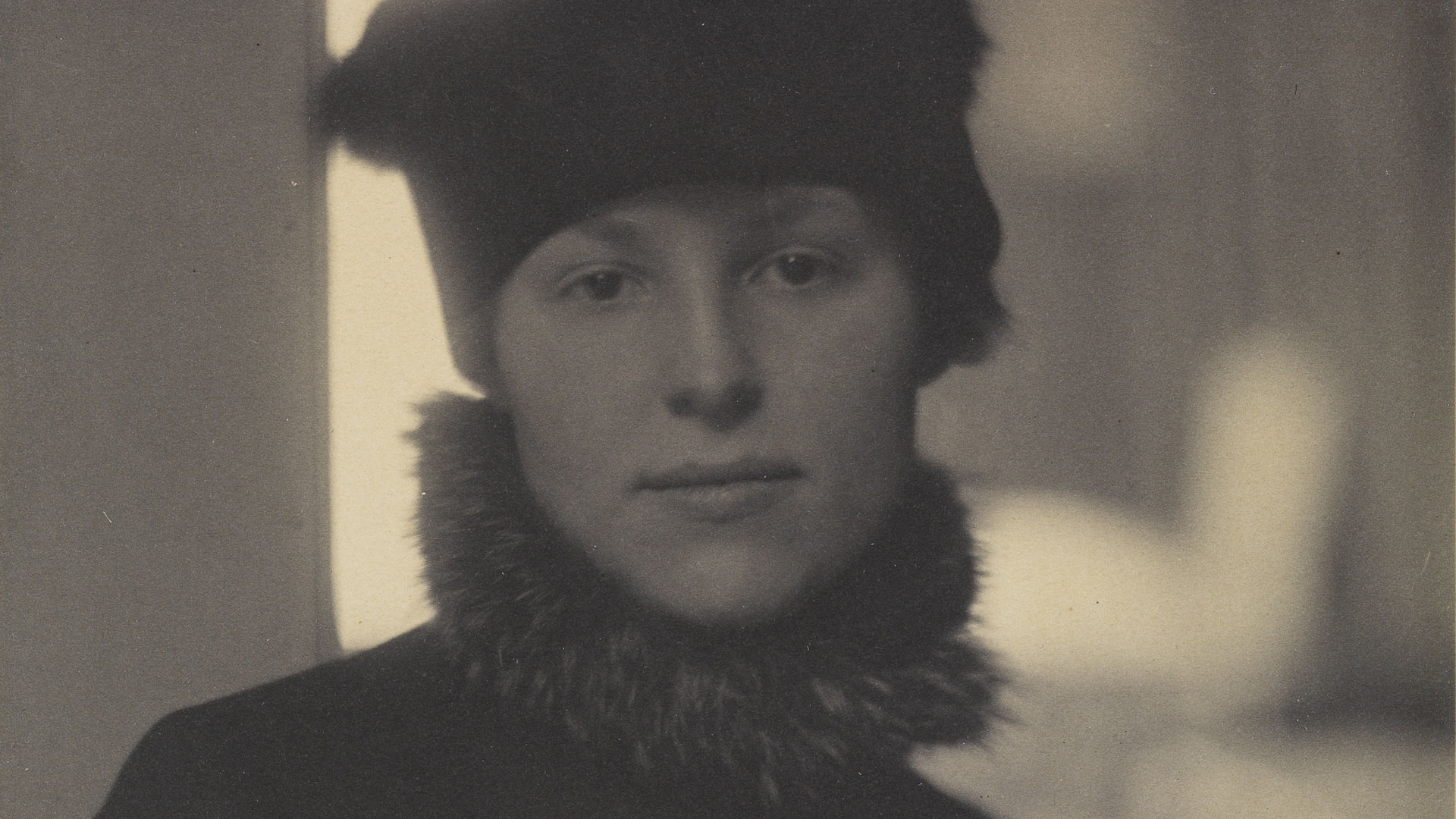 A Modern Love
Remarkable Photographs from the Israel Museum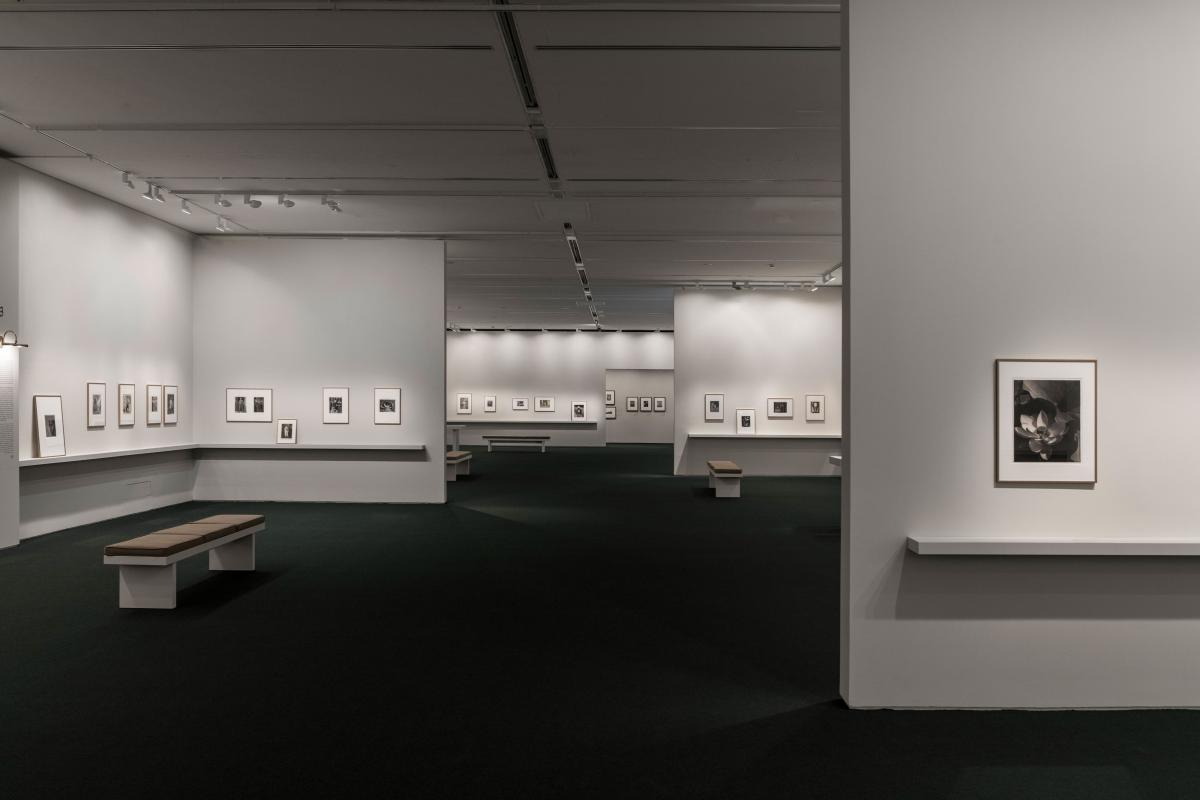 Gallery view, Photo © The Israel Museum, Jerusalem, by Elie Posner, 2019
---
Pictorialism
From the end of the 19th century, photographs intended for display as art often relied on current conventions of painting, regarding both subject and form of expression. Artists on both sides of the Atlantic, among them Heinrich Kühn, Alvin Langdon Coburn, and Gertrude Käsebier, presented landscapes or portraiture in soft focus, using unusual printing emulsions and handmade paper. Identified by the loose title of "Pictorialists," these artists denied the conception of a photograph as a straightforward, easily reproducible record of the world. They preferred to use the camera to convey profound ideals and emotions, projecting a mood that countered the industrialization of both environment and photography – at a time when Kodak handheld cameras were widely marketed under the slogan "you press the button, we do the rest." Although short-lived, Pictorialism had a far-reaching influence on the development of modernist photography and its recognition as an art, which was due largely to its main proponent, Alfred Stieglitz, and his pioneering journal Camera Work.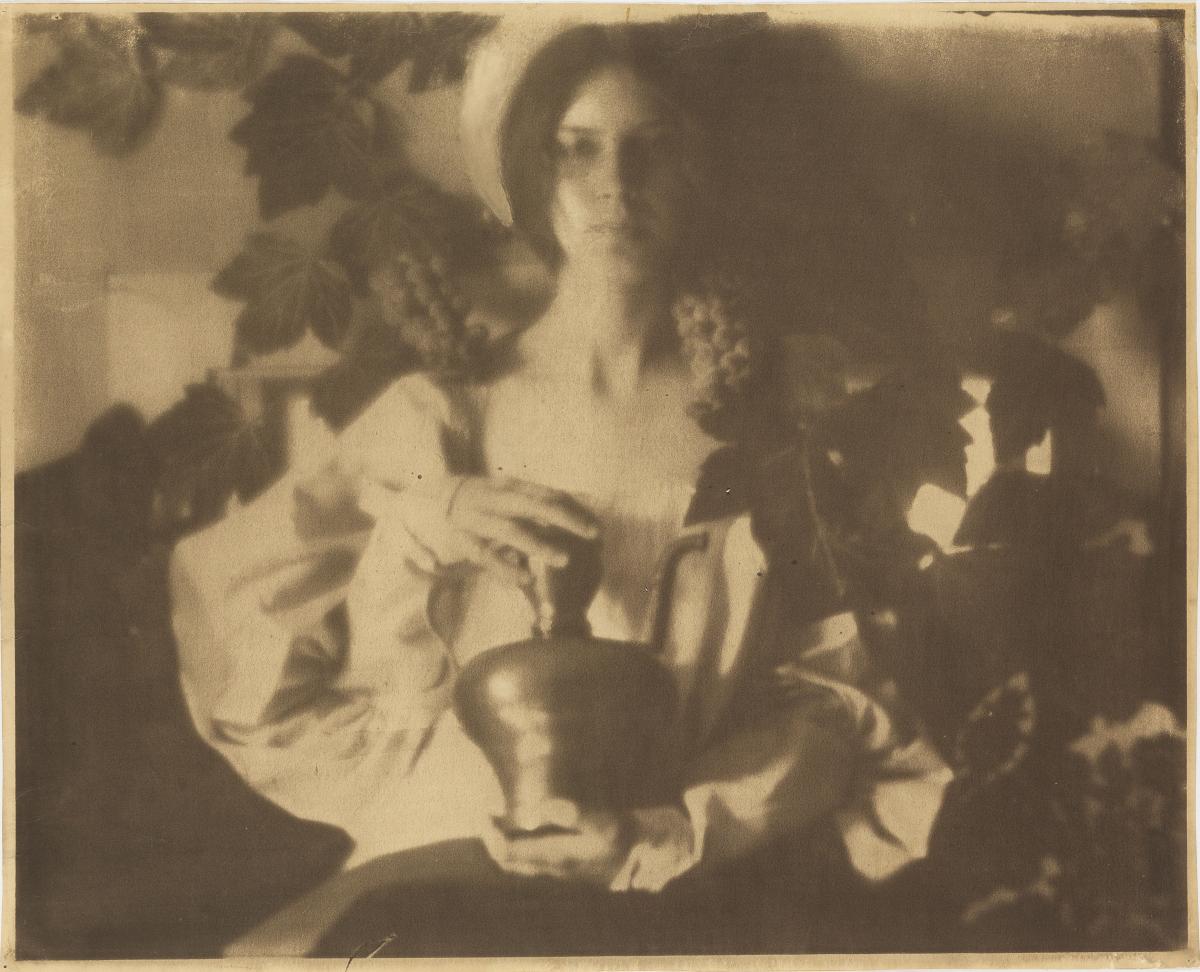 George H. Seeley, Golden October (Laura Seeley), 1909, Gum bichromate over platinum print, Gift of Noel and Harriette Levine, New York, to American Friends of the Israel Museum © Estate of the artist
---
Camera Work
In the first issue of Camera Work, published in January 1903, co-editor Edward Steichen offered a short defense of the Pictorialists' painterly practices. In response to those who resented any manipulation of a photograph, he wrote:
The personal intervention between the action of the light and the print itself may be a blemish on the purity of photography. But, whether this intervention consists merely of marking, shading and tinting in a direct print, or of stippling, painting and scratching on the negative, or of using glycerine, brush and mop on a print, faking has set in, and the results must always depend upon the photographer, upon his personality, his technical ability and his feeling. But long before this stage of conscious manipulation has been begun, faking has already set in. In the very beginning, when the operator controls and regulates his time of exposure, when in the dark-room the developer is mixed for detail, breadth, flatness or contrast, faking has been resorted to. In fact, every photograph is a fake from start to finish, a purely impersonal, unmanipulated photograph being practically impossible.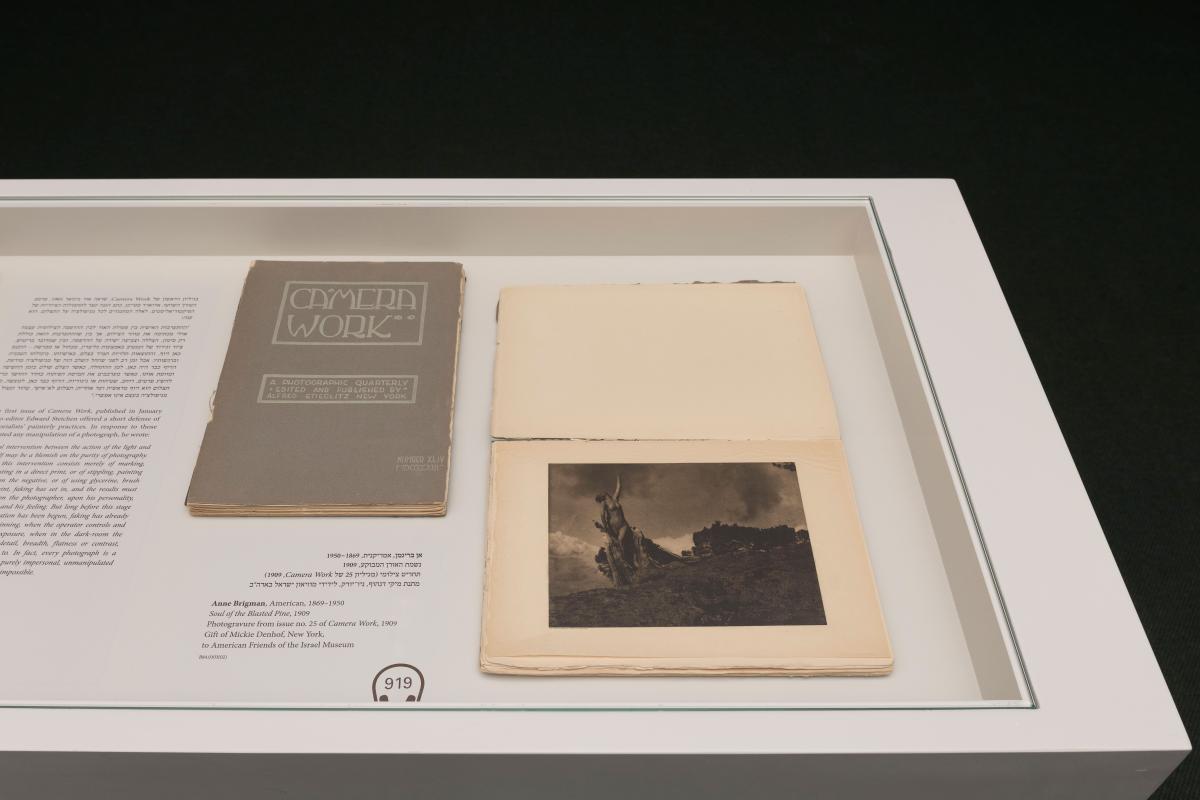 Gallery view, Photo © The Israel Museum, Jerusalem by Laura Lachman, 2019
---
Eugène Atget, Berenice Abbott
This group of fourteen images offers a glimpse of the nearly 8,500 photographs of Paris made by Eugène Atget between the end of the 19th century and his death in 1927. Atget's work assumed a key place in the history of photography after being preserved and publicized by his young admirer, the American artist Berenice Abbott, but during his lifetime, his photographs were only known to a few artists or architects or other professionals. For years Atget would take his outdated glass-plate camera and walk the streets of his city, capturing its changing environs as it succumbed to modernization and consumerist culture. He resolutely chose such mundane, marginal subjects as stairs, courtyards, or windowpanes and rarely included a human presence. The 20th-century thinker Walter Benjamin, who left some long-lasting ideas about photography's impact on our times, commented on Atget's work: "the city in these pictures looks cleared out, like a lodging that has not yet found a new tenant. It is in these achievements that Surrealist photography would set the scene for a salutary estrangement between man and his surroundings. It gives free play to the politically educated eye. . . ."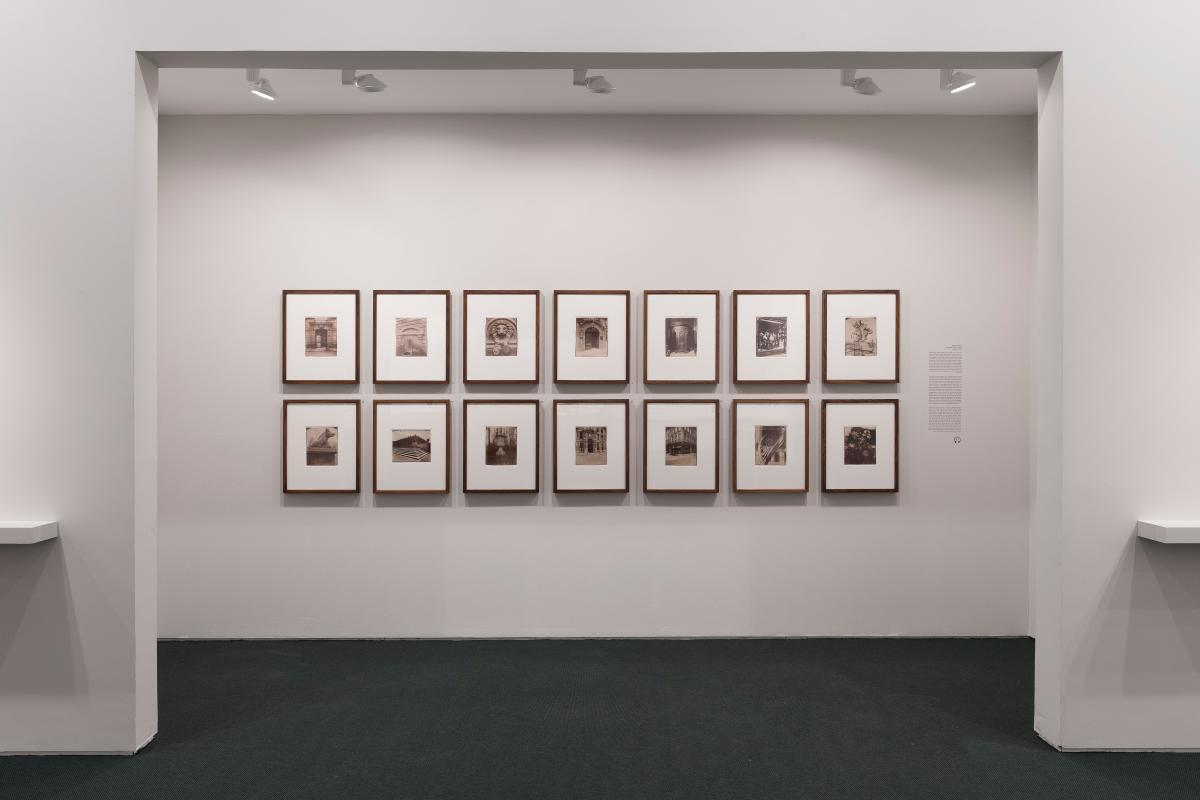 Gallery view, Photo © The Israel Museum, Jerusalem by Laura Lachman, 2019
---
Straight photography
The idea that photography had to create "painterly" pictures in order to be recognized as an art form gradually weakened. It gave way to the view that photography had its own aesthetic code, and that the camera could achieve interesting compositions or suggest surprising meanings by simply paying attention to things in reality and recognizing their metaphoric potential. That reality was often the modern urban environment and its economic consequences. In what artists like Paul Strand called "straight photography," the most mundane subject could be rendered sublime in the instantaneous action of a shutter. A plain picket fence, when chosen as the protagonist of an ordinary landscape, could signify the tension between black and white, and also between sameness, uniformity, and individuality. As they took an unnaturally close-up look at an object or framed a landscape in an untraditional way, photographers began to ask (and have continued to ask ever since): Is reality fascinating, or is it our role to make it so?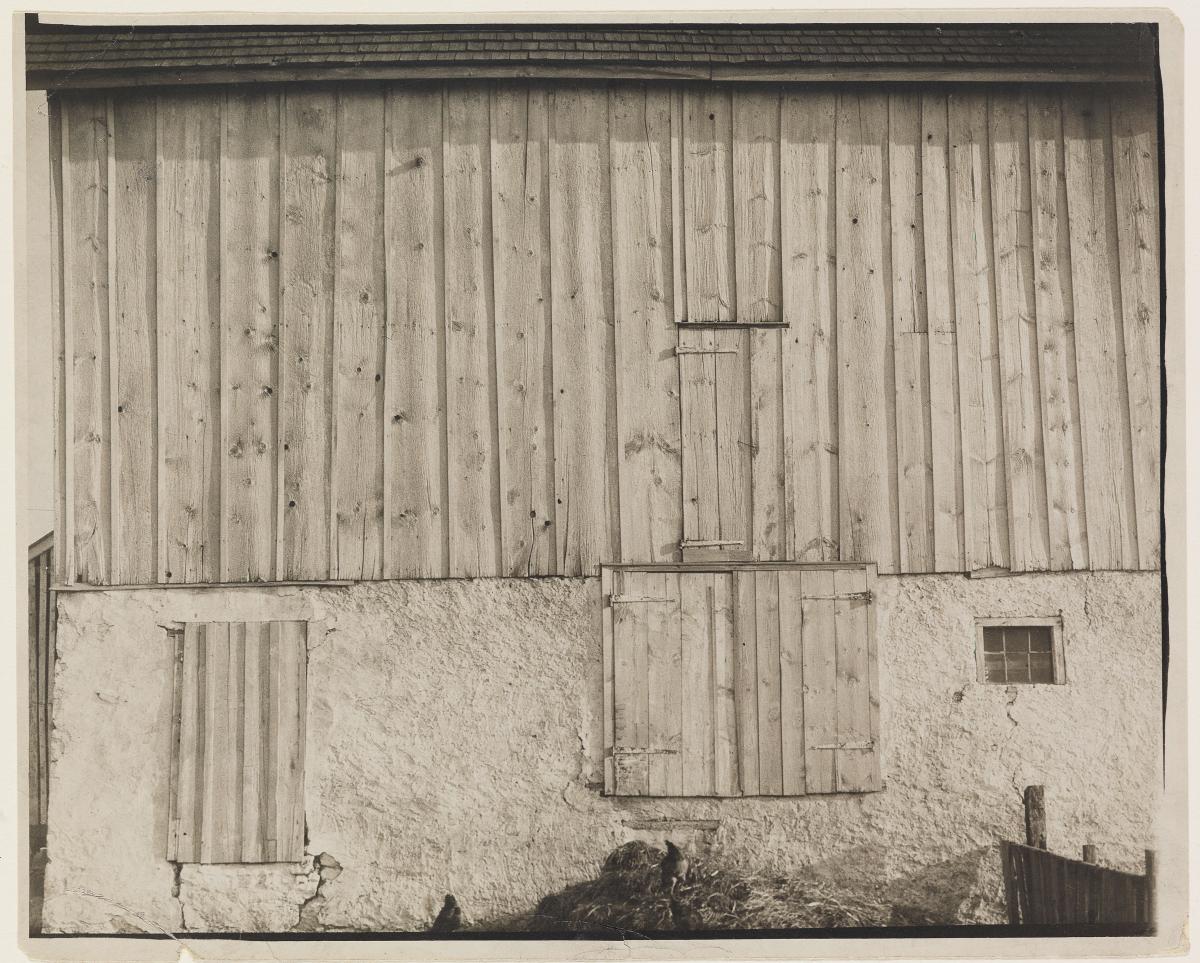 Charles Sheeler, Side of White Barn, Bucks County, Pennsylvania, ca. 1917, Gelatin silver print, Gift of Noel and Harriette Levine, New York, to American Friends of the Israel Museum
---
Portrait
Photography was tied to the portrayal of people's appearance and identity from its inception, but in the 1920s and 1930s using the camera to experiment with the representation of the human face or body became more frequent. Such investigations were often influenced by relatively new ideas regarding the human psyche, racial characteristics, and social class. Starting from the basic belief that a photograph of a person fixes his or her presence for viewers in all times and every place, modernist photographers approached portraiture in various ways. These ranged from staging or capturing unusual expressions, as in Edward Steichen's portraits, to recording human types in order to visually map an entire society, as August Sander did. Even between the two extremes of self-performance for the camera and sociological typology, ethical and aesthetic issues abounded. The question that underlay them all: how is taking a picture of an object essentially different from taking a picture of a person? For artists like Consuelo Kanaga or Berenice Abbott, the answer would begin with the meaningful personal encounter between photographer and photographed subject.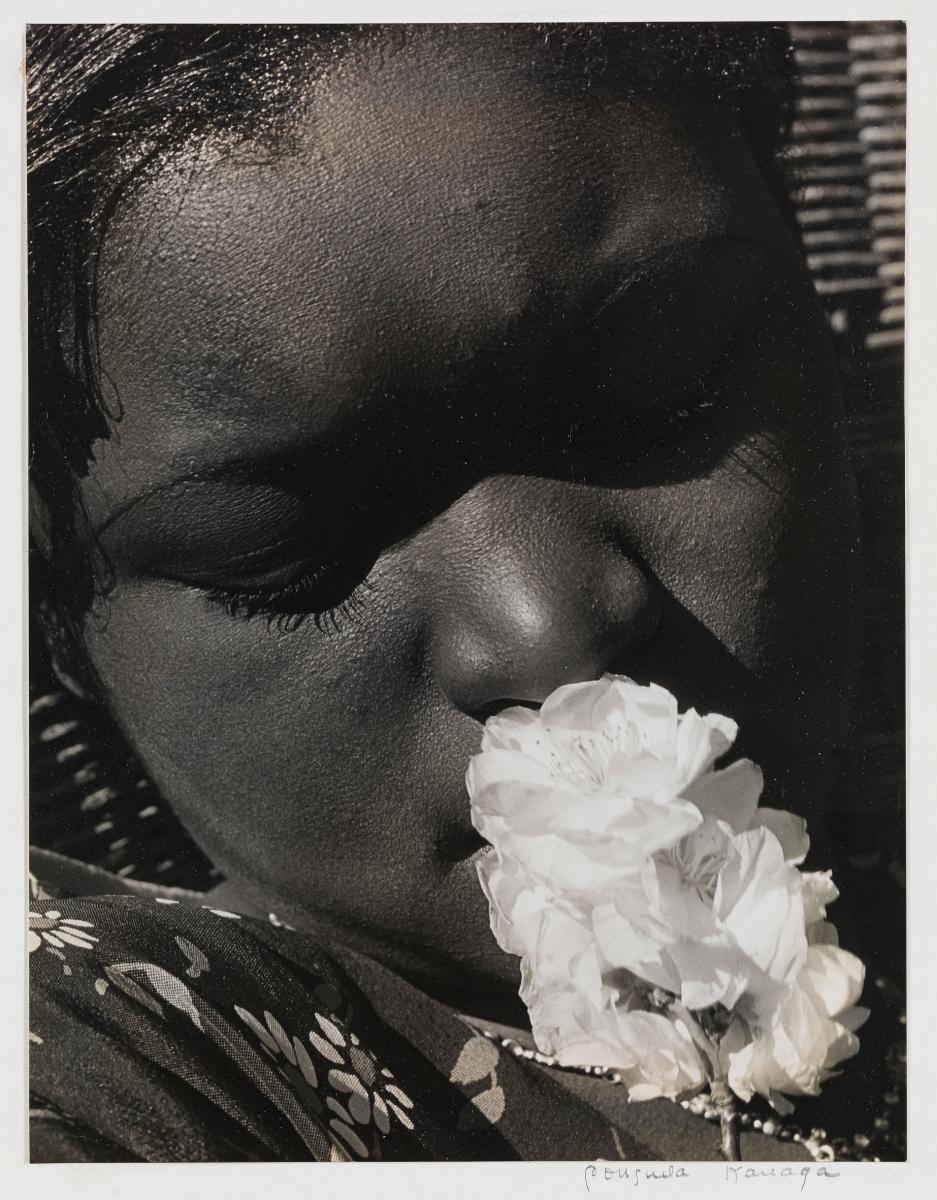 Consuelo Kanaga, Frances with Flower, 1931–32, Gelatin silver print, Gift of Dr. Paul D. Blanc, San Francisco, to American Friends of the Israel Museum, in recognition of Noam Gal © Estate of the artist
---
Man Ray, ringl + pit
It was not Man Ray who discovered that placing everyday objects and organic materials on light-sensitive paper and exposing them to changing sources of light would result in a pattern of shapes. But it was probably Man Ray's Surrealist experiments with cameraless photography that left the strongest mark on generations of artists interested in unfolding further possibilities of photographic equipment and materials. What we identify in his "rayographs" is only a shadow, rather than the actual thing being exposed to light. In this way, he sought to show that absence, void, and total darkness are essential parts of how we can make sense of the world: we should shift our unquestioning trust in light in order to make room for many more possibilities of meaning. Challenging conventional oppositions of light and darkness is also key in Man Ray's most celebrated image: Noire et blanche, 1926. This iconic work was originally made for a Vogue magazine cover and is by no means the only example of innovative compositions and subjects that should be read within the context of modernist fashion photography. The German duo ringl + pit (Grete Stern and Ellen Rosenberg Auerbach), whose unusual advertisements surprised Berlin's commercial and artistic scenes until 1933, worked in that same historical and aesthetic context.

Gallery view, Photo © The Israel Museum, Jerusalem by Laura Lachman, 2019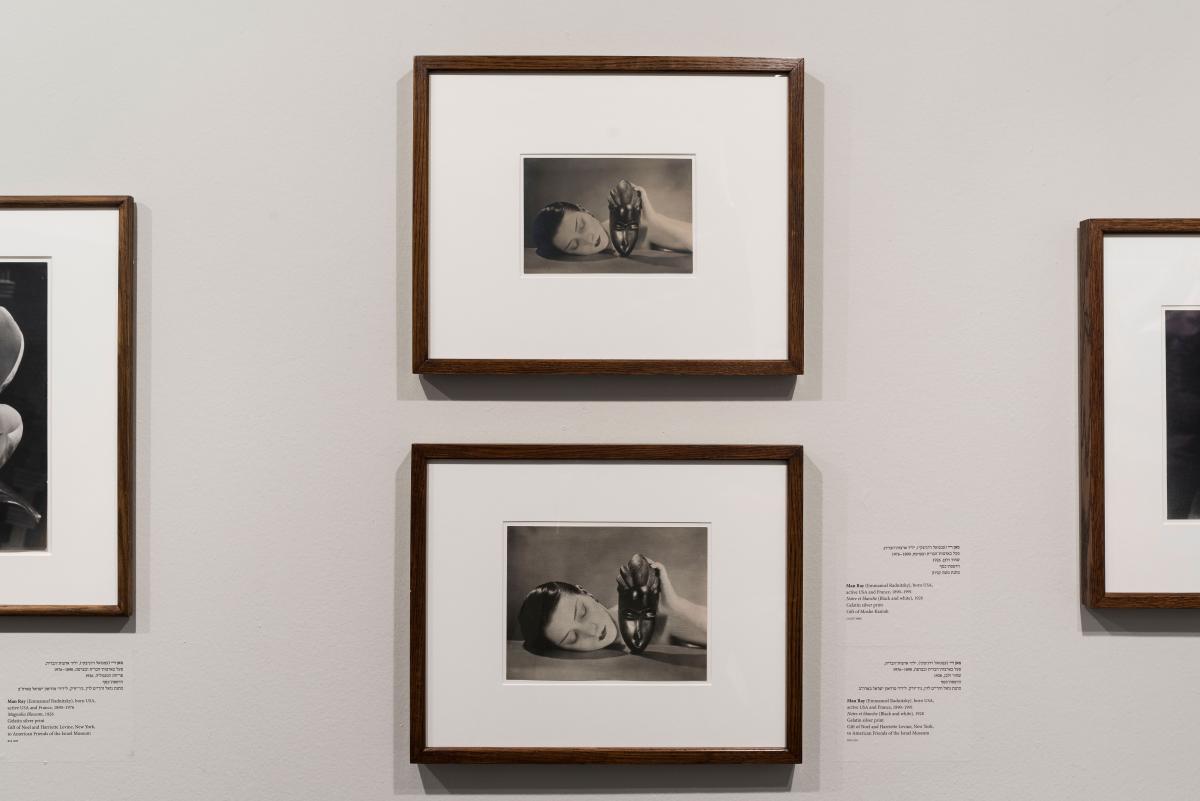 Gallery view, Photo © The Israel Museum, Jerusalem by Elie Posner, 2019
---
Abstraction
Chosen as subjects for the camera, forms in nature, inanimate objects, and the human body were used in paving the way to abstraction – probably the most attractive and challenging destination for modernist artists across all mediums. If what one first sees in an image is an arrangement of dark and bright shapes, and only later a female nude or a car or a cabbage, both photographers and viewers are released from their ties to specific references in reality, and a realm of possibilities opens up. While German artists such as Albert Renger-Patzsch and Werner Mantz promoted New Objectivity – in which photography's goals were an industrial precision and functionality – the California-based Edward Weston sought the universal essence of light and its impact on natural bodies or landscapes. Taking a very different approach, European Dada and Surrealist photography (like that of Florence Henri or Raoul Ubac) offered barely decipherable imagery related to dreams and the subconscious. Despite their dissimilarities, all of these photographic approaches shared the desire to explore abstraction and create a bridge between pure imagination and the undeniable fact that something was really there, in front of the camera.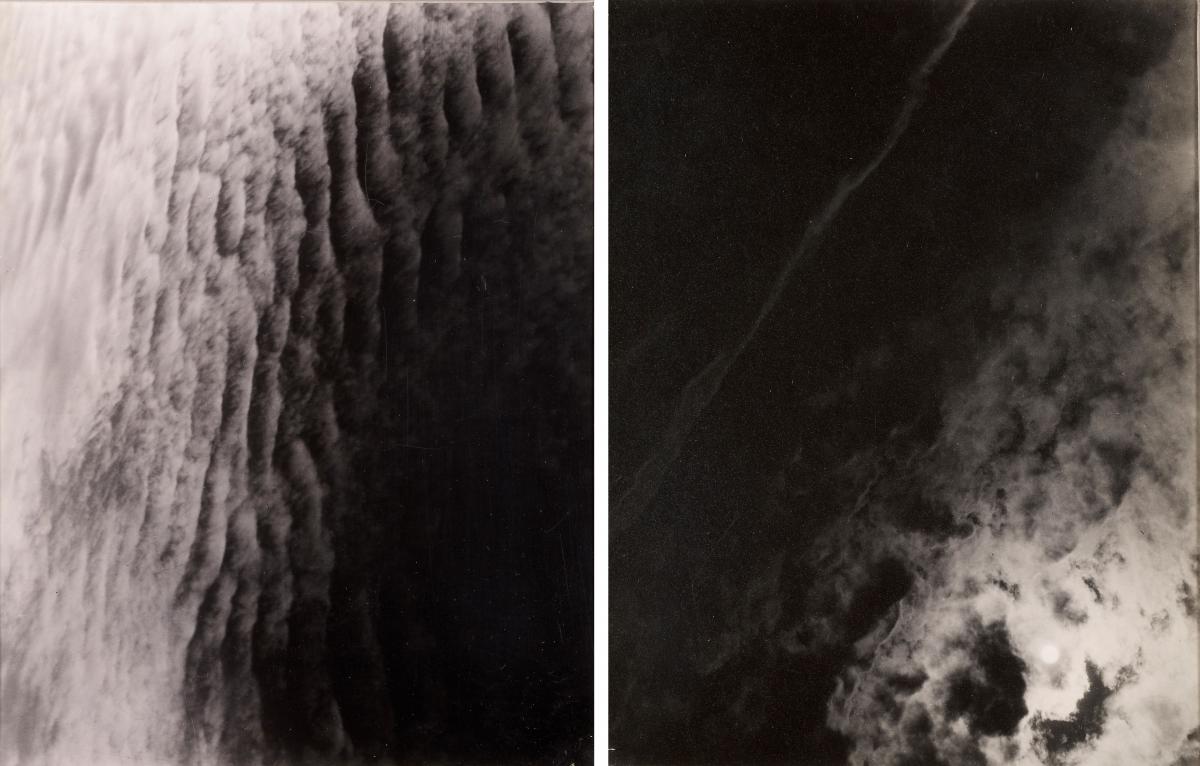 Alfred Stieglitz, Equivalents, 1925–29, Two gelatin silver prints, Gift of Noel and Harriette Levine, New York, to American Friends of the Israel Museum, © Estate of the artist
---
Street photography
Succeeding the cumbersome cameras of the 19th century, the increasingly popular handheld camera, especially the lightweight Leica, led to dramatic changes during the 1920s and 1930s. It enticed photographers to work from unusual vantage points across the city and capture ephemeral moments in the public sphere. The European and North American street became a common arena for encounters between cameras and people. During a period of economic crises, in the shadow of fascist politics and growing militarism, photographers such as André Kertész and Fred Stein were drawn to incidents of human behavior or to the spatial relations between people and their urban surroundings. For both these artists, and for many others, a – physically – light photographic practice was well suited to the forced necessity of moving from one home to another in Europe and, ultimately, of seeking refuge in the United States.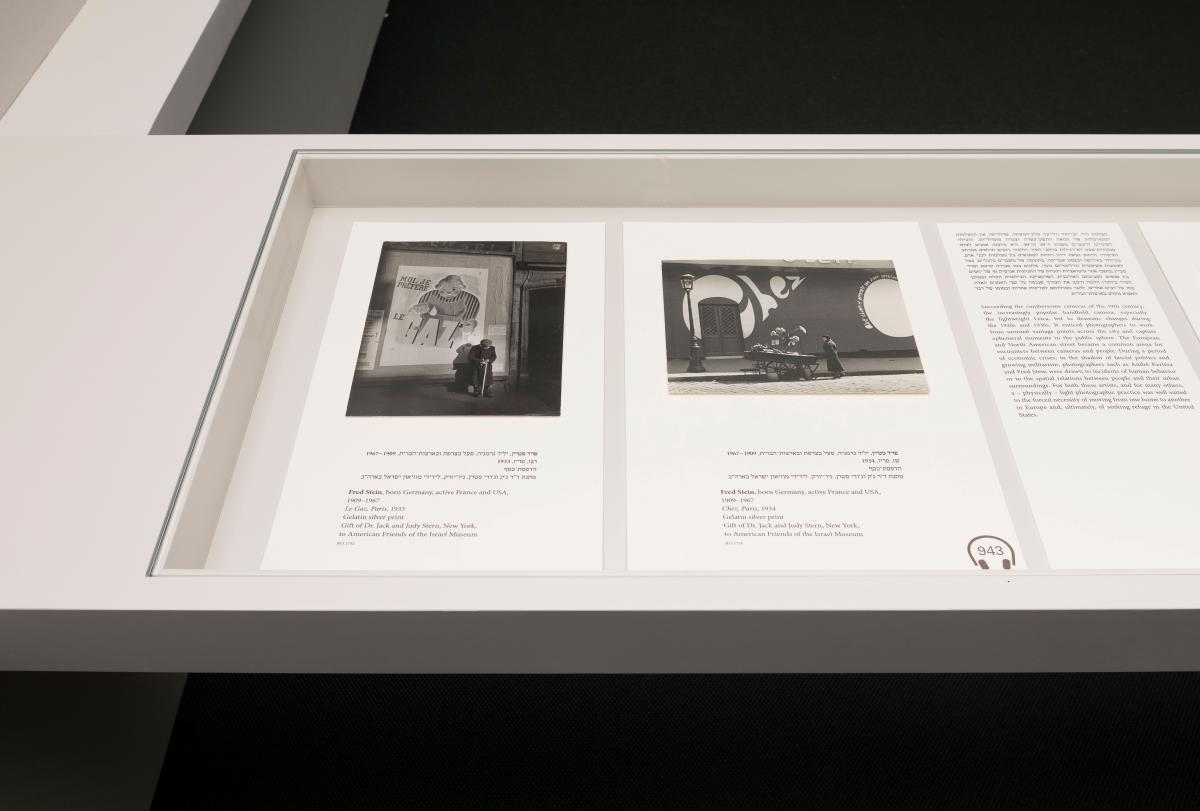 Gallery view, Photo © The Israel Museum, Jerusalem by Laura Lachman, 2019
---
Political photography
The political dimension of photography acquires more focus when it involves images intended to engage us and call for action. This may be the case with post-Revolution Soviet camera artists (such as Aleksandr Rodchenko and Arkady Shaikhet) or, in a rather different way, with social documentary photography of poverty and migration (including the mid-1930s work of Dorothea Lange and Ben Shahn in the American South). And yet, if we keep in mind that all of the works in this section were made after World War I – which had left Europe shattered, and its artists despairing or cynical – we can discern the implicit political meaning of much less obvious examples. Thus Herbert Bayer's surreal photomontage titled Humanly Impossible reverberates with the horrendous physical and psychological results of the war, just as the visual riddle staged by feminist writer and activist Claude Cahun allegorizes the fall of the old empires, which was followed all too soon by a second global conflagration.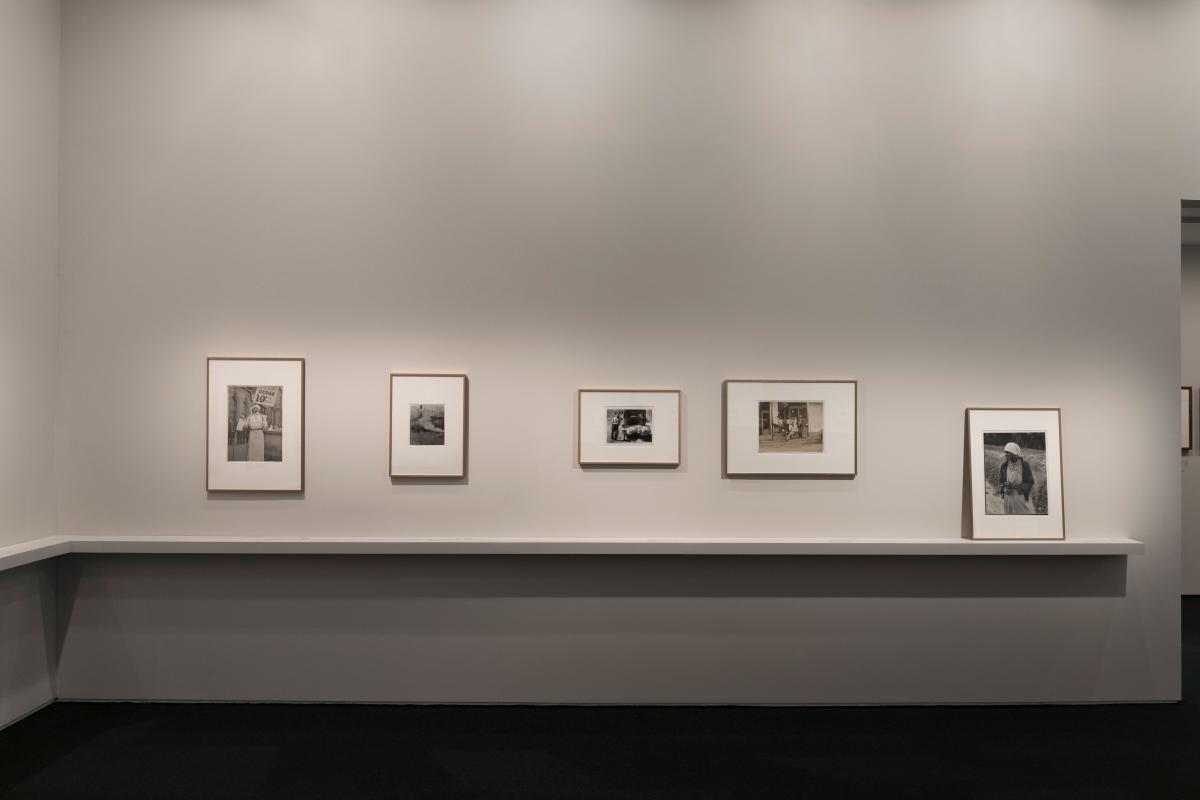 Gallery view, Photo © The Israel Museum, Jerusalem by Laura Lachman, 2019
---
Liselotte Grschebina, Helmar Lerski
As with the spaces devoted to Atget and Man Ray, this room spotlights the work of a single artist. Thanks to our extensive collections, such focus rooms might have been assigned to many other artists included in the exhibition, although the case of Liselotte Grschebina is exceptional in that we hold this artist's entire oeuvre. More important, her work is exemplary in its relevance to many different styles and subjects which were central to the development of modernist photography. Influenced by Dadaist ideas, Grschebina experimented with photo collage and camera-less techniques; in keeping with the concept of New Vision, she directed her camera at architecture and objects from unusual angles; and she also pursued projects in the service of national ideology, creating images that bear a visual resemblance to contemporaneous Soviet or National Socialist photography. All of these different approaches characterized her work after she moved to Palestine in 1934 and opened a studio in Tel Aviv.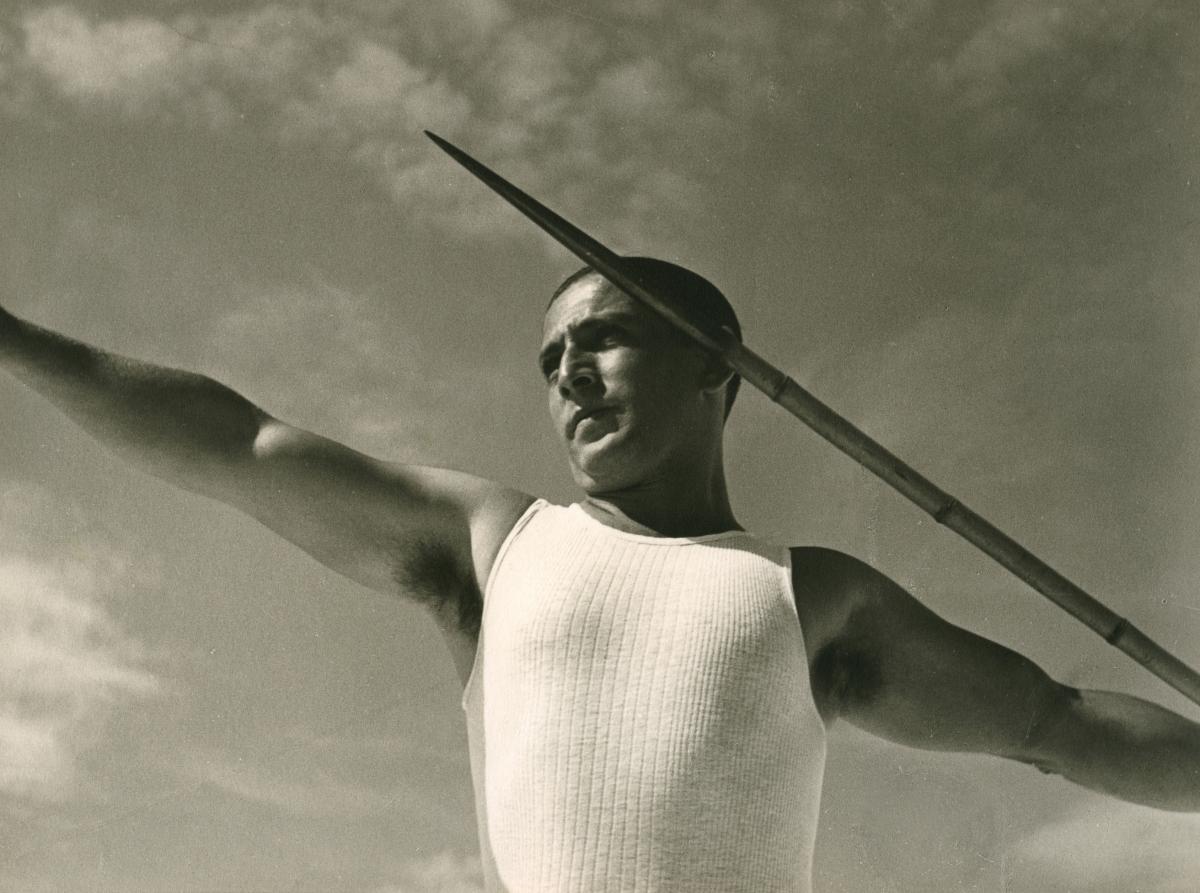 Liselotte Grschebina, Sports in Israel: Javelin Thrower, ca. 1937, Gelatin silver print, Gift of Beni and Rina Gjebin, Shoham, Israel, with the assistance of Rachel and Dov Gottesman, Tel Aviv and London
© The Israel Museum, Jerusalem
---
Photography and architecture
Using a camera to capture the face of a building is a kind of practice that has engaged more than just artists. Such photographs are used every day to sell real estate, for instance, and indeed that pragmatic aesthetic influenced some great photographers, including the young Walker Evans. He wanted his photographs to be "literate, authoritative, transcendent" – images that would look impersonal and meaningful at one and the same time. When his contemporary Alma Lavenson took up her camera to document abandoned buildings and sites from the Gold Rush period, she addressed the subject rather differently, letting her own ideas of beauty and loss intervene in the frame.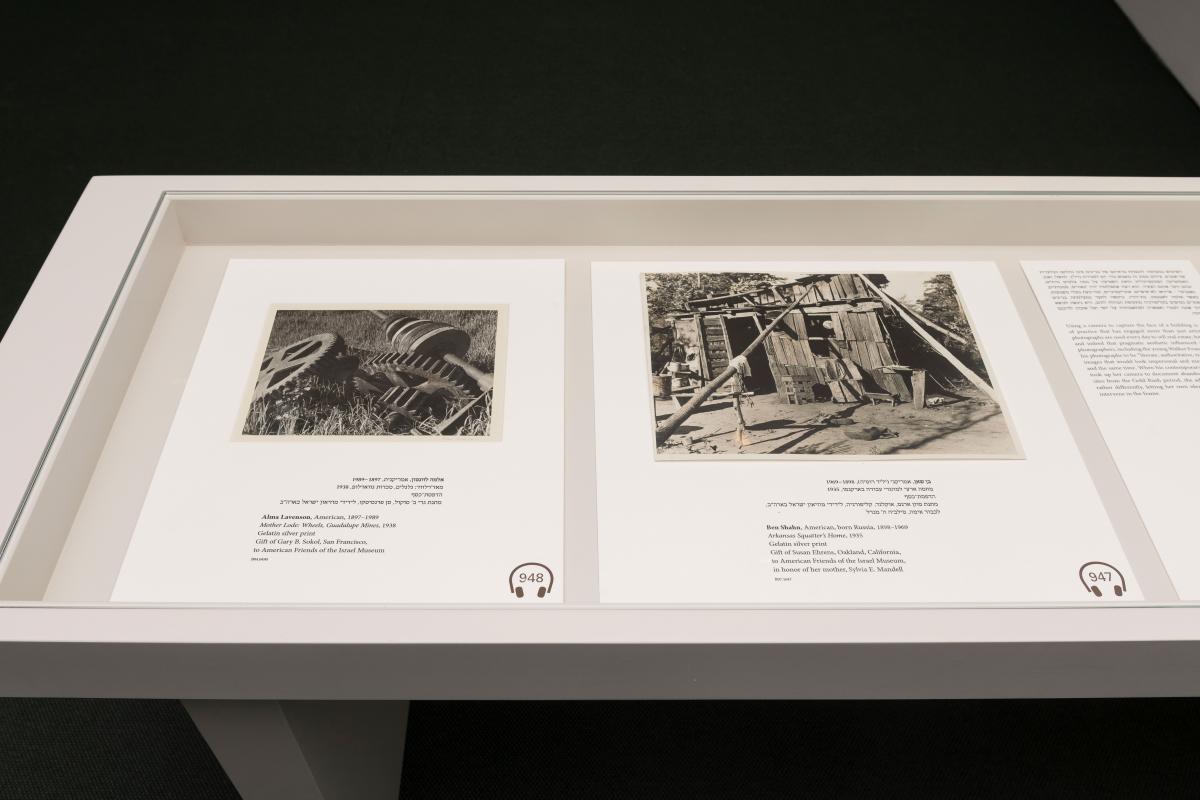 Gallery view, Photo © The Israel Museum, Jerusalem by Laura Lachman, 2019
---
News
Though we perceive the photographs on these walls as artworks, quite a few of them were originally created for purposes or contexts outside the arts, such as the fashion industry or news photography. The latter is especially important for appreciating the evolution of modernist photography in the late 1930s and during the 1940s, since its means of production (hidden cameras, flash, etc.), presentation (next to a caption or essay), and circulation (international illustrated magazines) diverged so noticeably from what is expected of art photography. Do Weegee's Manhattan crime-scene shots fit naturally into an art exhibition simply because they resonate visually with the artistic statements of Walker Evans? And this thought leads to a much larger question posed by the camera and its reproductive powers: beyond asking if or when a specific photograph should be considered art, how do we decide what is art and what isn't? At this point, we are no longer talking only about photography.
Gallery view, Photo © The Israel Museum, Jerusalem by Laura Lachman, 2019