Jakob Eisenscher Archive
Jakob Eisenscher was an Israeli painter, born in Austro-Hungarian Empire, 1896-1980.
Born in Czernowitz, Bukovina, as a young man, he attended the art academy in Vienna. In 1914, he was drafted and sent to the Russian front in Galicia. In 1915, while stationed in the Alps, he was taken prisoner by the Italian army. Throughout World War I, he remained in a POW camp where he spent much of his time painting. After the war he returned to Czernowitz and earned a living from photography. In the early 1930s, he immigrated to Paris, France, where he was exposed to Cubism. In 1935, Eisenscher immigrated to the Land of Israel. In 1952-1967, he studied at the Bezalel Academy of Art.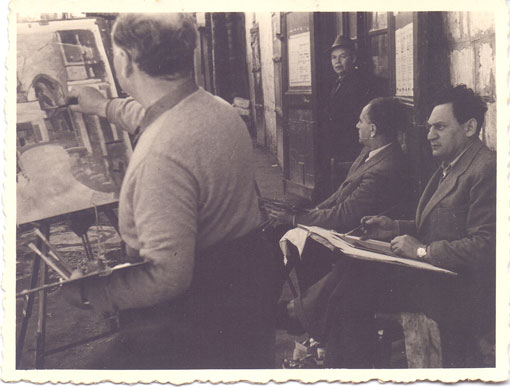 Early in his career Eisenscher produced drawings, woodcuts and figurative paintings, moving on to portraits and figurative paintings influenced by German Expressionism. From the 1950s, he began to paint Cubist-style landscapes.
The Jakob Eisenscher Archive, which includes correspondences and photographs, is found in the Information Center for Israeli Art at the Israel Museum in Jerusalem.
List of artists featured in this archive:
Amitai, Yitzhak, Jerusalem, Israel, 1907-1984
Beeri, Tuvia, Israeli, born Czech Republic, 1929
Blass, Rico, Israeli, born Poland, 1908–2002
Bousani, Dov, Yemen, 1928-
Eisenscher, Jakob, Israeli, born Romania, 1896–1980
Eisman, Michael, Israel, 1934-
Eshet, Pinchas, Israeli, born Romania, 1935–2006
Gat, Eliyahu, Israeli, born Russia, 1919–1987
Giladi, Aharon, Israeli, born Russia, 1907–1993
Holzman, Shimshon, Israeli, born Galicia, 1907–1986
Kadishman, Menashe, Israeli, 1932–2015
Kaplan, Nata, Alexandria, Egypt, 1918-2005
Katz, Shmuel, Israeli, born Austria, 1926–2010
Kupferman, Moshe, Israeli, born Poland, 1926–2003
Laufer, Milia, Romania, 2008
Neustein, Joshua, Israeli, born Poland 1940, active USA and Israel
Peretz Arad, Esther, Bulgaria, 1921-
Priver, Aaron, Poland, 1902-1979
Rita, Alima, Israel, 1932-2013
Smilansky, Noemi, Israeli, born Poland, 1916/1918–2016
Steinhardt, Jakob, Israeli, born Germany, active Germany and Israel, 1887–1968
Talphir, Gabriel, Poland, 1901-1990
Tamari, Amiram, Hadera, Israel, 1913-1981
Uri, Aviva, Israeli, 1922–1989
Yarden, Piri, Yugoslavia