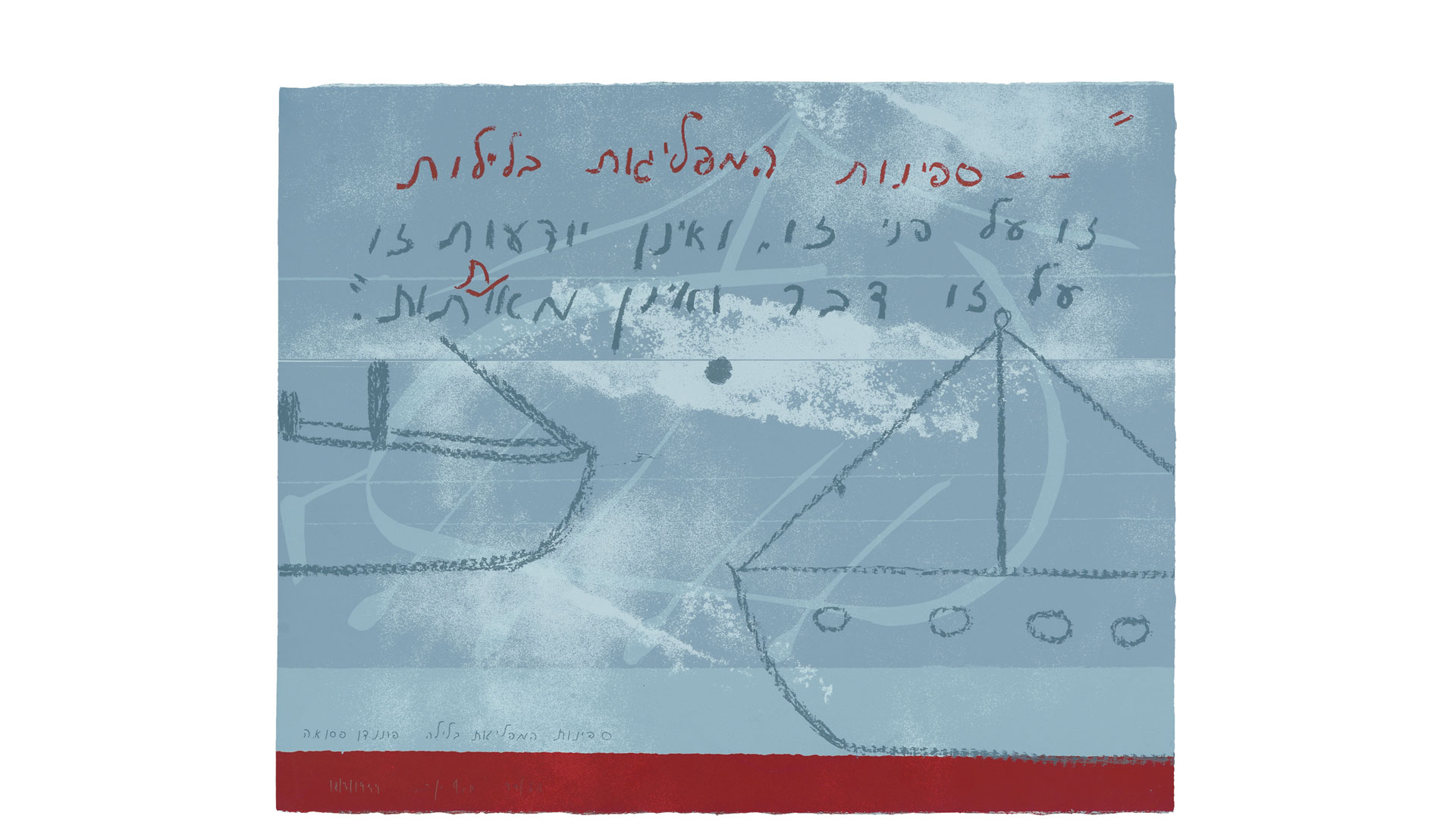 ---
The Sandberg Prize for Israeli Art for 2019–20 is awarded to Zoya Cherkassky

1991 באוקראינה; שישי בשיכון, 2015 (דיפטיכון), צבעי-שמן על פשתן, רכישה: קבוצת "כאן עכשיו" לרכישת אמנות ישראלית למוזיאון ישראל, ירושלים, צילום אלי פוזנר
The judges wrote:
Zoya Cherkassky, born in 1976, holds a central position in Israeli art and expresses herself in a singular, compelling voice. From the start, she developed a signature creative mix that drew on the history of modern Western – particularly Russian – art, Japanese aesthetics, and Jewish symbolism and imagery. Many of Cherkassky's works contain biting criticism, peppered with keen wit, of social conventions, government and cultural institutions, and even the art world. Over the last decade, she has painted her personal experiences and those of an entire generation of immigrants who came to Israel from the Former Soviet Union in the 1990s. These works offer a blunt, fearless picture of the charged encounter with an Israeli society tainted by prejudice and racism, conveying the pain, frustration, and adversities of the immigrant experience, in way that has not been widely seen before. Cherkassky's unique, multifaceted oeuvre is simultaneously profound and accessible, sophisticated and direct, funny and transgressive, local and universal.
Jury: Yona Fischer, Yigal Zalmona, Galia Bar Or, and Amitai Mendelsohn (Chair)
---
The Beatrice S. Kolliner Award for a Young Israeli Artist 2019–20 is awarded to Merav Kamel and Halil Balabin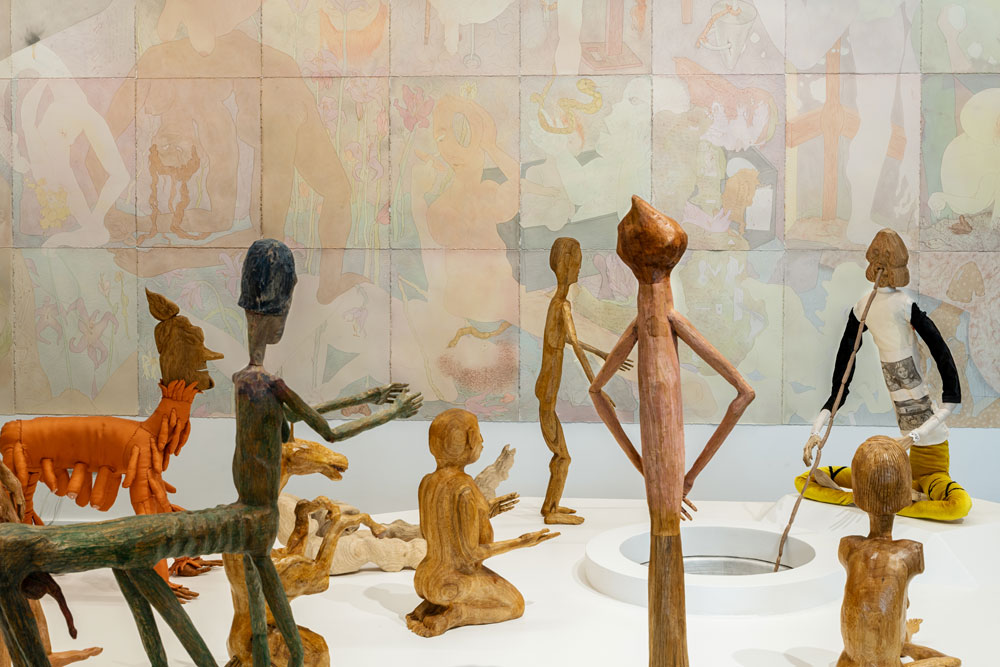 איש הנקניקיות וגנב המרחקים, 2020, מראה הצבה: גלריה ארטפורט, תל אביב צילום נועם פריסמן
The judges wrote:
In recent years, Merav Kamel and Halil Balabin, born in 1988 and 1987, have together created a captivating, imaginative, and original body of work. Their painstaking art, evincing technical skill in such areas as sewing, embroidery, drawing, painting, engraving, sculpture, carving, and video, revolves around a world that is personal, intuitive, wild, and erotic, verging on the fantastic and surreal. Their works also address burning social, religious, and national issues in an original, thought-provoking way. Often immersive and all-encompassing, it relates to Zionist legends, well-known artworks, and mythology, in a dream-like, quasi-mystical, way. Untamed humor, sensuousness, ceremonialism are jumbled together, resulting in a rare, refreshing, and visually powerful art to which one cannot remain indifferent.
Jury: Tanya Sirakovich, Maayan Sheleff, and Amitai Mendelsohn (Chair)
---
The Enrique Kavlin Lifetime Achievement Award in Photography 2019–20 is awarded to Noa Ben-Nun Melamed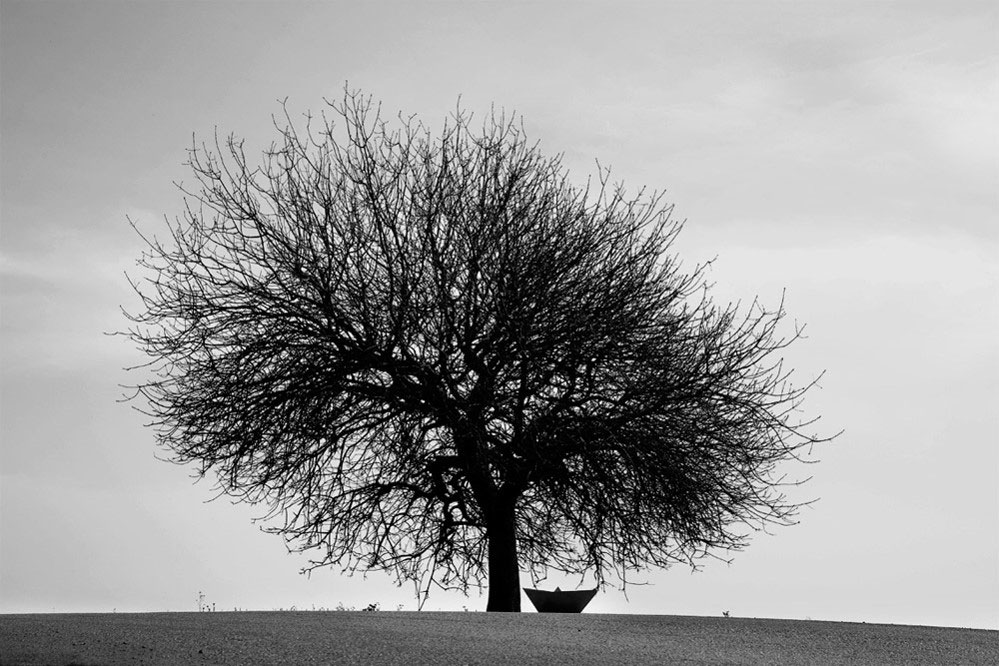 ללא כותרת (#13), 2011, הדפסת דיו, רכישה: קרן נטי ומנואל פישר, מוזיאון ישראל, ירושלים
The judges wrote:
The Kavlin Award is bestowed on Noa Ben-Nun Melamed in recognition of the distinctive mark she has left on photography in Israel. For decades, Ben-Nun Melamed has developed a rich oeuvre that is personal, private, and notably autobiographic. Her works have been exhibited widely over the years, especially in the context of personal and collective Israeli memory. They always hint at some secret – in her life, in the life of us all. In the face of photographic fashion and cultural or political trends, her work maintains it own firm, coherent style. She pursues her craft tirelessly, seeking out new forms of expression within and beyond the darkroom. Her meticulous photographs harbor recurring coded symbols, such as a paper boat or a raven, portrayed in ways that trigger curiosity and identification. Ben-Nun Melamed has raised generations of students, as one of the first faculty members at Tel Aviv's Camera Obscura and as a longtime teacher in the photography department of Hadassah College, Jerusalem. She is therefore a worthy recipient of a prize that honors both artistic excellence and an important contribution to the teaching of photography and to art education.
Jury: Dalia Levin, Ruthie Ginsburg, and Noam Gal (Chair)
---
The Gérard Lévy Prize for a Young Photographer 2019–20 is awarded to Chen Cohen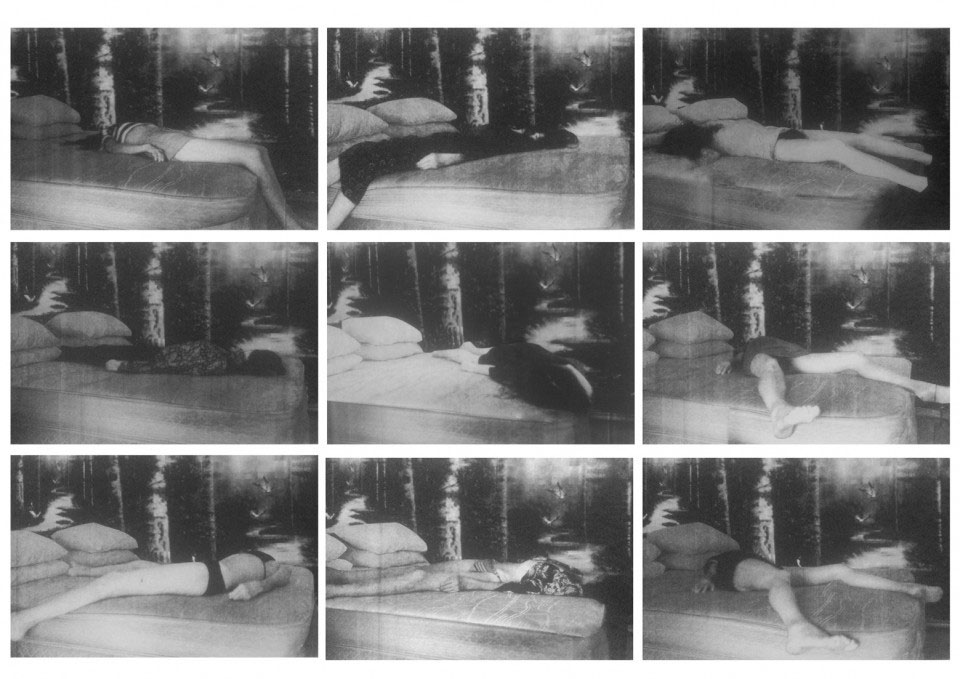 איך למות יפה, 2015, עירוב טכניקות, מתנת נטלי וז'אן-דניאל כהן, פריז, למוזיאון ישראל, ירושלים
The judges wrote:
The voice of Chen Cohen stands out in Israeli photography. Her work investigates the body as a liminal space of struggle, pain, exaltation that tenuously envelops human existence. These qualities emerge through the extreme, performative actions in which she photographs herself, as well in her manipulation of technique to create a deliberately faint effect. In a world striving for high resolution, Chen consciously lowers photographic resolution, alluding to the vulnerability of the image and also to the way in which the human spirit can emerge through it. She transforms the artistic act into a ritual, using her body and her presence to channel knowledge and healing. Chen Cohen might be considered an outsider, but in fact she is returning to the primal mythical role of the artist as shaman, someone at the threshold where the spiritual and material worlds, life and death, meet. Her work is also in constant dialogue with the history of photography, the first woman photographers of the 19th century, and photographic performance art of the second half of the 20th century. These influences are not so much formal or thematic; rather, they are like a distant land from which an emissary has just brought an entirely new work.
Jury: Hila Cohen-Schneiderman, Tal Yahas, and Noam Gal (Chair)
---
The Jacob Pins Award for an Israeli Printmaking Artist 2019–20 is awarded to Asaf Ben Zvi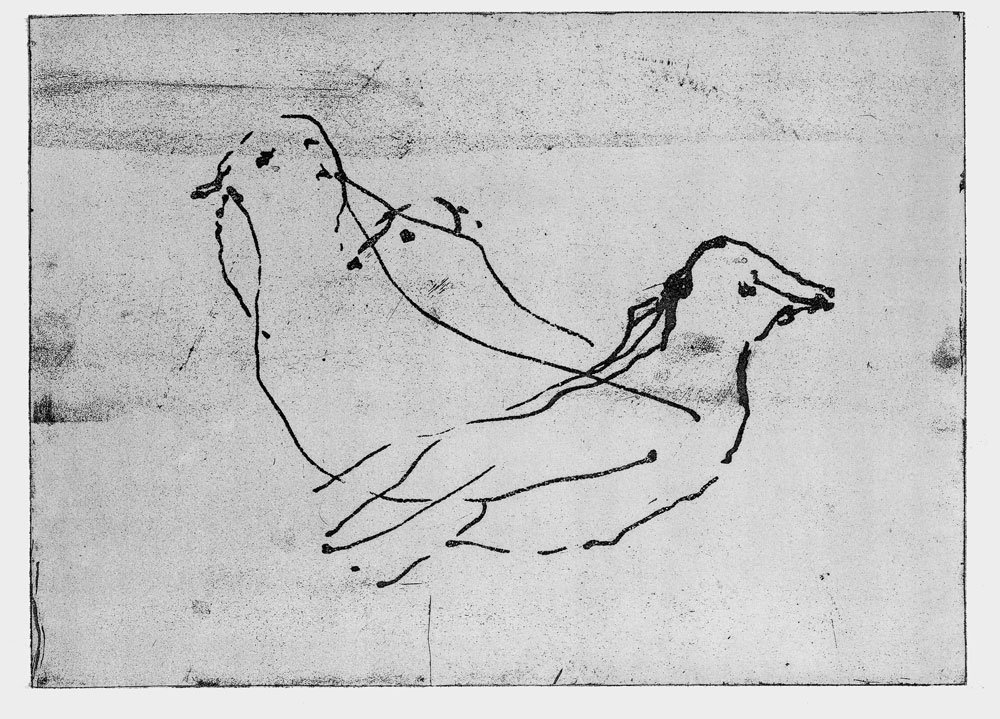 שפת אלם, 2020, אקווטינטת סוכר. באדיבות סדנת ההדפס, ירושלים
The judges wrote:
Asaf Ben Zvi has been making prints since the late 1980s, most recently completing an artist's book with poetry by Esther Raab and Yoram Wearth at the Jerusalem Print Workshop. Over the years Ben Zvi has employed screenprint and various etching techniques to create series such as: "Vivus Peregrinusque in Hierusalem"; "Silent"; "Barcos que passam a noite"; "Curved Trickle"; "The Sanity of the Squill"; and "After a Day Before" – enigmatic, multilayered names. His works are concise and poetically precise. Just as he conveys intention in his titles, he excels in communicating through the language of prints: expressing and impressing his thoughts and moods in spare lines. Ben Zvi's imagery is suffused with poetry, literature, and music. His great familiarity with European culture is woven together with a profound knowledge of Israel's landscape and a commitment to local flora and bird life. The birds, the squills, the gliders, the flag over Notre Dame Church in Jerusalem, hastily sketched from the roof of the Print Workshop, all find their place in his meticulous prints. Ben Zvi's work has been shown in exhibitions throughout Israel as well as abroad. In 1999 he participated in a workshop led by Jim Dine at the Gottesman Etching Center, Kibbutz Cabri, in collaboration with the Israel Museum, working together with leading Israeli print artists. In 2013 his solo exhibition "Live Stiches" at the Jerusalem Print Workshop presented a selection of his finest work.
Jury: Arik Kilemnik, Judy Pins Weingrod, and Ronit Sorek (Chair)
---
The Sandberg Grant for Research and/or Development in the Field of Design and Architecture 2019–20 is awarded to Michal Pauzner and Dr. Tamar Tauber-Pauzner
The judges wrote:
The research proposal of Michal Pauzner and Dr. Tamar Tauber-Pauzner, "The Morphology of the Narrative Health Record," sees the narrative health record as a key to change and addresses ways in which design can enhance the recording of medical information so as to include subjective data such as pain. Medical information began as narrative, based on a long-term relationship between physician and patient, with clinical data being woven into a cohesive story. In many cases, digitization turned the patient into a collection of acontextual data. The researchers' design idea would build a repository of shared knowledge in a way that makes room for valuable subjective data held by the patient. The goals are threefold: to follow a patient through life; to identify patterns in the narrative; and to unite the assembled data as a whole story. In their proposal, Pauzner and Tauber-Pauzner introduce a fresh approach to cross-disciplinary applicative research. Their research drives social change, for which the designer is both the mediator and catalyst. In a time of pandemic, as medical data move to the forefront of our lives, the relevance of this research is clear.
Jury: Els Verbakel, Gideon Dotan, and Rami Tareef (Chair)
Israel Museum Prizes For Arts and Design 2019-2020
The Israel Museum Prizes for Art and Design are awarded every two years to outstanding artists, in recognition and encouragement for their artistic work.
Professor Ido Bruno, Director of the Israel Museum, Jerusalem:
"Normally, we would be holding this ceremony in the Museum. This year, because of the pandemic, we must celebrate via screens, but we hope that the importance and excitement will still be felt.
In recent months, the question of the place of art in our lives has become more pressing than ever. Is art a luxury or a basic need? To us, the answer is clear. Art plays a profound, significant, immeasurable role in determining the nature of society: art allows for thought and discussion in precisely those places where they are missing; it casts light on critical spots; it reaches the innermost corners of the human spirit. And so we are thrilled to pay tribute this evening to eight wonderful artists, each of whom contributes to making our reality better in some way".