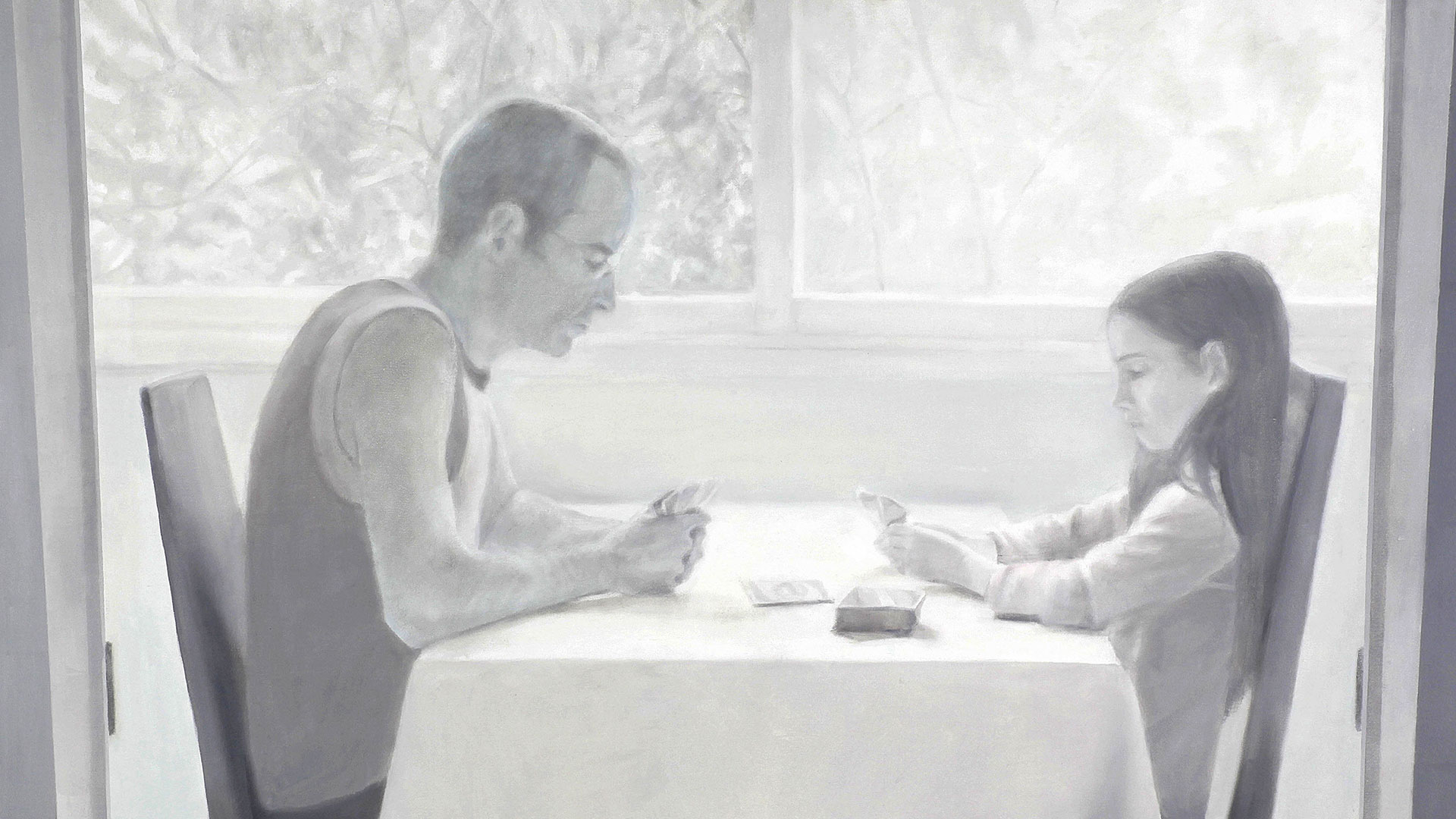 I to Eye
Together or Alone

Who in your family is similar to you, and who is different? We think we know our family members well, but at times we discover surprising sides to them and we are required to be flexible, open-minded, and tolerant. Our day-to-day family encounters often happen at mealtimes, which offer a chance to talk, catch up, argue, and strengthen our connections. At times, although living in the same house we hardly ever truly meet…
Karam Natour, Heat in My Head, 2017. Video, 9:39 mins. (loop). Collection of the artist and Rosenfeld Gallery
Karam Natour's video work offers an amusing perspective on the delicate balance of family relationships – the mutual dependencies, expectations, and disappointments. Adva Karni and Anne Ben-Or depict moments of warmth and closeness in their families.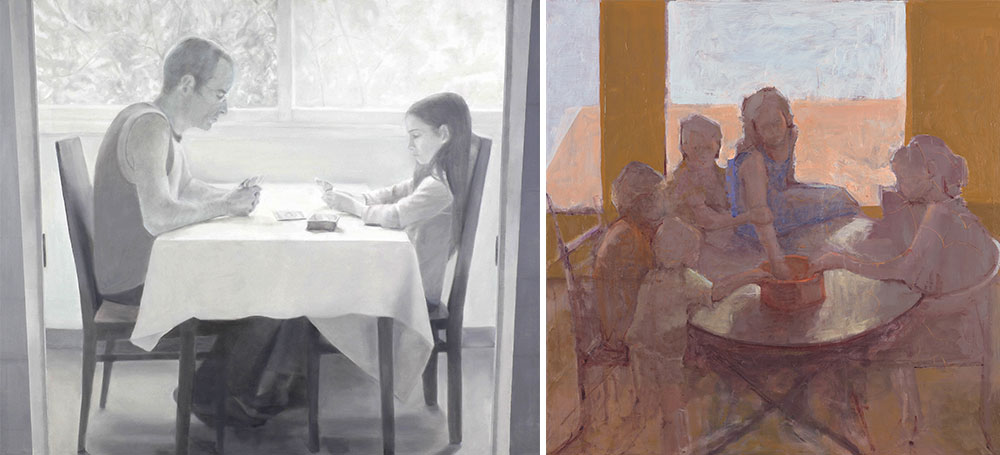 Right: Anne Ben-Or, Meeting Point, 2016, Oil on linen, Collection of Ben Ami Family, Herzliya
Left: Adva Karni, No Longer Always Winning, 2010, Oil on linen, Collection of the artist
In Ella Amitay Sadovsky's painting we peer through the blinds at older couples engrossed in conversation. The falcon wings spread above them and across the blinds connect inside and to out, reality and imagination.
Natalia Zoubarova paints a scene typical of our time: her daughter's friends sitting alongside each other on the couch, engrossed by their screens and ignoring the people sitting beside them. Do they feel together or alone?

Right: Ella Amitay Sadovsky, Forward, 2011, Oil on canvas. Collection of the Gordon Gallery and the artist
Left: Natalia Zourabova, Summer Holiday, 2017, Oil on canvas, Idit and Jon Isaacsohn Collection, Tel Aviv

Eric Pickersgill
Right: Wendy, Brian, Hunter, and Harper, 2014
Left: Jimmy and Michelle, 2014
Pigment print from large-format negative, Courtesy of Rick Wester Fine Art, NY
American photographer Eric Pickersgill follows the trend of cellphone addiction, examining its effects on social behavior. Depicting people gazing at their empty palms, his photographs are both amusing and unsettling. Can
you relate?
The devices' absence highlights the absurdity of family members who are disconnected from one another although sitting together. Each individual is connected to other people and other contexts, at the expense of those who are actually present. Today interactions are often interrupted and cut short by text messages and phone calls. Our constant availability demands immediate responses, creating a stream of incomplete conversations and allowing little time to think. If that is our reality today, what will communication be like in the future?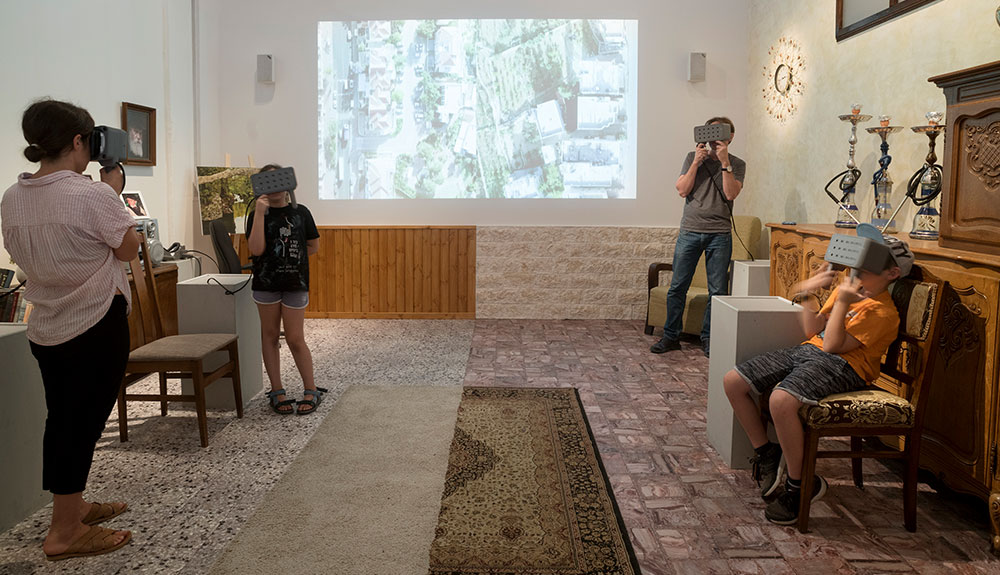 Daniel Landau, Visitors, 2018. Media installation
Daniel Landau invites you into a single living room that combines the home environments of two families. Although they live next to each other, the Arab family and Jewish family remain separate from one another, each in their own reality. Using virtual reality glasses you are able to "meet" members of both families from up close, and hear from them about what connects and divides them. This installation allows you to examine the gaps between the families, to imagine a meeting between them, and to cross the boundary between the real and the virtual.
Daniel Landau is a media artist who explores the social aspects of virtual reality and its ability to aid in the mediation of issues of identity, inequality, and stereotypes.

Script and direction: Daniel Landau; Development: Samira Saraya; Research: Yair Sugarman; Film: David Rudoy; Drone operator: Aviv Kegen; Room design: Hagar Brotman; Props: Ron Rochman; Industrial design: Elad Ozeri; Programming: Sraya Harif; Translation: Abed Natour, Samira Saraya; QA: Emil Landau; Production manager: Shahar Marcus; Produced by ActiView
With thanks to the Sabatin and Avidan-Levi families for their hospitality.