I to Eye
Face to Face
Would you like to meet prehistoric man and ask him how he makes fire? To join a circle dance in one of Matisse's paintings or to meet the Greek god Pan? In Karam Natour's drawings, he meets these and other figures from art and history. His creative process is itself an encounter between past and present: his drawings are done digitally, and printed on paper resembling parchment.
It is not by chance that some of the figures resemble the artist. According to Natour, they each represent different aspects of his personality. Even they seem removed and distant from us, we can connect to them through our imaginations.

Karam Natour, Digital drawing
Right: Birthday, 2016
Center: Africa, 2017
Left: "Come on Baby Light my Fire", 2016
Collection of the artist and Rosenfeld Gallery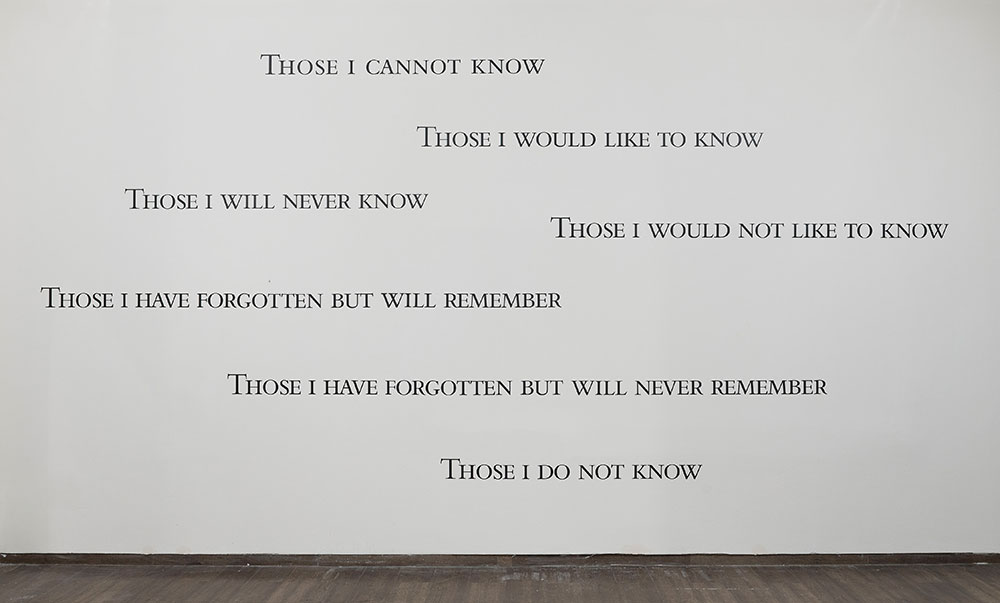 Douglas Gordon, Digital drawing, Untitled (Unavoidable), 1992 Text installation: seven sentences in vinyl
Gift of Florence and Philippe Segalot, New York, toAmerican Friends of the Israel Museum
Right: Samah Shihadi, Untitled, 2018, Pencil on paper, Collection of the artist
Left: Klone, Basic Communication (1+1=1), 2013, Ink and water color on paper, Courtesy of Serge Tiroche, ST-ART Collection

Tali Navon, A Moment, 2018, Oil on glass, Collection of the artist

Noa Yekutieli
Right: Crossways, 2018,Manual paper-cutting
Left: Current Destination, 2018, 2018, Manual paper-cutting, photography, and drawing, Collection of the artist
Collection of the artist
In Crossroads, figures behind a coffee-shop window look out at the passersby in the street. The figures' faces and the reflection of our faces in the dark glass below transform them and us from passive observers to participants in the activity of the street. Is it only their gazes that meet, or also their thoughts?
The two embraces depicted in Current Destination seem similar. In the first we see a silhouette that could be any of us, and in the second arms engaged in a long embrace. Many of the embracing figures are refugees who – having lost their homes and property – are crowded on a boat on their way to a safe haven. Their faces look up at us from below, awaiting a helping hand. Although they are strangers to us, we are bonded to them through our empathy and compassion. By reversing black and white, present and absent, Yekutieli emphasizes that at some times we need a hug, and at other times we can offer one.
Noa Yekutieli's works were inspired by both personal and journalistic photographs, and they display moments of otherness and isolation alongside moments of warmth and connection. Her manual papercut technique allows her to select specific details while eliminating others. Which details are hidden from us in her work, and which are revealed?
Ori Gersht, The First to Laugh, 2013, HD video installation
The children in Ori Gersht's work look straight at us, challenging us to see who will laugh first. To win, we have to overcome the initial embarrassment of a face-to-face encounter, maintaining a serious expression for longer than our opponent.
Pairs of children from the Jewish-Arab school Neve Shalom/Wahat al-Salam were filmed facing each other, one camera for each perspective. The tension slowly mounts and immediately implodes when one child bursts out laughing, the other quickly following suit. The game illustrates our ability to choose how we view one another: With a threatening stare or with a smile? Dividing or uniting?
*The First to Laugh, 2013, HD video installation. Produced in collaboration with the Neve Shalom/Wahat Salam School, with the support of ACC and the Israel Film Council

Rami Maymon, Ink inject on archival paper
Right: Untitled (#1 Man Ray), 2008
Left: Untitled (#2 Man Ray), 2008
Courtesy of the artist
Rami Maymon creates random and unexpected encounters between the figures from a book of photographs by surrealist artist Man Ray. Some faces are familiar – such as Picasso and his partner, painter and photographer Dora Mar – while others are unknown. Flipping through the book allows encounters of which the characters themselves are unaware. We – the hidden viewers – are the only witnesses to these meetings, and it is up to us to imagine how they evolve.
P3 (3 Players) Li Hong, Wang Mei, Xie Rong, Relativity No. 1, 2008, Video 15:00 mins. Collection of the artists and Beijing Art Now Gallery
When meeting face-to-face, our eye contact creates a direct and immediate connection. The three Chinese artists 3P filmed different couples staring at each other for three minutes: we are allowed a glimpse into their heads and hearts to discover the relationship between each pair.
Artist Marina Ambramović was the first to make eye-contact a central theme in her work. In her 2010 installation The Artist is Present she sat for three months in New York's Museum of Modern Art and stared for one full minute at whomever sat opposite her. Do you look people in the eye?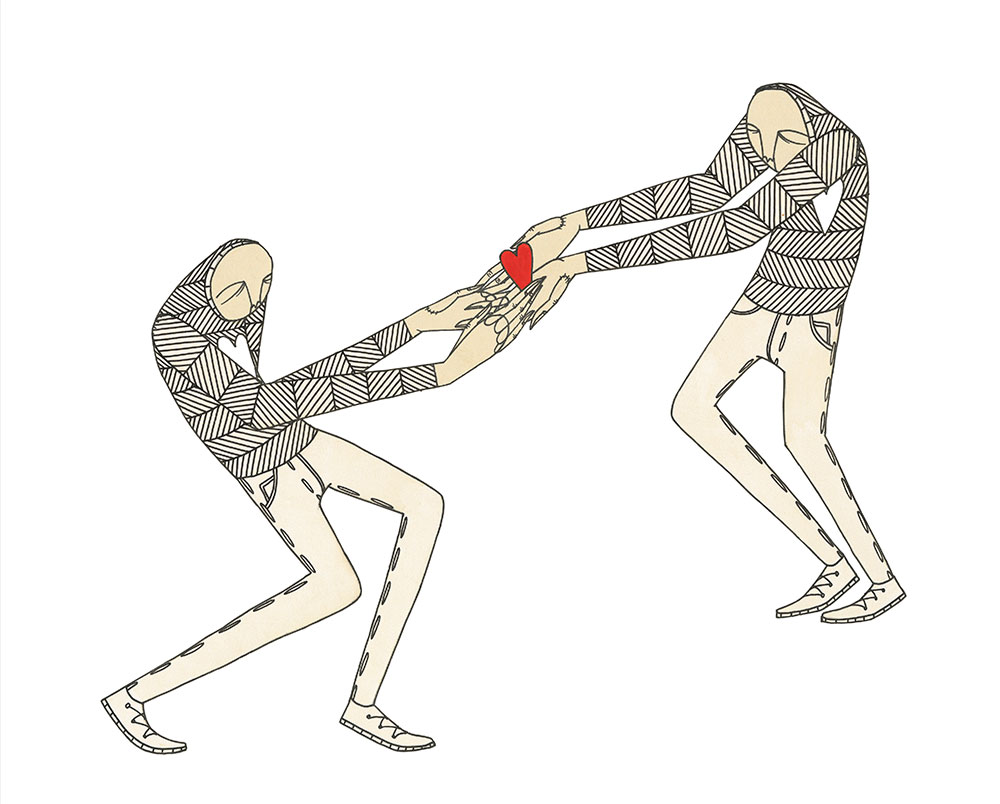 Addam Yekutieli (Know Hope), Encompassing, 2008