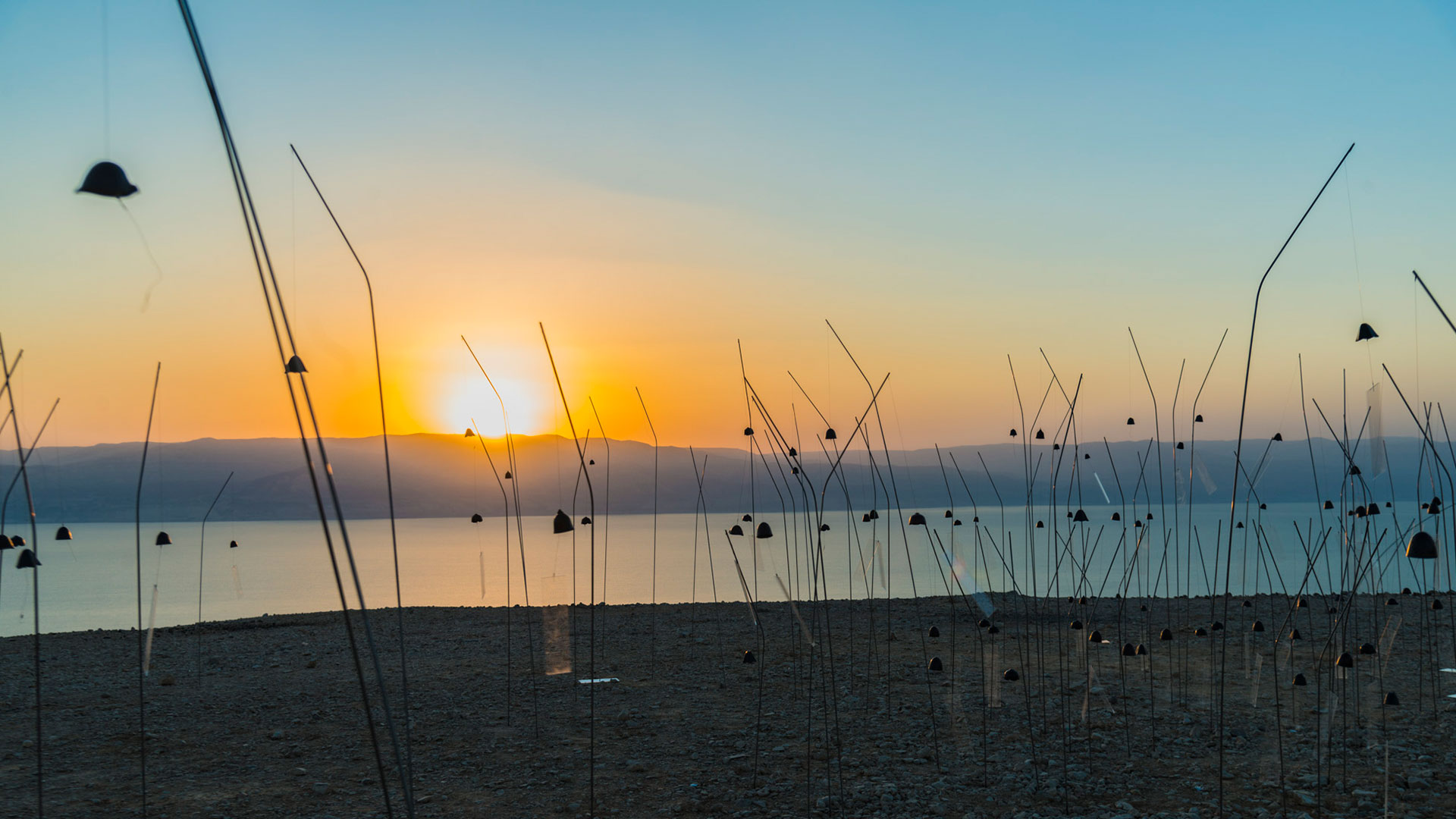 Christian Boltanski
Lifetime
The Israel Museum, Jerusalem | June−October 2018
Animitas (Small souls) (Dead Sea), 2017. Mitzpeh ha-Efes, Dead Sea, Israel. Video, sound, approx. 12 hours (banner)
"Central to my work is the fact that each one of us is unique and important and, at the same time, is destined to disappear. Most of us will be forgotten within two generations, after those who knew us have passed away." This simple and daunting realization lies at the heart of the lifework of Christian Boltanski, one of the great artists of our time.
Boltanski was born in Paris in September 1944, days after the city had been liberated by the Allies. His mother, a writer, came from a Catholic Corsican family. His physician father, born into a Jewish family from Odessa, hid under the floorboards for many months during the Nazi occupation. Boltanski's art grapples in a profound, pioneering way with the long shadow World War II cast over the second half of the 20th century, but its significance extends far beyond that. Using modest materials and showing a singular sensitivity to the potency of images, he creates works which offer emotional immediacy while examining the complex and elusive nature of memory, both individual and collective. He never stops asking questions: What will remain of us after we have died? What is the meaning of time and its passing? How are we to preserve the memory of people who once lived and loved, feared and hoped?
Lifetime draws on an oeuvre spanning thirty years, but Boltanski regards the exhibition as a single artwork, a complete story composed of successive chapters: his early altar-memorials to unknown people; large-scale installations addressing the subject of fate; and recent video works filmed in primal landscapes and charged with the power of myth. The journey through the exhibition proposes an itinerary that begins in darkness but leads to light, solace, and perhaps even the possibility of a new beginning.
Selected Works in the Exhibition
1.Self-Portraits
2008 | Black-and-white photographs
At first glance, these 27 photographs of the artist's face seem to show Boltanski at different stages, growing up from portrait to portrait. Yet something is awry: upon a closer look, we find that the work is based on only three original images (located at the left of each row) portraying Boltanski as a boy, in his twenties, and as a grown man. All of the other photographs are composites, in which strips showing the forehead, eyes and nose, and mouth have been combined in every possible permutation.
Boltanski has created composite portraits in other works, but in those cases he combined photographs of unknown people. In this case, only the artist's face is involved, and his focus is the passage of time. In the jumbled composites of the Self-Portraits, time goes back and forth, and past and present exist simultaneously. The child is embedded in the old man, and vice versa. With this act of cutting and combining, come questions about essential identity. Are the many reconstructed Boltanskis still Boltanski?
2. Last Second
2012 | LED counter
The red numbers change rapidly, counting the seconds since Boltanski's birth on September 6, 1944. There is no present tense in this work; even before the figure can register, it has changed. By choosing seconds as the unit of time, the artist creates a sense of urgency, as we realize that the instant which has just passed will never return. His digital counter is precise, objective, coldly calculating, like the merciless stopwatch that determines the winner of a race. In this case, however, the finish line is the artist's death, when the clock will stop
3. The Life of C.B.
2010 onwards | 40 selected videos from closed-circuit television cameras in Boltanski's studio, 10 seconds each | Museum of Old and New Art (Mona), Hobart, Australia
On the six screens, snippets of day-to-day life in Boltanski's Paris studio can be viewed: the artist experimenting with an arrangement for an installation, working on the computer, giving an interview, eating pizza, and even sweeping the floor. The scenes are a very small part of what has been recorded by cameras installed in the studio to create the work known as The Life of C.B.
In 2010 Boltanski made what he calls a pact with the devil. David Walsh, an eccentric Australian who has made a fortune in gambling, wanted to buy the artist's life. Closed-circuit cameras would be installed in his studio to record everything that happened there, 24/7, and transmit it live to Walsh in Hobart, Tasmania. The purchase of the artwork turned into a type of bet: Boltanski set a price; Walsh estimated the artist's life expectancy to be eight more years (at the time he was sixty- five); the work's price was divided by eight, and Boltanski would be paid a monthly stipend based on that calculation until his death. If the artist died before the eight years elapsed, Walsh would "win" – by paying less than the agreed-upon price. If Boltanski lived longer than that, he would win. Today, more than eight years later, the artist can be declared the winner. He has gambled with death and won. For now.
4. Monument – Souvenir Images
1973–88 | Black-and-white photographs, tin boxes, light bulbs, electric wires | The Israel Museum, Jerusalem, Gift of the artist in memory of Jacques Ohayon. B89.0071
This work, exhibited in the gallery along with a number of other Monuments by Boltanski, was created in 1988. However, the photographs it incorporates date back to 1973, when the artist first visited Israel. In Jerusalem he captured images that were on display in the shop windows of photography studios. The pictures show toddlers, a Bar Mitzvah boy, a bride and groom, a pair of sweethearts. Most of them are smiling and all are looking their best, carefully groomed for this formal moment. Each frame is surrounded by three bare light bulbs. Electrical cords enmesh the pictures, recalling diagrams of family trees and suggesting a kinship among the photographed subjects.
Looking at this work in 2018 enfolds four different times into the work: the unknown date when the photographers' portraits were made; the moment in 1973 when Boltanski took his photographs; the moment fifteen years later when he created the installation; and our viewing of it another thirty years later. What has happened to these people from so long ago? We have no way of knowing if they are still alive. Our uncertainty allows for an imaginative space in which countless stories might be woven.
5. Altar to the Chases High School
1987 | Tin boxes, photographs, lamps, electric wires The Israel Museum, Jerusalem, Gift of Shawn and Peter Leibowitz, New York, to American Friends of the Israel Museum, in memory of Charles and Rosalind Leibowitz and Leila Sharenow. B88.0274
Using modest materials – lamps, photographs, and old tin boxes – deployed with straightforward simplicity, Boltanski has raised an altar or memorial to those who are no longer. The artist rephotographed the individual images of four students in a 1931 class photo from a Jewish school in Vienna named after Rabbi Hirsch Perez Chajes, enlarging each one and clipping a lamp above it. Halos of light hover over the foreheads like bullet wounds. Many members of this high school class no doubt perished in the Holocaust, and the feeling
In his lean visual vocabulary, Boltanski seeks to communicate with his audience, to give form to fundamental questions about life, death, and memory. The photographs are of specific people, but the process of enlarging and blurring their faces obscures identity. Instead of preserving individual likenesses, and thereby individual lives, even after death, the photographs signify absence and testify that we cannot hold on to the dead.
Altar to the Chases High School, 1987. Tin boxes, black-and-white photographs, lamps, electric wires, approx. 223 x 238 x 23 cm. The Israel Museum, Jerusalem. Photo © The Israel Museum, Jerusalem
6. Reserve – Dead Swiss
1990 | Tin boxes, black-and-white photographs, lamp, electric wires
The portrait photographs in this work were originally culled from the obituary pages of a Swiss newspaper. Boltanski comments: "I chose the Swiss because they have no history. [. . .] the Swiss have no reason to die, so they could be anyone and everyone." Since death comes naturally in neutral, normal Switzerland, the Swiss are like a control group for the artist's attempt to examine causes of death. It is because they were ostensibly untouched by the defining traumas of the twentieth century that Boltanski takes them as exemplars of the usual inevitable end of human life.
7. Between-Times
2003 | Projected black-and-white photographs
Close-ups of Boltanski's face from childhood up to the age of sixty appear in succession, like a nature film that has speeded up the blossoming and withering of a flower. The images are projected on a dividing string curtain, so that as visitors move from one gallery space to the other, they pass through the artist's face, causing it to dissolve momentarily and then reappear, ghost-like. Since the period of time that elapsed between the taking of one photograph and the next is not clear, a sense that time is fluid and cannot be measured accompanies these ephemeral images.
8. Heart
2005 | Panes of glass, painted black, light bulb, sound
The sound in this installation is made by Christian Boltanski's heart, and the light emitted by a single exposed bulb flickers with each beat. The black panes of glass lining the walls serve as dark mirrors, so that when we are reflected in them it is though we become part of the work, entering, as it were, a chamber of the artist's heart.
Seeking to preserve the memory of everyone on earth, in 2008 Boltanski started his Heart Archive: visitors to his exhibitions could record their heartbeat in a special "laboratory." Housed on Teshima island in Japan, the archive now contains hundreds of thousands of recordings.
As you leave the exhibition, you will have the opportunity to record your heartbeat and become part of Boltanski's archive.
9. Animitas (Dead Sea)
2017 | Video, sound, approx. 12 hours
On a cliff overlooking the Dead Sea, three hundred Japanese bells have been arranged according to the configuration of the stars on the night Boltanski was born. When the wind blows, the bells on their fine metal reeds produce a delicate chime, while the clear plaques attached to each one shimmer in the light. Animitas was first created in 2014 in Chile's Acatama Desert and has since been replayed in a number of settings, among them a snowy Canadian landscape and a forest in Japan. On the occasion of the present exhibition, the artist recreated the work in Israel, at a site known as Mitzpeh ha-Efes – "the Zero Lookout" – by the Dead Sea.
The result is something mythic that brings together traditions and beliefs of different kinds. Mitzpeh ha-Efes, marking sea level, separates the living kingdom of sky and mountains from an underworld, a kingdom of the dead – as the sea's name indicates – at the lowest point on earth. In Japanese tradition, a slip of paper with a wish is attached to such bells, and each time the bell rings, the wish is carried on the wind to the powers that be. The work's Spanish name means "small souls" and refers to the little shrines that are erected in memory of loved ones. Finally, the resonance between the French words for sea – mer – and mother – mère – seems particularly significant when we consider the womb-like shape of the Dead Sea and its primal setting.
10. Veronicas
1996 | Black-and-white photographs, printed cloth, lamps, wooden frames
In Christian tradition, a woman named Veronica offered her handkerchief to wipe the brow of the suffering Jesus as he carried the cross to Calvary, and the imprint of his face was miraculously left on what is known as Veronica's Veil. This piece of cloth was cited as evidence of Christ's dual nature – both human and divine. In the 19th century, the new invention of photography, with its seemingly miraculous imprints of portraits, would be compared to the wondrous veil. In his photographic work titled Veronicas, Boltanski reminds us of the divine image that is reprinted in all human beings and suggests that every portrait is like a sacred relic of the person it depicts.
11.
The Telephone Subscribers
2018 | Telephone books, library furniture | With the participation of zap group
The books in this library are Israeli telephone books spanning a wide range of years and locations. Visitors can leaf through them and look for their name or the names of friends and relations.
In 1999, as a new millennium approached, Boltanski wanted to create an artwork containing the name of every living person everywhere. Impossible to do, of course, if only because such a list is always in flux – babies come into the world at the same instant that other people leave it. The work that he did create in 2000 was a library of 3,000 telephone books from all over the globe.
For the exhibition, Boltanski made a special local version of his Telephone Subscribers. Its shelves are filled with objects that were once found in every Israeli home but have almost disappeared since the advent of internet and mobile phones. And so the library is in fact an archive: a record of who lived where and when, of names that changed, and of the country's ethnic make-up.
12. Detective
1988–89 | Cardboard boxes, newspaper clippings, is embedded in the old man, and vice versa. With this act of cutting and combining, come questions about essential identity. Are the many reconstructed wooden shelves, lamps, electric wires | The Israel Museum, Jerusalem, Gift of the artist in memory of Jacques Ohayon. B89.0072
All of the images used in this work come from the sensationalist crime magazines Détective and El Caso, and to all of them the same year has been added on the boxes – 1974. The only problem is that we cannot tell if a given photograph (unless it shows a baby) portrays a murderer or a victim. Was the middle-aged man with the mustache killed in some awful way, or was he a violent criminal? We become detectives, attempting to find some detail that will disclose the moral identity of the person in the photo. The installation plays on unconscious stereotypes – for example, that women are more likely to be victims than criminals – and assumptions, such as the idea that evil leaves physical traces which can be discerned in a person's face.
The crowded boxes, together with the title Detective, suggest police archives where findings from crime scenes are stored. It is as though we have found our way into a place that is off-limits to try to unravel horrifying stories of violence and death. The fact that so many boxes are dated to the same year adds to our anxiety, as though we are witnessing a mass murder broken into discrete units.
13. Speaking Up
2005/2018 | Wooden figures, secondhand coats, lamps, motion detector, sound
Eight figures stride forward, clad in black coats and seemingly wrapped in thought. They consist of simple pieces of wood and black reading lamps in lieu of heads. Although stationary, the tilt of their "bodies" and breadth of their "step" suggests movement: these figures seem to be rushing – to somewhere, or away from something? The recorded "thoughts" we hear as we get nearer indicate that they are engrossed by questions of life and, especially, death.
In the late 1990s, Boltanski took a break from his work with photographs and turned to sculptural installations. Although they are extremely simple and spare, rather like harried scarecrows, these may be the only examples of full three-dimensional figures in his art.
used to warm people who have escaped calamity. In recent years, we have seen them on refugees who were pulled from the sea as they desperately made their way across the Mediterranean from Africa or the Middle East. The golden mountain, then, is a physical manifestation of redemption and the start of a new life.
used to warm people who have escaped calamity. In recent years, we have seen them on refugees who were pulled from the sea as they desperately made their way across the Mediterranean from Africa or the Middle East. The golden mountain, then, is a physical manifestation of redemption and the start of a new life.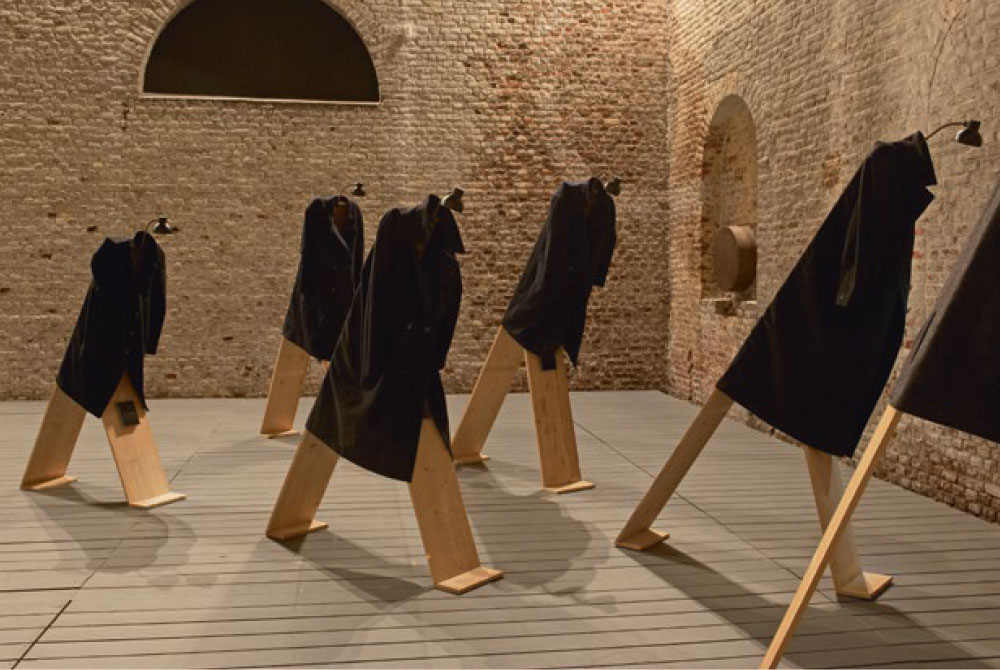 Speaking Up, 2005. Wooden figures, secondhand coats, lamps, motion detector, sound, dimensions variable Installation at MAC's Grand-Hornu, Belgium, 2015. Photo © Ph. De Gobert
14. Eyes
2013 | Black-and-white photographs printed on cloth
Dozens of pairs of eyes – made-up, wrinkled, young, old – stare at us from translucent curtains. Their gaze may be probing and direct, or it may be blank, and as we walk through these eyes, we may engage with them or we may avert our own gaze. The images come from Greek passport photos, since Boltanski made the work while preparing an exhibition in Athens, but their origin is of no importance. In the most universal way, eyes and the gaze convey the essence of being human – the self. The gaze of others forms our own sense of self as we walk through this labyrinth of looks.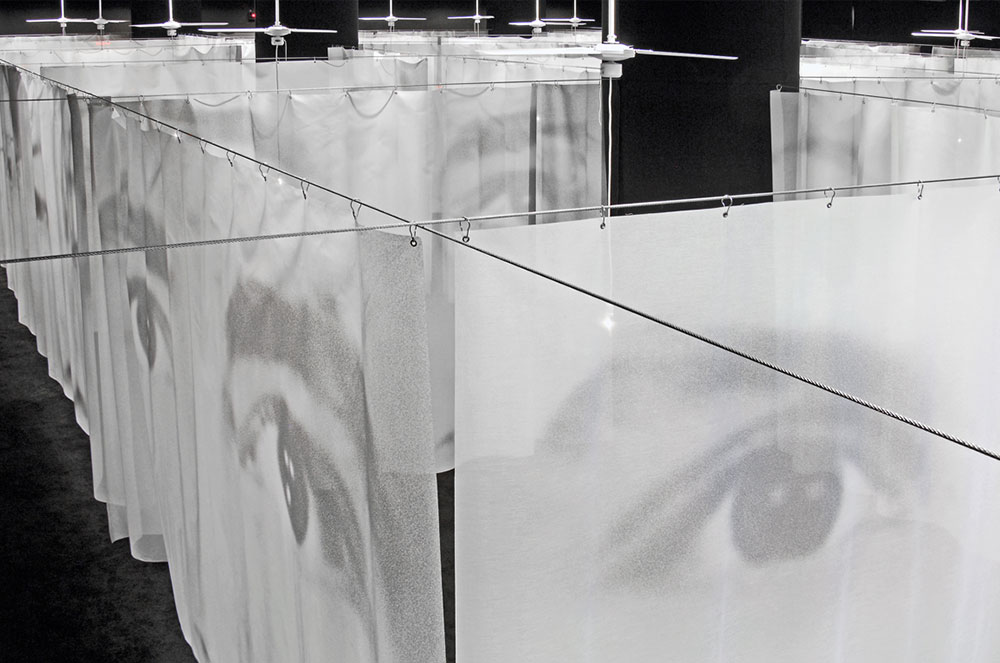 Eyes, 2013. Black-and-white photographs printed on cloth, 250 x 400 cm each Installation at Onassis Cultural Centre, Athens. Photo © Fanis Vlastaras − Revekka Konstantopoulou
15. Volver
2016/2018 | Hypothermic survival blankets, scaffolding
A golden heap, like some pile of fairy-tale treasure, stands at the edge of the exhibition. Boltanski has exchanged the secondhand clothes he used in other installations for a new material. The used clothes, like the monstrous piles of shoes and eyeglasses from Nazi death camps, stood for those who once wore them, those who were and are no longer. But,
as if through alchemy, the present golden heap transforms painful memories into something hopeful, for these are in fact "survival" blankets used to warm people who have escaped calamity. In recent years, we have seen them on refugees who were pulled from the sea as they desperately made their way across the Mediterranean from Africa or the Middle East. The golden mountain, then, is a physical manifestation of redemption and the start of a new life.
16. Misterios
2017 | Three-channel video, 11:38 hours
In Patagonia at the southernmost tip of South America, the edge of human habitation, Boltanski erected three enormous trumpet-like pipes at a height of three meters. When strong winds buffet the coast, the horns emit sounds like those of the many whales that migrate to the area in the autumn. The video that was filmed in this primal setting from sunrise to sunset also reflects a mythical sort of time, slow and redolent of eternity.
In the last decade, Boltanski's work has reflected his interest in foundational mythologies. The Patagonians see the whale as a wise, age-old creature whose knowledge reaches back to when the world began. Their response to an unanswerable question is, therefore: "Go ask the whales." And so the whales have helped Boltanski find his place in the\ world. He says: "I hope that long after I am gone and nobody remembers me any more, there will still be a story about the crazy man who tried to talk to the whales."
17. Being Anew: The Children of Be'er Sheva
2011/2018 | Interactive work
The portrait photos in this work are divided into three strips: forehead; eyes and nose; mouth and neck. The strips change constantly, creating an endless number of new portraits – some distorted,
some bizarre, and some quite funny. When you see an image that seems to be made up of the three "right" pieces, you can hold it by pressing the button.
Being Anew is a new take on puzzles, whether basic or sophisticated, that involve identifying parts of pictures that go together. It adds a philosophical dimension regarding identity to the initial amusement and test of reflexes. The photographed children are Grade Four pupils at the bilingual Hebrew-Arabic Degania School in Be'er Sheva, in southern Israel. The artist chose this group because their facial features, as well as their identities, were still developing, and they were less likely to be labeled by gender or in terms of ethnic, religious, or national identity.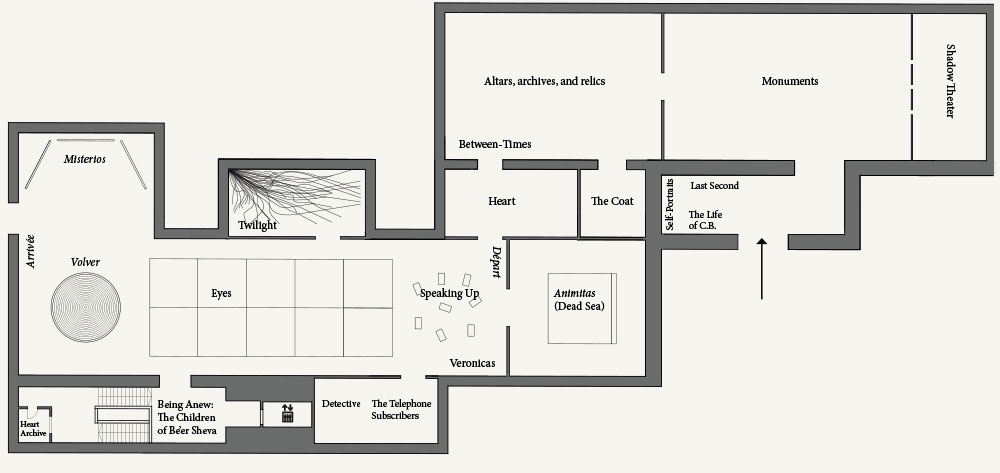 ---

Robert and Rena (Fisch) Lewin Gallery, Hildegard and Simon
Rothschild Foundation Gallery, Judy and Michael Steinhardt Gallery,
Maureen and Marshall Cogan Gallery, Helen and Jack Nash Gallery,
Sheila and Nahum Gelber Gallery, Aaron Levy Hall,
Nathan Cummings Building for Modern and Contemporary Art

Guest curator: Laurence Sigal
Curator-in-charge: Mira Lapidot
Assistant curator: Orly Rabi
Exhibition design: Eliran Mishal, Shirly Yahalomi
Exhibition production, France: Studio Eva Albarran & Co., Paris

Translation and editing: Anna Barber
© The Israel Museum, Jerusalem, 2018
---

All rights reserved
Artworks: Christian Boltanski © ADAGP, Paris, 2018
This publication and the catalogue were made possible through the generosity of Janice Atkin, London, in loving memory of her husband, Robert Atkin
The exhibition was made possible by:
Lenore S. and Bernard A. Greenberg Fund, California
Grace Frankel and Hanns Salzer Levi, Marbella, Spain
The Nash Family Foundation, New York

In conjunction with Saison France Israël 2018
---