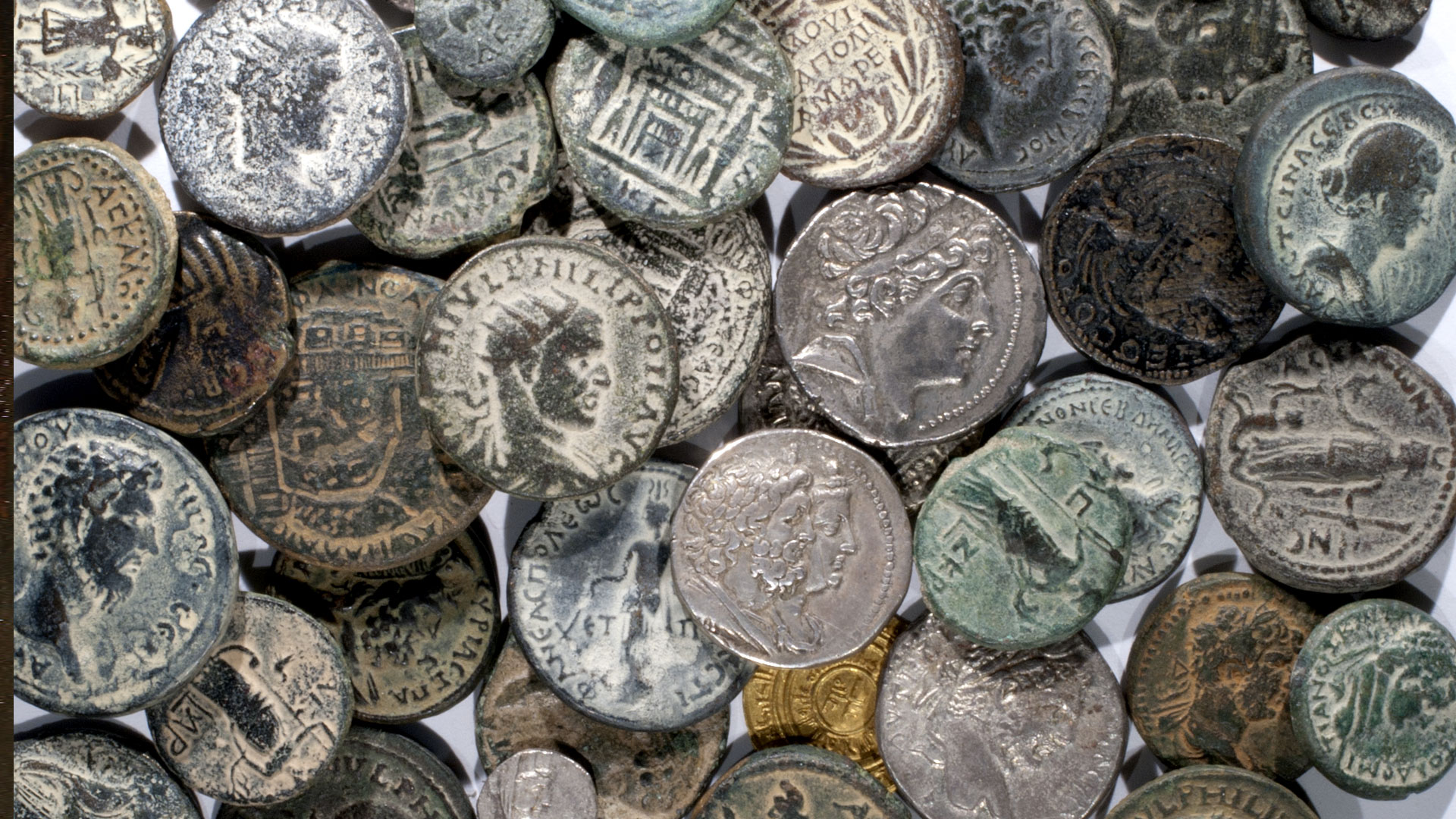 Catharine C. Lorber
The 2017 Ya'akov Meshorer Numismatic Prize
September 2017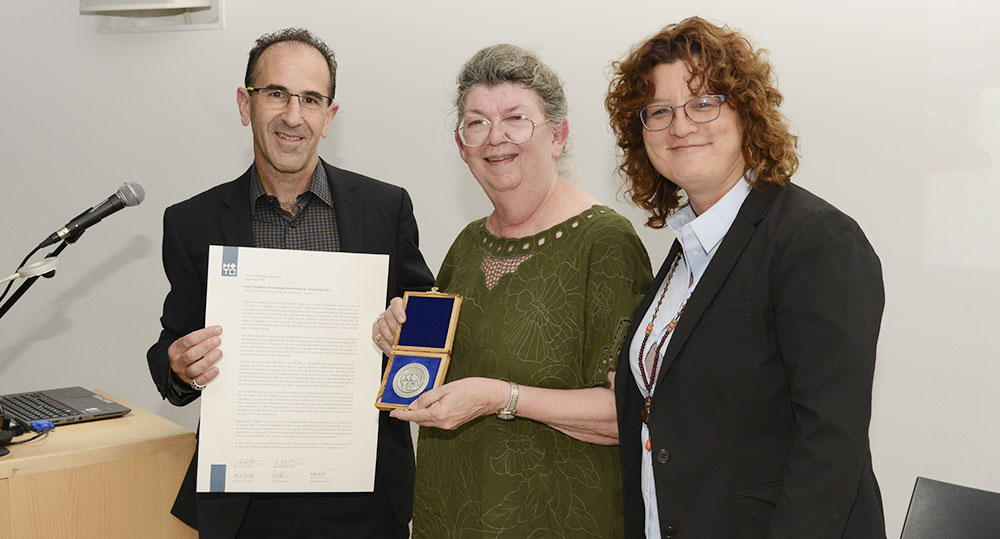 Photo: Dr. Haim Gitler, Catharine C. Lorber, and Ayelet Shilo Tamir. Photo © The Israel Museum, Jerusalem/ by Peter Lanyi
Catharine Lorber received her bachelor's degree in Classical Greek from the University of California, Los Angeles, and began her career in the field of commercial numismatics as a cataloguer of ancient Greek, Roman, and Byzantine coins. This work afforded her the opportunity to record numerous coin hoards and spurred her interest in numismatic research. Cathy went on to become a prolific scholar. To date, she has published several books and more than 70 papers in leading numismatic journals, focusing mainly on Thessalian coinage and the royal coinages of the Seleucids and the Ptolemies. She has also written extensively on the provincial silver coinage of Judah.
One of Cathy's most noteworthy achievements is her comprehensive two-volume catalogue Seleucid Coins, written together with Arthur Houghton and Oliver Hoover and now regarded as the definitive work on the subject. She has also published significant studies on other areas of Greek numismatics, from the gold and silver civic coinage of Amphipolis to the iconography of the coinage of Judah. In all these studies, her mastery of numismatic methodology is combined with an extensive knowledge of antiquity.
Lorber's most important contribution to the field is undoubtedly her catalogue of Ptolemaic coinage, the first volume of which is due to appear this year. Coins of the Ptolemaic Empire: Ptolemy I–Ptolemy IV incorporates the author's precise dating of new series; attention to the latest developments in research, especially with regard to bronze issues; sensible descriptions of the motifs on the coins; rigorous use of metrological data; and incomparable knowledge of hoards and excavation materials. With these qualities, this two-volume book will surely become one of the greatest works ever to have been compiled in the field of Greek numismatics.
In the end, who we are is as important as what we do. Beyond the quality of Cathy's research lies her deep spirit of collaboration, which has resulted in fruitful alliances with numerous colleagues – young and old, professional and non-professional. Cathy is always ready to share her research with others and help them investigate and pursue their innovative and sometimes even wild ideas. In 2012, her generosity of spirit was even extended directly to the Israel Museum, when she played a major role in the exhibition White Gold, devoted to the invention of coinage and the electrum issues.
Beyond this, Cathy is a devoted wife, a caring mother and grandmother, a fine cellist, and opera lover. Warm and thoughtful, with an unquenchable thirst for knowledge, she is a continuous source of inspiration to us all. If it can be said that art is the expression of the inner soul and that writing is art, Cathy's work speaks volumes about her. Time and time again she has demonstrated both the skills and the soul required for true numismatic excellence.
In light of her unique achievements, the Israel Museum is honored to confer on Catharine C. Lorber the Ya'akov Meshorer Numismatic Prize for 2017 and wishes her continuing success.
Dr. Haim Gitler
Ayelet Shilo Tamir
Abraham Sofaer
David Hendin
Michel Amandry
Banner image: Ongoing gift from the collection of Abraham D. Sofaer and Marian Scheuer Sofaer, Palo Alto, CA, to American Friends of the Israel Musem Photo (C) The Israel Museum, Jerusalem, by Peter Lanyi