Boris Schatz Archive
Boris Schatz (23 December 1866 – 23 March 1932) was a Russian Jewish artist and sculptor who settled in Palestine. Schatz, who became known as the "father of Israeli art," founded the Bezalel School in Jerusalem.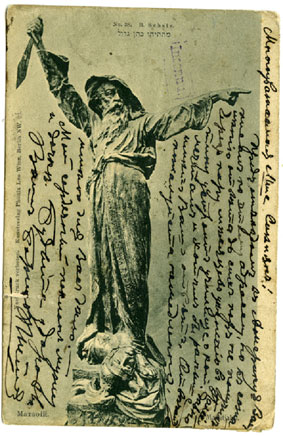 A postcard from the Archive, written by Boris Schatz from Sophia, Bulgaria on the 23rd of May 1905.
The postcard photo is of his monumental sculpture "Mattathias the Hasmonean", 1894.
The sculpture has since been lost
The archive includes some 200 unique letters, certificates, diplomas, documents, invitations, postcards, type written protocols documenting the life of Boris Schatz from the 1880s till the 1930s.
The following subjects are linked to this archive:
People
Angelika Schatz
Baron Rothschild
Bezalel Schatz
Dora Gabe
Haika
Levin Kipnis
Louise Schatz
Mordechai Narkiss
Olga Schatz
Royal Family of Bulgaria
Shmuel Hirschenberg
Zahara Schatz
Places
Amsterdam
Austria
Berlin
Bezalel School
Bulgaria
Cairo, Egypt
Chicago
Germany
Holland
Istanbul
Italy
Jaffa
Jerusalem
Karlsbad
Leningrad
Livorno
London
Marseilles
Moscow
Munich
New York
Nuremberg
Paris
Philadelphia
Romania
Saint Louis
Sofia, Bulgaria
Turkey
Varna, Bulgaria
Vienna
Vilna
Warsaw
Zion
Languages
Bulgarian
English
French
German
Hebrew
Italian
Lithuanian
Polish
Russian
Yiddish