Bertha Urdang Archives
Bertha Urdang (1912 - 2001) was an Israeli art collector and gallery owner born in England. She was important for encouraging and fostering Israeli abstract and conceptual art, as well as for distributing and publicizing Israeli art in the United States. She opened her first gallery, "Rina,"in Jerusalem in 1959 with a partner, Shmuel Engel. In 1972 she opened a New York Branch of her gallery across the street from the Whitney Museum and that became her residence and show place for twenty years.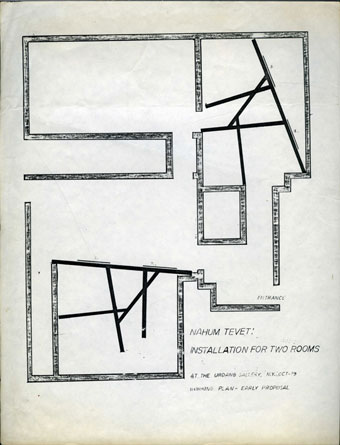 Floor plan for the Nahum Tevet installation in 1979 at the Bertha Urdang Gallery, New York
Bertha Urdang's archival material was donated to the Information Center for Israeli Art in 2014.
List of artists featured in this archive:
Abrams, Barbara, USA, 1948-
Abramson, Larry, Israeli, born South Africa, 1954
Aroch, Arie, Israeli, born Russia, 1908-1974
Batlle, Georgette, New Jersey, USA, 1942-
Ben Haim, Amnon (Zigi), Israeli, born Iraq 1945
Ben Jano, Gabi, Morocco, 1943-
Berg, Peter, USA, 1948-
Brown, Igor, Lvov, Ukraine, 1955-
Cohen Gan, Pinchas, Israeli, born Morocco, 1942
Collings, Betty, USA, 1934-
Doktori, Bar Kochva (Cochi), born Iraq 1940, active Israel and USA
Efrat, Benni (Reuven), Israeli, born Lebanon 1936
Eliraz, Yehoshua, Israel
Fine, David (1)
Gershuni, Moshe, Israeli, born 1936
Gitlin, Michael, born South Africa, 1943, active Israel and USA
Gluck, Heidi, USA, 1944-
Gluska, Aharon, Israeli, born 1951
Goldstein, Gary, born USA 1950, active Israel
Gross, Michael, Israeli, 1920-2004
Hemmo, Irit, Israeli, born 1961
Hoffman, Moshe
Kaufman, Yaacov, Israeli, born Russia 1945
Koren, Shlomo, Israeli, born Germany, active Holland, 1932–2013
Krize, Yehiel, Israeli, born Poland, 1909–1968
Kupferman, Moshe, Israeli, born Poland, 1926–2003
Laury, Micha, born Israel 1946, active France and Israel
Lavie, Raffi, Israeli, 1937-2007
Lawson, George, born USA, 1951
Manor, Margalit, Israel
Marx, Gerard, born Luxemburg 1941, active Israel and USA
Neustein, Joshua, Israeli, born Poland 1940, active USA and Israel
Ninio, Moshe, Israeli, born 1953
Poliakine, Sharon, Israel, 1964-
Rita, Alima, Israel, 1932-2013
Rosak, Afi
Rosen, Kay, USA, 1948-
Salama Ortar, Ilana, Israeli, born Egypt 1949, active Israel, Germany and England
Schecter, Robert, USA, 1942-
Schocken, Deganit, Israel, 1947-
Schur, Esther, Israel, 1951-
Schwartz, Buky, Israeli, 1932–2009
Segal, Shalva, Israeli, born USA, 1953
Segal, Zelig, Israeli, born 1933
Shaw, Karen, USA, 20th century
Shealtiel, Eldad, Israel
Snir, Moran, Israel, 1965-
Spitzer, Serge, born Romania, active USA, 1951–2012
Tevet, Nahum, Israeli, born 1946
Ullman, Micha, Israeli, born 1939
Uri, Aviva, Israeli, 1922–1989
Walkingstick, Kay, USA, 1935-
Weinstein, Mira, 1948-
Zaritsky, Yossef, Israeli, born Ukraine, 1891–1985