Bat Sheva and Yitzhak Katz Archive
Yitzhak Katz (May 19, 1901 – 1991) was an Israeli civil servant and art critic active in all spheres of Israeli arts and culture. Yitzhak Katz was born in Mykolaiv, Russia (today Ukraine). In 1906, Katz moved to Alexandria, Egypt where is studied. After graduation, he moved to Cairo and earned a living writing plays for the Green Theater. In 1919 he met Batsheva Charlap from Rehovot, and returned with her to Palestine and marrried in 1920. Katz developed ties at this time with the owner of Tarbut publishing house, Joshua Chachik, and other local intellectuals and artists, among them the painter Reuven Rubin. At the end of 1923, he moved with his wife, daughter to Tel Aviv. They lived on Ahad Ha'am Street, and the house became a meeting place for the Tel–Aviv bohemia of the 1920s and 1930s.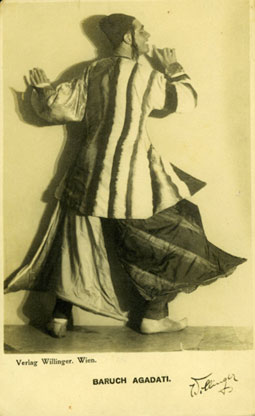 A photograph from the Bat Sheva and Yitzhak Katz Archive
Baruch Agadati in the Dance "Yemenite Ecstasy" from the late 1920s
Alongside his work in the public sector, Katz published reviews and art criticism in journals and Hebrew newspapers. In 1925, in the publication "Theater and Art", Katz wrote that he sought to establish a new national art that would be "an antithesis to art of the exile which was based on biblical iconography" but would rather "find inspiration from the contemporary Eastern and Western cultures".
When Katz died in 1991, the Bat Sheva and Yitzhak Katz Archive was transferred to the Information Center for Israeli Art. The archive includes photographs, his writings and his correspondence with artists of his time including Siona Tagger, Israel Paldi, Arieh Lubin, Avigdor Hameiri, and others.
List of artists featured in this archive:
Agadati, Baruch, Bessarabia, Russia, 1895-1976
Agor, Yaacov, Russia, 1911-1996
Barzili, Yitzhak
Gutman, Nachum, Israeli, born Bessarabia, 1898–1980
Hadgadya (Heron, Miriam), Israeli, born Ukraine, 1917–2004
Lubin, Arieh (Leo), Israeli, born USA, 1897-1980
Melnikoff, Abraham, Russia, 1892-1960
Paldi, Israel, Israeli, born Ukraine, 1892-1979
Pann, Abel, Israeli, born Latvia, 1883-1963
Rubin, Reuven, Israeli, born Romania, 1893-1974
Schlesinger, Fritz, Germany, 1915-1967
Stematsky, Avigdor, Israeli, born Russia, 1908–1989
Tagger, Sionah, Israeli, 1900–1988
Zafrir, Israel, 1911-
Zaliouk, Yona, Odessa, Ukraine, 1903-