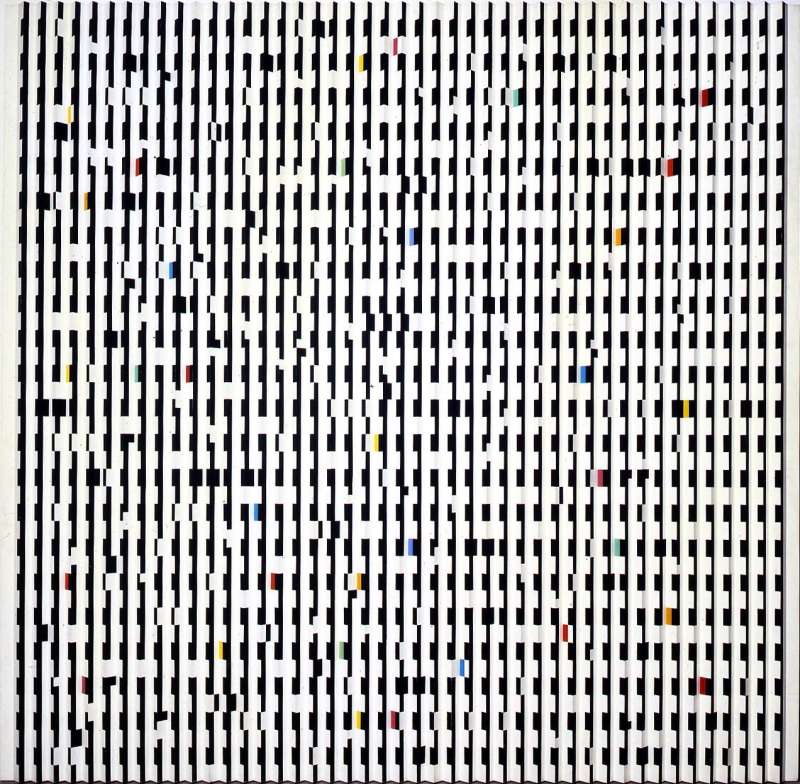 Yaacov Agam is one of the most prominent Op artists in Israel and around the world. His works have met with great success, making him one of the leading proponents of this artistic current, alongside Victor Vasarely and Bridget Riley. In 1965 the three of them participated in the exhibition The Responsive Eye at the Museum of Modern Art in New York, which received extensive media coverage.
Many of the works made by Agam in 1965 refer to musical terms. The work's title, Staccato, signifies a sequence of short sounds separated by silent pauses. It was translated in Agam's work into a multitude of small forms separated from each other against a white background. The artist points out his interest in dynamic change and a viewing experience which takes into account actual time and space, claiming, "In every art form but painting, artistic concept and expression are revealed as a progression in time and through the development of different situations from one another, together constituting a whole. One cannot read a book the way a picture is observed; one must turn the pages and follow the development of various situations, which unfold from beginning to end in a predetermined order. Continuity, development, and progression of acoustic events endow music with its vitality, and constitute the necessary determinants of a musical experience."
Referring to painting and the new option which had become available at the time, Agam says, "I have endeavored to create a picture that enables one to look at a certain number of states, a painting in which the viewer may choose for himself the states he prefers out of the total number of states purposely included in it." By moving alongside the painting, the viewer may create countless changing compositions.
Exhibitions:
1965 Today, Israel Museum, Jerusalem, Spertus Gallery, Palevsky Design Pavilion, Ayala Zacks Abramov Pavilion for Israeli Art, 31/03/2015 - 29/08/2015