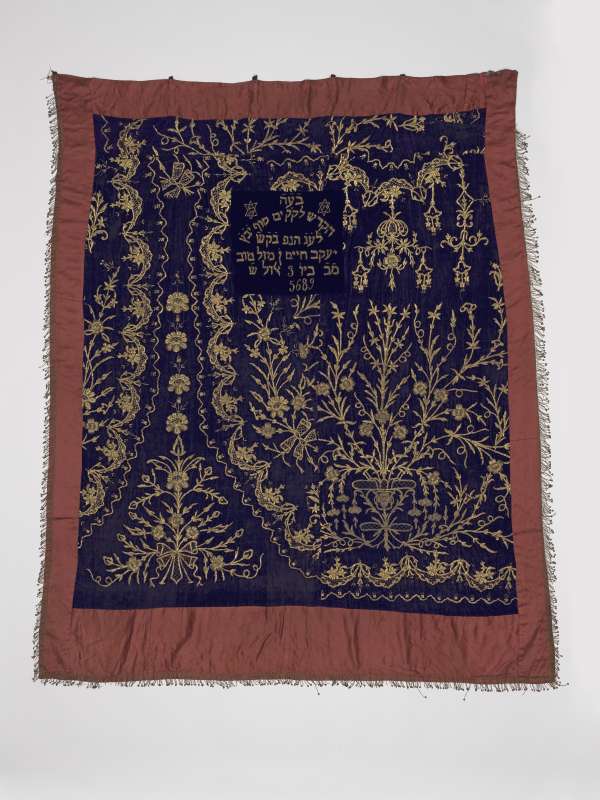 From the late nineteenth century, it was a common practice for Sephardi Jews living in urban communities of the Ottoman Empire to donate precious, embroidered home textiles, such as bed coverings, pillowcases, and especially dresses, particularly wedding dresses, to be reused as curtains and coverings in the synagogue. From the 1850s through the turn of the century, Jewish women adopted a new style of wedding dress from the Turkish bourgeoisie. Heavy couched metal thread embroidery on dark velvet or pastel satin, depicting flowers spreading from vases or other stylized vegetal motifs, covered gowns known in Turkish as bindalli (a thousand branches) dresses. By their tailoring, as well as their embroidery motifs in what is known as the "Turkish baroque" style, these garments showed strong European influences. This wedding gown marked a transitional phase between the traditional entari dress and the white European wedding dress introduced in the early twentieth century.

Depending on local custom, brides wore this type of dress either for the kiddushin (wedding ceremony) or on the morning after the wedding, known as the sébah. The bindalli dress was one of a whole set of lavish gold embroideries in the bride's trousseau to be used throughout her life. Like other gold embroidered articles, these dresses ultimately reached the synagogues, where they were converted into ark curtains, Torah mantles and binders, reading desk (bimah) covers, and the like, frequently with added dedicatory inscriptions.
The gold-embroidered dresses, adopted from the surrounding culture as a fashionable item without any Jewish specificity, were appropriated as Jewish through their use in the synagogue. The donation of dresses and trousseau items by women to the synagogues created a personal bond between the women and the synagogue. The habit of donating these textiles to the synagogue endured long after the original embroidered bedclothes and dresses had gone out of fashion. The embroideries became identified in these communities with the textiles customarily used in the synagogue, and the transitional bindalli fashion thus remained alive in Sephardi synagogues long after the passing of the brides who wore the dresses.
In 1940, Rabbi Argueti of Istanbul was asked whether it was permitted to make an ark curtain (parokhet) from a bindalli dress bought from a Muslim woman who had worn it for a Muslim festival. After considering the pertinent questions of Jewish law (halakhah), the rabbi permitted its use.
From the Israel Museum publications:
Juhasz, Esther (ed.), The Jewish Wardrobe from the Collection of The Israel Museum, Jerusalem, 5 Continents Editions, Milan and The Israel Museum, Jerusalem, 2012
Exhibitions:
Dress Codes: Revealing the Jewish Wardrobe, Israel Museum, Jerusalem, 11/03/2014 - 07/03/2015