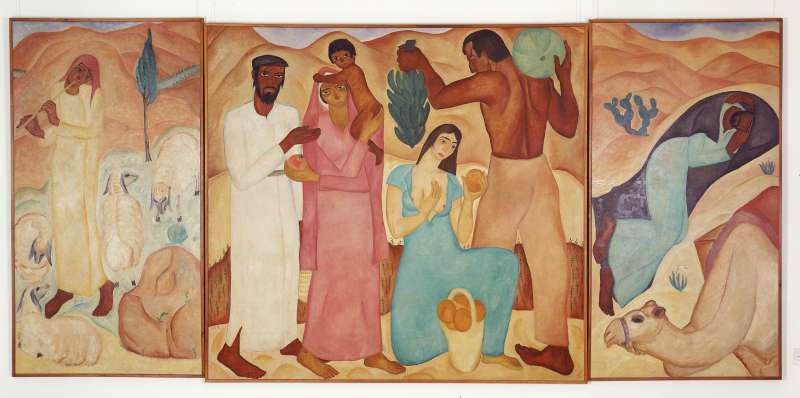 ". . . sunshine, the sea, the halutzim (pioneers) with their bronzed faces and open shirts, the Yemenite girls, and children with enormous eyes. A new country, a new life was springing up around me" (Reuven Rubin, My Life, My Art)
First Fruits was painted by Reuven Rubin, one of the country's best known artists, during his first year in Palestine. For Rubin the Land of Israel was an Oriental paradise, a place of harmony and fertility - the perfect setting for the birth of a new kind of Jew and the shaping of a native Israeli identity.
The triptych format, often used for church altarpieces, endows the work with a certain sanctity and solemnity. The central panel contains an updated, allegorical depiction of the ritual offering of the first fruits. The figures symbolize different local types. The brawny Atlas-like farmer with a watermelon on his back is the pioneer, emblem of the New Hebrew who is in touch with nature. The woman beside him resembles a fertility goddess. The Yemenite couple represents Jews of the Orient who carry on the age-old, devout way of life. Modest and traditional, they lack the confident physicality of the other couple; the offering they bear is their child, the fruit of their loins. The Arabs in the two side panels are essentially part of the landscape: secondary characters in this drama, they do not participate in the productive work that drives the world.