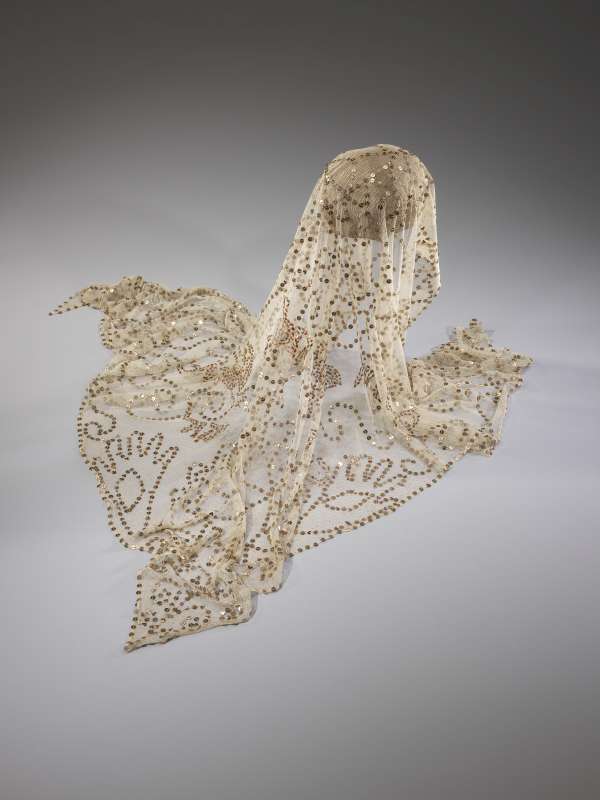 A bride wore a shawl such as this for the first time at her betrothal ceremony, usually held a year before her wedding. This symbol of engagement was worn over a brilliantly colored reddish-pink shawl, against which the sequined patterns stood out boldly. In Afghanistan both shawls, together with other garments, were presented to the bride by the bridegroom's family before the ceremony, and she later wore the betrothal shawl for other marriage-related events such as the henna ceremony and the wedding itself. Married women continued to wear it on festive and ceremonial occasions only, also using it to cover the cushion on which a newborn son was carried to his circumcision.
The tulle net formed a large triangle on which designs were sketched in pencil by the bridegroom or another male skilled in drawing and calligraphy. The embroidery was done by one of the older female members of the community who specialized in sequin embroidery. The sequins (pulak) —silvered or gilded copper discs with a hole in the center— were attached to the net with orange floss silk threads and back stitched. The border of the triangle was trimmed with a fringed orange ribbon with sequins at its ends, adding to the weight of the shawl.

Some scarves had simpler patterns, with sequins embroidered over their entire surface at regular intervals. The number of sequins, their quality, weight, and mode of embroidery generally reflected the economic status of the couple. Unusually, this garment's motifs unequivocally declared the Jewish identity of the wearer: decorations included Stars of David, seven-branched candelabra and Hebrew inscriptions, including the names of the couple —or of the bride only— or biblical phrases such as "Joseph is a fruitful bough, a fruitful bough by a spring" (Gen. 49:22) and "the sound of mirth and gladness, the voice of bridegroom and bride" (Jer. 33:11). The phrase "Joseph is a fruitful bough" often appears on amulets and was considered to provide protection against the evil eye and help ensure fecundity.
The Jewish motifs appeared alongside local motifs likewise considered to possess magical significance: open palms with a hennaed circle at their center (panj), tree-of-life portrayals, almonds (badomche, boteh), birds or roosters, stars within circles, and jugs. Most of these motifs were believed to express wishes for long life and prosperity, while the jugs, were interpreted also as a Jewish motif, hinting at purity or at ritual objects employed in the Temple.
Net scarves embroidered with sequins were characteristic of the dress of Jewish women in communities in Bukhara and Eastern Iran, where they appear to have originated. See photo from the archive.
From the Israel Museum publications:
Juhasz, Esther (ed.), The Jewish Wardrobe from the Collection of The Israel Museum, Jerusalem, 5 Continents Editions, Milan and The Israel Museum, Jerusalem, 2012
Exhibitions:
Threads of Silk: The Story of Bukharan Jewry, Beit Hatfutsot, Tel Aviv, 03/12/2012 - 05/07/2013