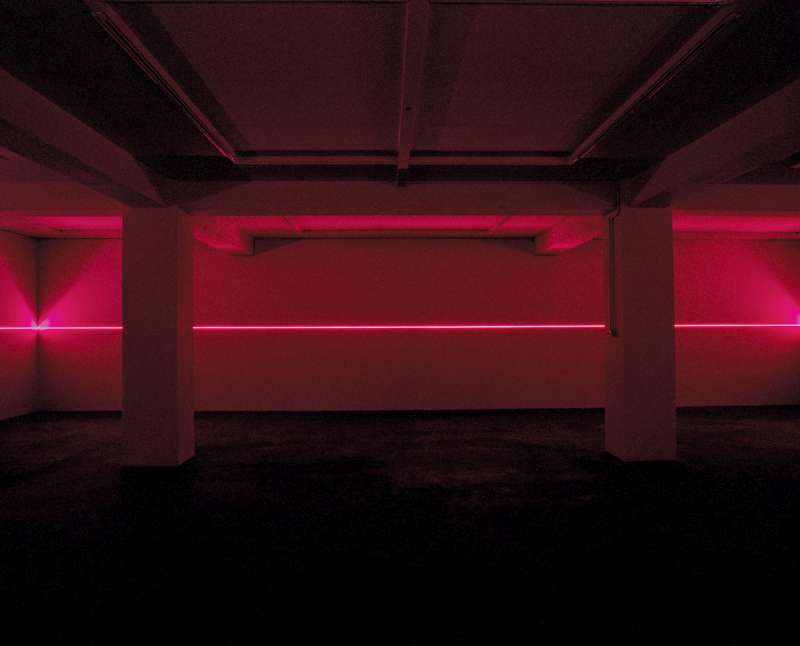 Intrigued by the ephemeral and the transient, Olafur Eliasson transforms natural phenomena - light, heat, moisture, fire, water, ice, steam, rainbows - into sculptural installations/environments, while navigating between nature and technology, the organic and the industrial.
His preoccupation with light focuses on dematerialization and models of observation and perception. By introducing the possessive "your" into the title of many of his works, Eliasson emphasizes the degree to which his installations demand active involvement on the part of the viewer. The visitors who step inside become an integral part of the work.
Upon entering Your Activity Horizon - a darkened, empty space - one is surrounded by a thin line of colored light that emanates from a narrow gap in the wall at eye level. The colors of the light change every fifty seconds. The light's intensity energizes the entire space, with each color imparting a different quality and sensation. The horizon, the subject of numerous theoretical discourses, can be perceived as a visual metaphor for the balance between the human being and the environment. Although our vision is limited by the walls of the space, the luminous flux bestows a sense of limitless possibilities, just as, when looking out to sea, we discern the horizon hovering at an infinite distance.
From the Israel Museum publications:
Beauty and Sanctity: the Israel Museum at 40. A Series of Exhibitions Celebrating the 40th Anniversary of the Israel Museum, Jerusalem, Zalmona, Yigal, 2006
Landau, Suzanne, Contemporary Art in the Israel Museum, Israel Museum, Jerusalem, 2010
Landau, Suzanne, Still / Moving, The Israel Museum, Jerusalem, 2010
Exhibitions:
Present Tense 6, Israel Museum, Jerusalem, 18/05/2001 - 24/11/2001
Vanishing Point: Hidden Beauty in Contemporary Art, Israel Museum, Jerusalem, 12/04/2005 - 25/10/2005
Still / Moving, Israel Museum, Jerusalem, 26/07/2010 - 02/04/2011