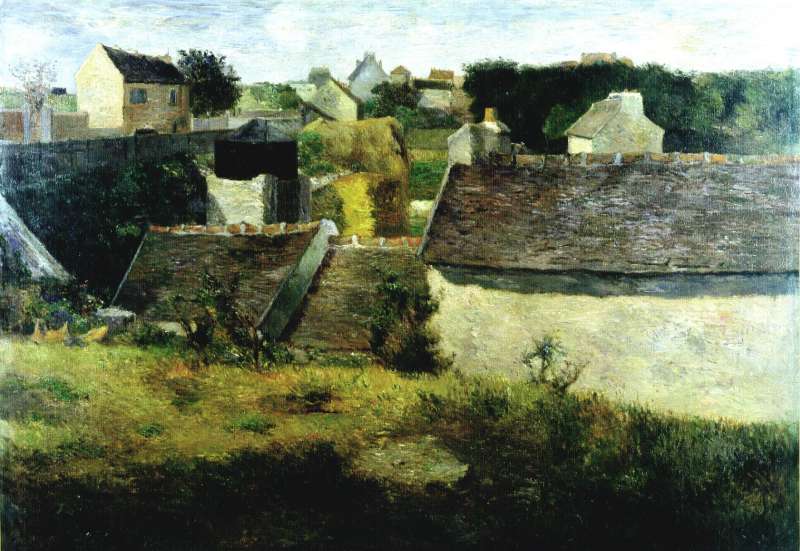 Though born in Paris, Paul Gauguin spent his formative years in Peru. His father having died while the family was en route, Paul and his sister Marie lived with their mother in the home of their great-uncle in Lima for six years, before returning to France in 1855. From age eleven to sixteen his education continued in a Jesuit seminary in Orléans. Subsequently, he spent some seven years at sea, traveling the world, first in the merchant marines and from 1868 in the French navy. Three years later, after his release from the military, he was hired by Paul Bertin, a Parisian stockbroker.
Gauguin's first forays into painting were made in the early 1870s while he was still a prosperous employee of the Paris stock exchange. Self-taught, he painted on Sundays, at times together with his friend and colleague at work, Claude-Emile Schuffenecker. Once having begun, the desire, indeed the need to paint slowly grew into an obsession.
By the time he created Houses at Vaugirard (1880) Gauguin, married since 1873 and now the father of three children, had begun to enjoy some small recognition as a painter. In 1876 one of his works had been accepted for exhibition at the official Salon. He also took an avid interest in the Impressionists. He followed their activities, saw their exhibitions, collected their works, and became friendly with Pissarro. As a result he was included in the fourth Impressionist exhibition in 1879. The following year he was represented in their fifth showing by seven canvases. It is possible that Houses at Vaugirard was no. 31 in the sixth Impressionist exhibition of 1881, appearing under the title My Landlord's House.
In 1877 Gauguin had moved to Vaugirard, then a suburb of Paris, which has since been incorporated into the city. Our picture is thought to have been painted there, although it is also possible that it was done at Pontoise, where Gauguin worked together with Pissarro during his summer holidays. In any event, a clear debt to Pissarro is evident in the technique and subject matter. Unlike Pissarro, however, Gauguin's landscape has a dense, constructed element. The houses in the middle ground stretch to the entire width of the painting, barring the viewer's path, thus keeping the eye close to the picture surface. The windowless building on the right (an elaborate drawing of which is in the National Museum, Stockholm) further emphasizes this blocked effect. Some depth exists but it follows a zigzag path along the sharp angles of rooftops and crisply shadowed walls. Both this play between two and three dimensionality and the stacking of the geometricized buildings reminds us that Cézanne too worked at Pontoise around the same time. In fact, Gauguin purchased a Cézanne for his private collection in 1880. Gauguin's tones, closely related greens, browns, and oranges, add to the painting's compactness. The only sense of airiness is afforded by the pale strip of sky.
From the Israel Museum publications:
Rachum, Stephanie, The Sam Spiegel Collection, The Israel Museum, Jerusalem, 1993, English / Hebrew
Impressionist and Post-Impressionist Painting and Sculpture, The Israel Museum, Jerusalem, 2006, English / Hebrew
Exhibitions:
The Sam Spiegel Collection, Israel Museum, Jerusalem, 22/06/1993 - 29/08/1993
Digital presentation of this object was made possible by:
Ms. Joan Lessing, New York and Jerusalem