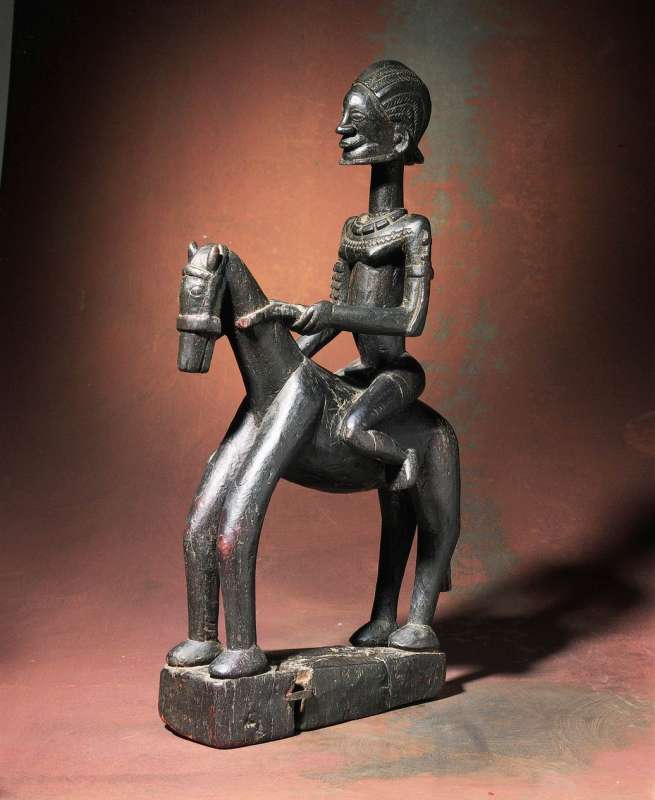 Most Dogon sculptures are carved for personal or family use, to commemorate the founding of a community, or for community worship. The horse, symbolizing power and wealth, is incorporated into many ceremonial and functional sculptures, and equestrian figures are also common in Dogon art. Horses were introduced to western Africa a thousand years ago and became the prerogative of rulers and nobles. In sculpture their presence always denotes the rider's high status. The theme of the horse and rider is found throughout the art of the western Sudan. Among the Dogon, horses are principally the mounts of the revered hogons, supremely important, semidivine leaders of great wisdom.
Hogons played an important role as masters of the cult of Lebe, a primordial ancestor whose cult is concerned with fertility and the regeneration of the earth. Lebe was the first being to experience death, which he then introduced to humankind. He was often depicted on horseback, wearing a beard. In this sculpture, the rider wears the short fringe beard of elder men and, as is done in life, carries a sheathed knife on his left arm, which also holds the reins.
This figure may represent an ancestral Dogon, a hogon, or an ancestor assuming the form of a hogon. In pose and attributes, it is highly reminiscent of ceramic horsemen made by the ancient Jenne culture of western Africa.
From the Israel Museum publications:
Newton, Douglas, African and Oceanic Art in Jerusalem, Israel Museum, Jerusalem, 2001, English
The Israel Museum, Publisher: Harry N. Abrams, Inc., 2005
Exhibitions:
Highlights of the Collection: African and Oceanic Art, Israel Museum, Jerusalem
Digital presentation of this object was made possible by:
The Ridgefield Foundation, New York, in memory of Henry J. and Erna D. Leir