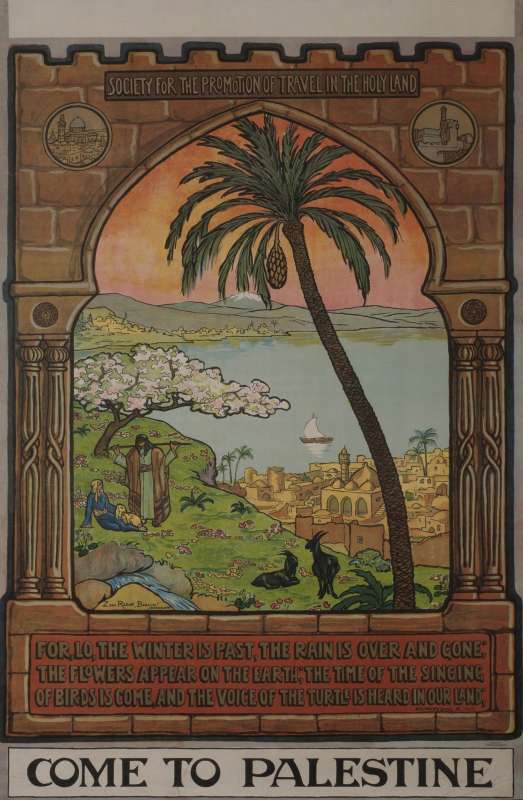 Upon his arrival in Jerusalem in 1912, Ze'ev Raban was invited to join the faculty of The Bezalel School of Arts and Crafts by its founder, Boris Schatz. There he worked as director of the repousse workshop and as teacher of anatomy and decorative arts. He also served as principal designer for the applied art studios, where carpets, metalwork, ceramics, and woodwork were made for the commercial market. Raban was much influenced by the Art Nouveau and Symbolism he had seen in Munich, Brussels, and Paris, where he studied sculpture and decorative arts. These influences played a significant part in Raban's personal style, which in turned helped define what came to be known as the Bezalel style.
This poster, which features an Orientalist scene of a shepherd and his beloved in a bountiful landscape within an architectural frame of an arabesque horseshoe arch, was aimed at attracting tourists to the Land of Israel. It was designed to speak to a Christian audience as much as to Jews of the Diaspora, as can be seen in Raban's choice to set the timeless idyll on the shores of the Sea of Galilee. In the distance, framed by the blooming almond tree and date palm heavy with fruit, is the snowy peak of Mount Hermon. The verse from the Song of Songs (2:11-12) set in the stones of the frame strengthens the connection to the land of the Bible. All these elements symbolize renewal and the coming of spring, emblematic of the burgeoning Zionist society.
The symbolic language of this poster - the idyllic and timeless landscape untouched by modern society, the Oriental (Arab) dress and architecture, the Biblical verse and setting - was part of the ideology and aesthetic of the early Zionist movement, which aimed to strengthen the physical connection of the Jewish people to the Land of Israel.
From the Israel Museum publications:
The Israel Museum, Publisher: Harry N. Abrams, Inc., 2005
Artists' Choices, The Israel Museum, Jerusalem, 2010
Exhibitions:
To the East - Orientalism in the Arts in Israel, Israel Museum, Jerusalem, 28/05/1998 - 31/10/1998
Artists' Choices - Yinka Shonibare: Earth, Wind, Fire, and Water, Israel Museum, Jerusalem, 26/07/2010 - 08/01/2011
Permanent Exhibition: Israeli Art, Israel Museum, Jerusalem, 25/07/2010 - 10/05/2015
Digital presentation of this object was made possible by:
The Ridgefield Foundation, New York, in memory of Henry J. and Erna D. Leir