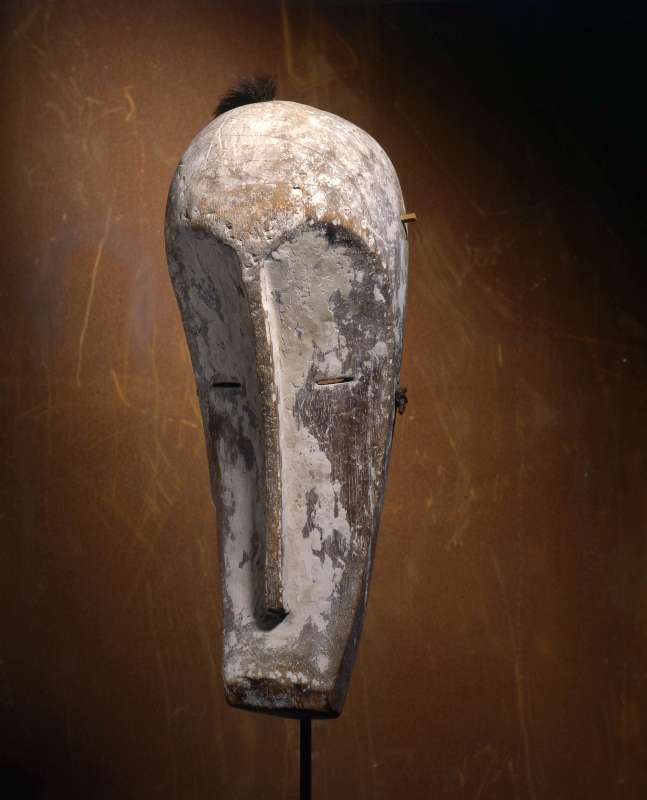 Masks of this elongated type were worn by members of the powerful religious and judiciary secret society known as the Ngil, which was widespread among the Northern Fang and others to the southeast of them (the Fang are a subgroup of the Pangwe people). Ngil members acted as police and judges, revealing sorcerers and handing down sentences to those who did not obey the law. (The usual punishment for sorcery was death.) Ngil masters were also known as peacekeepers, settling conflicts between clans and rival villages.
The masks, which were a fearsome sight - firelight increased the dramatic effect of the fiber ruff and raffia strips usually included but not shown in this example - played an important part in the imposition of social order. The French banned their use following a series of ritual murders in 1910. After the ban, much information about Ngil society disappeared, and there are very few well-documented examples of this kind of mask in existence.
This Ngil mask from Gabon incorporates stylistic features typical of Fang figurative carving: a very broad forehead with a double arch over the eyes, heart-shaped face, and projecting mouth. The kaolin (pale clay) of the face conveys the color of the dead or of spirits.
From the Israel Museum publications:
Newton, Douglas, African and Oceanic Art in Jerusalem, Israel Museum, Jerusalem, 2001, English
The Israel Museum, Publisher: Harry N. Abrams, Inc., 2005
Zalmona, Yigal, ed., The Israel Museum at 40: Masterworks of Beauty and Sanctity, The Israel Museum, Jerusalem, 2005
Apter-Gabriel, Ruth (Ed.), The Arthur and Madeleine Chalette Lejwa Collection in the Israel Museum, The Israel Museum, Jerusalem, 2005
Beauty and Sanctity: the Israel Museum at 40. A Series of Exhibitions Celebrating the 40th Anniversary of the Israel Museum, Jerusalem, Zalmona, Yigal, 2006
Exhibitions:
The Beauty of Sanctity: Masterworks from Every Age, Israel Museum, Jerusalem, 29/03/2005 - 12/11/2005
Digital presentation of this object was made possible by:
The Ridgefield Foundation, New York, in memory of Henry J. and Erna D. Leir