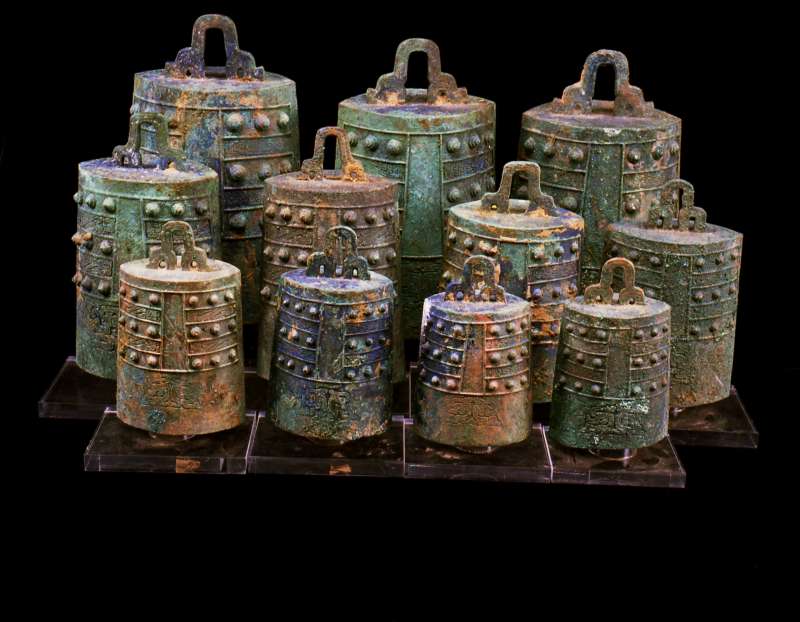 Music played a vital role in Chinese rituals and was considered an important means of edifying the people. Sets of bronze chime bells were the quintessential instruments used in the performance of ceremonial music. These eleven clapperless bells, which would have been hung from a horizontal rod, were struck with wooden mallets, the size of the bell determining the sound.
Rituals were a prominent feature in the life of the aristocracy. By taking their precious bronzes with them into their tombs, Chinese nobles sought to continue these ceremonies in the afterlife.
The Museum's rare set of bells is cast on each side with a central field flanked by three rows of coiled bosses alternating with one row of elongated dragons. The lower field is cast with a pair of dragons, and the loop handles are attached to the body by dragon-head terminals. Two of the bells carry a partly deciphered inscription, making them historically important. Based on the characters that are legible in one of the inscriptions, they are dated to the period of the Chu Kingdom.
From the Israel Museum publications:
The Israel Museum, Publisher: Harry N. Abrams, Inc., 2005
Digital presentation of this object was made possible by:
The Ridgefield Foundation, New York, in memory of Henry J. and Erna D. Leir