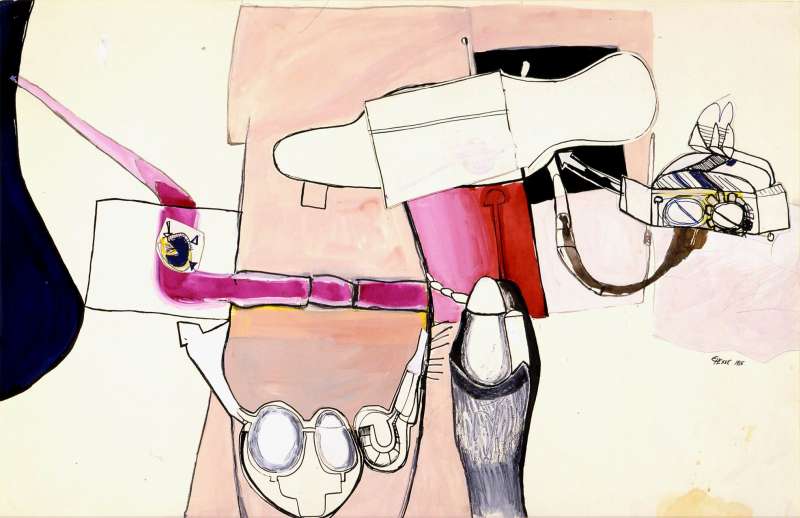 Eva Hesse was born in Nazi Germany to a Jewish family that emigrated to New York when she was three years old. Two years after graduating from the Yale School of Art and Architecture, Hesse married the sculptor Tom Doyle, and in l964 they traveled to Germany, where he had been invited to work for a year. There, she was exposed to the work of such artists as Joseph Beuys and began creating with reliefs and sculptures.
Even during those periods when she was concentrating on sculpture, experimenting with different techniques and materials, Hesse continued to draw. The body of work she produced during her short life treated a very broad variety of subjects.
This drawing is dated 1965, when Hesse was in Germany. That year she produced rich, colorful collages dealing with the relations between the world of the living (associated with body parts) and the world of the machine (inspired by the machine parts scattered around her studio). In this work the two worlds combine into what seems to be a functional system but ultimately turns out to be unworkable. It contains elements that raise associations with body parts, masculine and feminine genitalia, machine parts, and tools of destruction, all held together in a precarious balance reflecting sexual tension. In 1965 Hesse and Doyle's marital difficulties were growing intense; they divorced after returning to New York. In this regard, Hesse wrote in her diary: "In my inner soul, art and life are inseparable."
From the Israel Museum publications:
The Israel Museum, Publisher: Harry N. Abrams, Inc., 2005
Sirakovich, Tanya, Out of Body: Fragmentation in Art, The Israel Museum, Jerusalem, 2013
Exhibitions:
Out of Body: Fragmentation in Art, Israel Museum, Jerusalem, 04/12/2013 - 05/04/2014
Picasso to Kentridge: Modern Masterpieces on Paper, Israel Museum, Jerusalem, 08/07/2021 - 31/12/2021
Digital presentation of this object was made possible by:
The Ridgefield Foundation, New York, in memory of Henry J. and Erna D. Leir