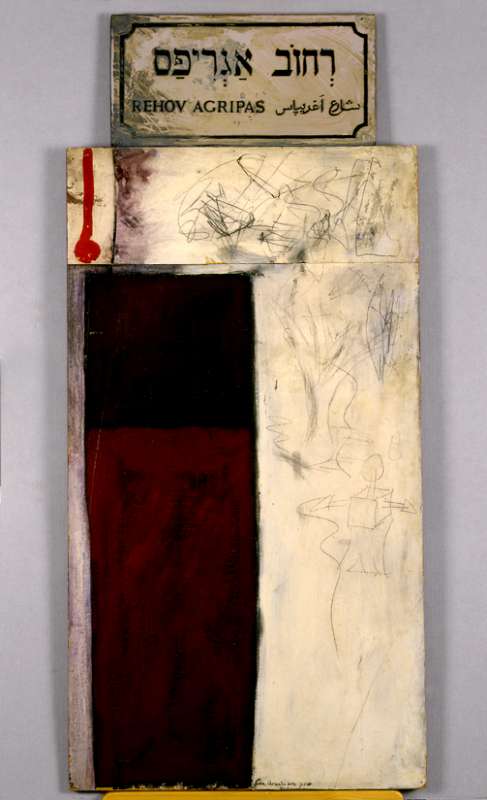 Arie Aroch is considered to be responsible for modern Israeli art's transition from the French lyrical-abstract painting tradition dominant in the 1950s to a new approach to painting inspired by American art and by conceptual artistic attitudes. In spite of his private nature and his full-time diplomatic career, he had a remarkable influence on an entire generation of younger artists.
Agripas Street consists of a readymade Jerusalem street sign on top of a rectangular wooden panel upon which, two years earlier, Aroch had painted in oil and doodled in pencil. The sign dates from the 1920s, a significant decade in his early life. It was then that he moved from the Ukraine to Jerusalem and studied at the Bezalel School of Arts and Crafts. The year 1964, when this work was completed, was also important for Aroch: he returned to Jerusalem after years of serving in various postings abroad, during which time he had been inspired by the modernist use of readymade objects and by contemporary Pop art.
In Agripas Street, Aroch, as usual, brings together periods, places, personal experiences, and sundry attitudes to life and art: a street sign connected to the Jerusalem of his youth and of the present; the name of the city's ruler almost two thousand years earlier; a painted image reminiscent of the doors of his own childhood in Europe; a dialogue with contemporary art but also with the traditional craft of sign painting - in other words, spontaneous, highly personal artistic gestures alongside an almost industrial approach to form, image, and text. This complexity made Agripas Street a seminal work in Israeli art.
From the Israel Museum publications:
The Israel Museum, Publisher: Harry N. Abrams, Inc., 2005
Zalmona, Yigal, 100 Years of Israeli Art, The Israel Museum, Jerusalem, 2010
Exhibitions:
Views: Israeli Art from the Collection, Israel Museum, Jerusalem, 03/05/2002 - 01/09/2002
Arie Aroch: The Shape of Things, Israel Museum, Jerusalem, Hagit Gallery and Israeli Art Collection Gallery, 04/01/2019 - 26/10/2019
Digital presentation of this object was made possible by:
The Ridgefield Foundation, New York, in memory of Henry J. and Erna D. Leir