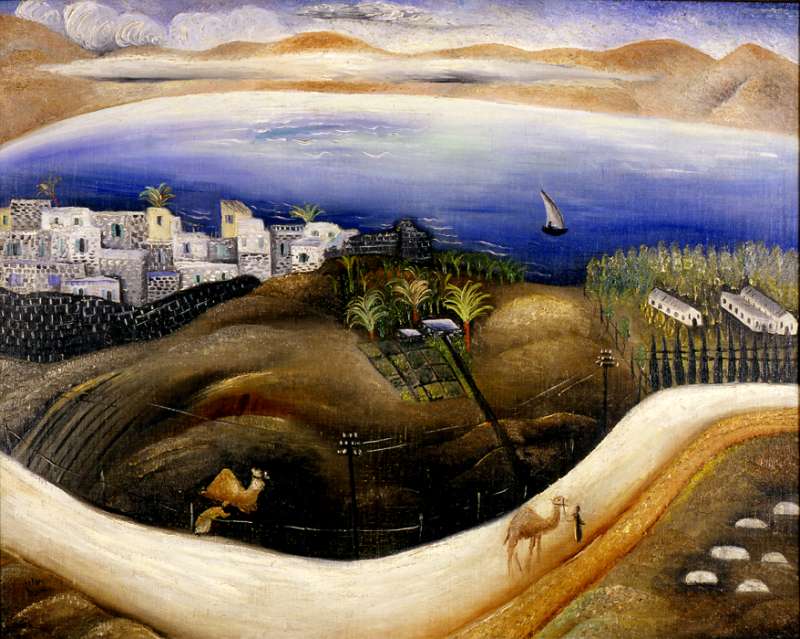 Reuven Rubin, one of the most important early Israeli artists, had an overwhelming influence on the emerging art scene in pre-State Israel. When he arrived in Palestine in 1922 at the age of twenty-nine, his palette changed from dark tones to lighter, clear colors inspired by the brilliant Israeli light. His subject matter shifted from religious themes suffused with suffering and asceticism to bright landscapes and scenes from daily life, in a naive style that expressed the optimistic Zionist ideals of newness and rebirth.
The Sea of Galilee, a typical mid-1920s work in both subject matter and style, brings together motifs that interested Rubin and are also connected to the relations between Arabs and Jews in Palestine at the time. To the left is an Arab village with houses made of local stone. To the right, surrounded by orchards, are newly built white structures, representing either temporary housing or hothouses. An electricity cable links the new and the old; two camels are being led along the adjoining road. Like the architecture, these elements express the contrast between the traditional and the modern.
In 1981 this painting was lost during its return from an exhibition at The Jewish Museum, New York, only to re-emerge years later in the Jaffa flea market. The buyer discovered Rubin's signature on the canvas and contacted the police. In 2003 the painting was returned to the Israel Museum collection.
From the Israel Museum publications:
The Israel Museum, Publisher: Harry N. Abrams, Inc., 2005
Exhibitions:
Permanent Exhibition: Israeli Art, Israel Museum, Jerusalem, 26/07/2010 - 10/05/2015
Digital presentation of this object was made possible by:
The Ridgefield Foundation, New York, in memory of Henry J. and Erna D. Leir