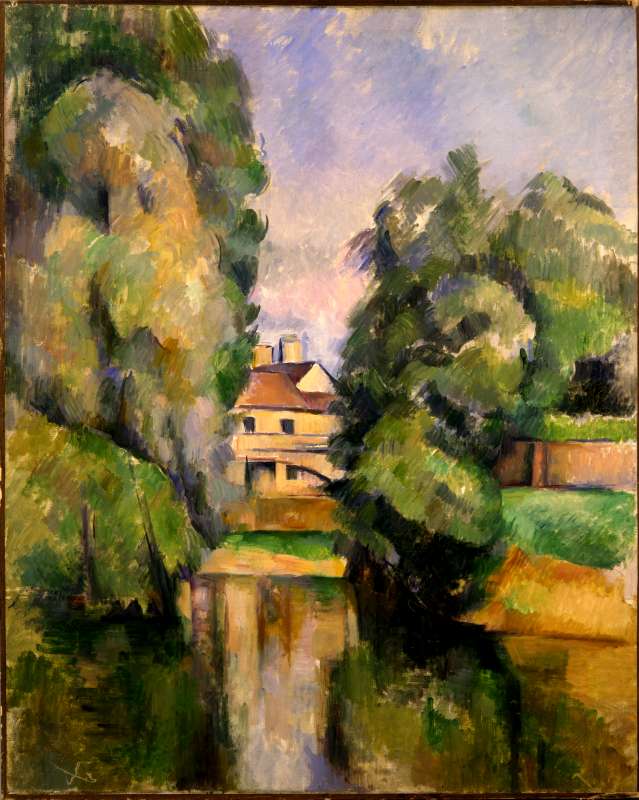 The second half of the 1880s was a particularly difficult time for Cézanne. In 1885 he appears to have had an abortive romantic entanglement, which left him agitated and unbalanced. Than, in 1886, his childhood friend and strongest source of support, Emile Zola, published L'Oeuvre, a novel that depicted a Cézannelike painter who failed to realize his genius and ended his life in suicide. The artist subsequently severed all ties with Zola, but the loss of that friendship was a severe blow. Shortly thereafter, he bowed to family pressure and married Hortense Fiquet, the mother of his son and his mistress of many years. The liaison, however, had long since ceased to be a love relationship and the two lived apart most of the time, before and after the wedding. A few months later, in October 1886, Cézanne's domineering father died. At Jas de Bouffan, the family estate in Aix-en-Provence, where he resided with his mother and his strong-minded, unmarried sister Marie, and even during his sojourns in Paris during the last years of the decade, he lived in almost total isolation. The onset of diabetes in 1890 further contributed to his unstable state. Formerly anticlerical, Cézanne now returned to the Church.
Despite these personal upheavals, and being in the main cut off from the art world, Cézanne pursued his painterly experiments, perfecting his methods with an obsessive devotion to the task. In 1890, he took an extended trip of five months with Hortense and his son, Paul, to Switzerland. It was the only time he ever left France and the experience seems not to have pleased him. It was probably before or after his return that he painted Country House by a River. Nothing of the emotional aspects of the previous five years finds it way into this serene work, which is a model of carefully constructed and balanced solidity.

As is frequently the case in Cézanne's landscapes, a barrier, in our work a body of water, separates us from the scene, making it an object of contemplation seen from afar. The centrally placed house is composed of simplified, geometric forms, framed by tall trees. Nothing moves. No wind sways the leaves; no ripples disturb the surface of the water. Everything is stable and silent. Depth and volume are achieved by the overlapping of forms and the manipulation of color. Juxtaposed shades of warm yellow-brown and cool green tones are applied in structured planes of square and rectangular directional brushstrokes. These model form and contribute to the overall architectural order of the composition. The light blue of the sky recedes, yet despite the sense of space, the two-dimensionality of the canvas also asserts itself. Clearly, Cézanne has here mastered his impetuous temperament and evolved a unique and original idiom for translating his sensations of nature into a new way of seeing. From this time onward, with the help of his artist friends, who continued to believe in his talent, Cézanne would slowly but surely move from almost total obscurity toward public recognition of his achievement.
From the Israel Museum publications:
The Israel Museum, Publisher: Harry N. Abrams, Inc., 2005
Impressionist and Post-Impressionist Painting and Sculpture, The Israel Museum, Jerusalem, 2006, English / Hebrew
Digital presentation of this object was made possible by:
Ms. Joan Lessing, New York and Jerusalem