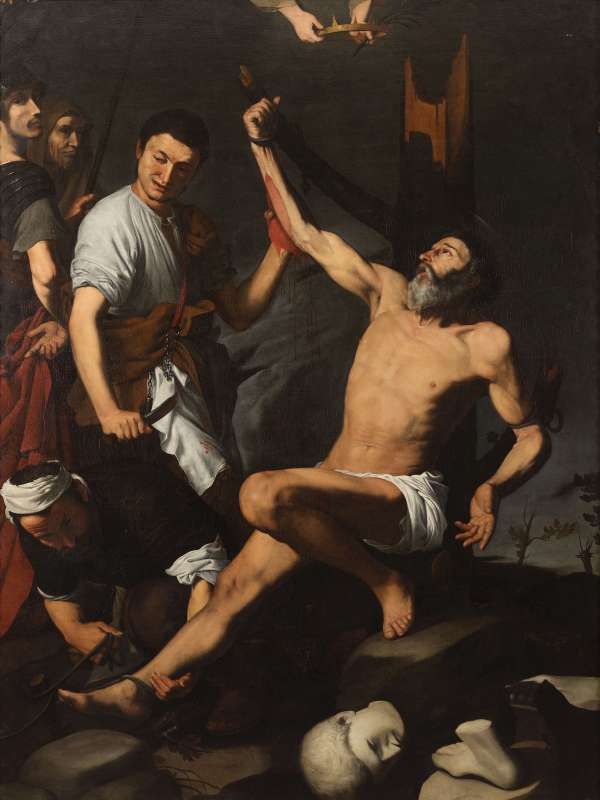 Considered the forefather of Spanish Baroque painting, Jusepe de Ribera introduced the highly expressive Neapolitan Baroque style to his native Spain and had an important influence on the work of Velázquez, Zurbarán, and Murillo. As a young man Ribera traveled extensively in Italy, absorbing the influence of the Renaissance masters, but most of all of Caravaggio, whose reckless lifestyle he even imitated.
In 1616 he settled in Naples, a Spanish possession at the time. His work was supported by the Spanish viceroys and left a lasting impression on the art of Naples.
This large composition, a refined and rare example of Ribera's early style, presents the flaying of St. Bartholomew in Armenia, where the apostle preached the gospel and converted the king's brother to Christianity. By order of the king, Bartholomew was captured, tortured, and crucified head down.
Ribera adapted elements from a Roman sculpture depicting the similar end of the mythological satyr Marsyas. He also drew on works by Ludovico Carracci and on Caravaggio's Flagellation. In his poignant rendition of the subject, Ribera created a composition that is fiercely dramatic but nonetheless balanced and harmonious.
From the Israel Museum publications:
The Israel Museum, Publisher: Harry N. Abrams, Inc., 2005
Steinberg, Shlomit, Sanctus, Sanctus, Sanctus: Saints in European Art, The Israel Museum, Jerusalem, 2005, English / Hebrew
Beauty and Sanctity: the Israel Museum at 40. A Series of Exhibitions Celebrating the 40th Anniversary of the Israel Museum, Jerusalem, Zalmona, Yigal, 2006
3x50@50: IMJ Collection Highlights, The Israel Museum, Jerusalem, 2015
Exhibitions:
Sanctus, Sanctus, Sanctus: Saints in European Art, Israel Museum, Jerusalem, 01/12/2005 - 31/01/2006, Winter 2005 - Winter 2006
Digital presentation of this object was made possible by:
The Ridgefield Foundation, New York, in memory of Henry J. and Erna D. Leir