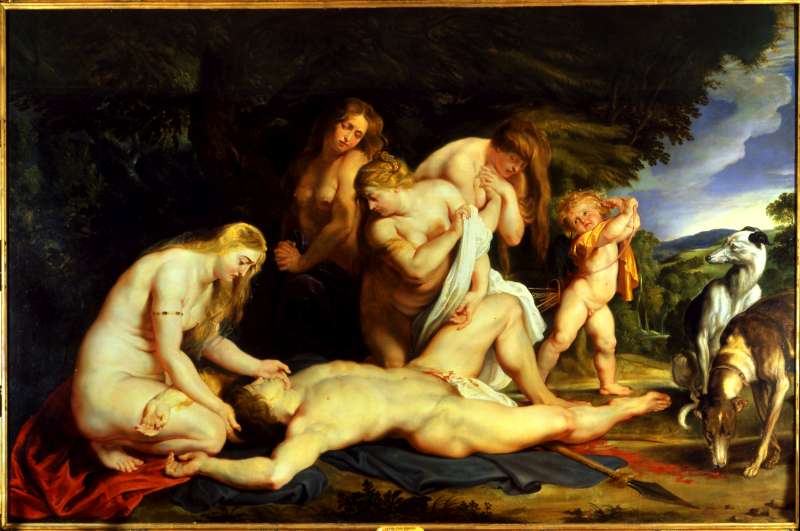 The Antwerp-based master Sir Peter Paul Rubens, considered to be the preeminent Flemish Baroque artist, was a diplomat as well as a painter, draftsman, and gentleman. His extensive travels in the service of princes and kings to the courts of Italy and Spain exposed him to the best of Renaissance painting, sculpture, and literature and acquainted him with two of the most illustrious painters of his time: Caravaggio and Velazquez.
This large composition, which combines a powerful tragic story with a daring composition, is typical of Rubens's voluptuous style, developed after his return from his Italian sojourn during the first decade of the seventeenth century. It is a superb example of the work of this artist and homo universalis.
The painting's famous mythological subject is based on the account of Adonis's death in Ovid's Metamorphoses. Rubens chose to depict the tragic moment when Venus discovers the body of her young, handsome lover after his fatal encounter with the wild boar that left him bleeding to death.
Combining Classical as well as Flemish stylistic motifs, the painting is full of pathos and passion. Rubens enhances the tragic scene with the presence of the three weeping Graces and the sobbing Cupid who, with the grieving Venus, replicate a Pieta scene. Only the unruffled dogs, standing to the right of the emotionally charged scene, hint that nature in its lush beauty continues along its normal course, oblivious to the grief of the loveliest among the goddesses.
From the Israel Museum publications:
The Israel Museum, Publisher: Harry N. Abrams, Inc., 2005
3x50@50: IMJ Collection Highlights, The Israel Museum, Jerusalem, 2015
Digital presentation of this object was made possible by:
The Ridgefield Foundation, New York, in memory of Henry J. and Erna D. Leir