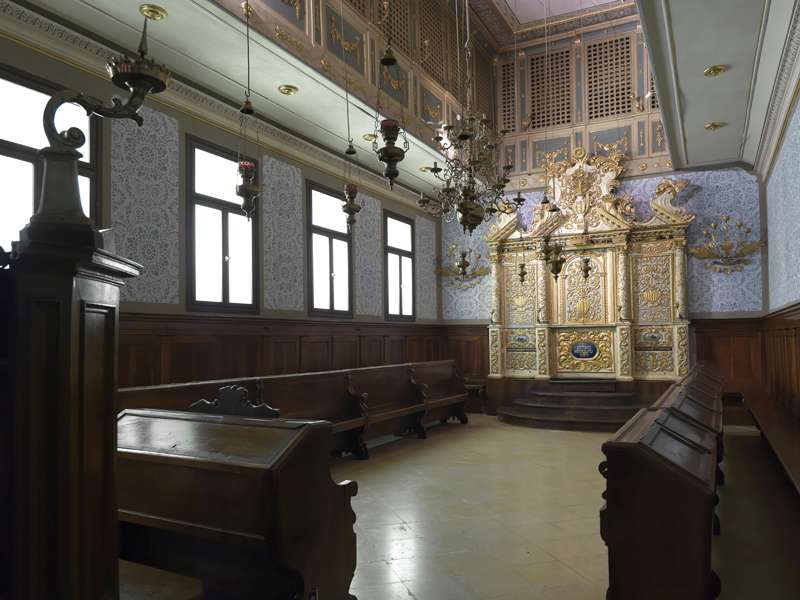 The synagogue from which this interior comes stood in the small town of Vittorio Veneto near Venice. For more than two hundred years it served a small local Ashkenazi community, which had been settled in the area since the Middle Ages. Towards the end of the 19th century the Jews moved to larger centers, and by the end of First World War the synagogue was no longer in use.
The original synagogue occupied the second and third stories of a simple building. This modesty was customary in Italy before the Jews were emancipated, the result of local restrictions and the Jews' own desire to avoid drawing attention to their synagogue. The interior, however, is elegantly designed in typical Italian Baroque style, rather like a reception room in an aristocrat's palace. Clear examples of this style are the broken pediment of the Torah ark and the shimmering surface of its carved decoration.
The interior plan is typical of Italian bipolar synagogues: the reader's desk is located in a niche opposite the Torah ark and benches are set along the long walls facing the center. The women's section is located in the upper storey, running along all four walls and recalling theatre galleries of the time.
In 1965 the interior was transferred in its entirety to the Israel Museum, where it has been faithfully reconstructed. The only alteration has to do with the orientation of the synagogue -: because of building constraints, the Torah ark, originally on the eastern wall nearest to Jerusalem, is now part of the northern wall.
From the Israel Museum publications:
The Jewish World 365 Days, from the Collections of The Israel Museum, Jerusalem, Publisher: Harry N. Abrams, Inc., New York, USA, 2004, English
The Israel Museum, Publisher: Harry N. Abrams, Inc., 2005
3x50@50: IMJ Collection Highlights, The Israel Museum, Jerusalem, 2015
Perugia, Gioia (ed.), Treasures of Jewish Art: The Jakob, Erna, and Charles Michael Legacy in the Israel Museum, The Israel Museum, Jerusalem, 2016, English