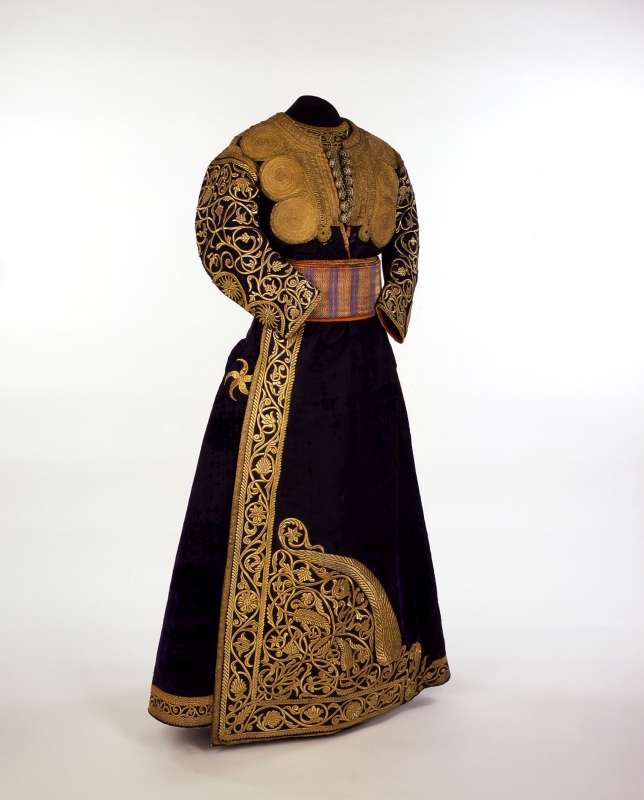 This magnificent dress worn for weddings and other occasions was brought to Morocco by Spanish Jews who settled in the north of the country. It is one-of-a-kind, differing both in color and type of embroidery from the "great dress" Jewish women wore in other areas of Morocco.
Each piece of the dress has its own Spanish name. The entire ensemble consists of a wraparound skirt, heavily embroidered in gold, a gold-embroidered bodice, a fitted waistcoat, long detached sleeves made of embroidered tulle, and a wide brocade belt. The embroidered circles on the jacket resemble the decoration on white shrouds from Tetouan.
The majestic berberisca, with its contrast of intricate, heavy gold embroidery and the dark rich velvet background, was noted and painted by many European travelers and artists visiting Morocco.
From the Israel Museum publications:
Zalmona, Yigal, ed., The Israel Museum at 40: Masterworks of Beauty and Sanctity, The Israel Museum, Jerusalem, 2005
The Israel Museum, Publisher: Harry N. Abrams, Inc., 2005
Exhibitions:
Dress Codes: Revealing the Jewish Wardrobe, Israel Museum, Jerusalem, 11/03/2014 - 07/03/2015
Digital presentation of this object was made possible by:
The Ridgefield Foundation, New York, in memory of Henry J. and Erna D. Leir