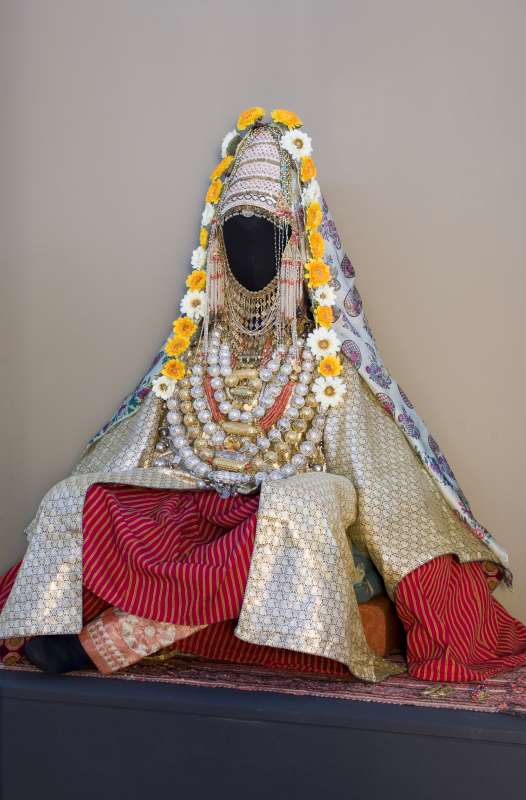 Unlike her counterparts in other areas of Yemen, the Jewish bride from Sana'a looked like a dazzling piece of jewelry herself. She wore a tall tiara adorned with pearls ("tishbuk lulu") and surrounded by a row of sweet-scented flowers. A green silk scarf ("wardiyyeh") hanging from the top of the tiara flowed down her back, and sprigs of basil and rue ("ambar") were attached to her temples to ward off the evil eye.
Triangular filigree pendants with long pearl chains hung from either side of the tiara, against the bride's temples, and a "labbeh" necklace framed her chin. Beneath the labbeh, her chest was decorated with rows of beaded necklaces worn in a set order. Most of the necklaces were made of hollow silver or gilt-silver spheres ("dugag"); others were made of threaded coral beads ("'agd mirjan") and pearls ("ma'nageh lulu"). Each necklace had an amulet container ("kutub") in the center. Under the set of necklaces was a chain of bells ("hijaleh"), used by Muslim women as a belt.
Under the jewelry that bedecked her, the bride wore a woven coat ("jallayah mizahhar"), two underdresses, and trousers with embroidered leggings. This embroidery, together with the components of the tiara, are what distinguished her from Muslim brides.
Reconstruction: Aviva Muller-Lancet and Aliya Ben-Ami, the Israel Museum; Rabbanit Bracha Qafih and the Zadok family, Jerusalem
From the Israel Museum publications:
Muchawsky-Schnapper, Ester, The Yemenites: Two Thousand Years of Jewish Culture, The Israel Museum, Jerusalem, 2000, English / Hebrew
Zalmona, Yigal, ed., The Israel Museum at 40: Masterworks of Beauty and Sanctity, The Israel Museum, Jerusalem, 2005
The Israel Museum, Publisher: Harry N. Abrams, Inc., 2005
Digital presentation of this object was made possible by:
The Ridgefield Foundation, New York, in memory of Henry J. and Erna D. Leir