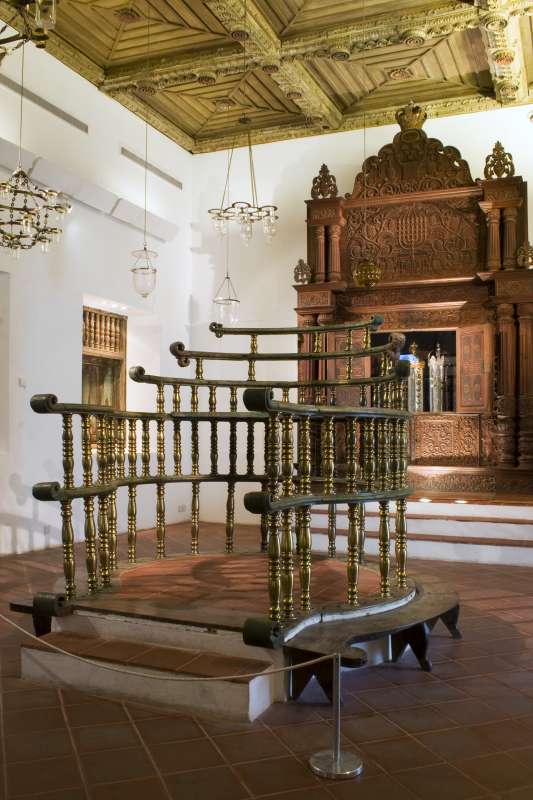 From the 16th century, the Kadavumbagam ("by the side of the landing place") synagogue stood at the edge of the Jewish neighborhood in the town of Cochin, India, apparently built over the ruins of an even earlier synagogue. Its carved wooden interior came to include an exquisite ceiling featuring motifs like those found in the surrounding mosques and Hindu temples.
According to local tradition, the Jewish community of Cochin is approximately two thousand years old. It started out in Cranganore (Shingly) on the southwest coast of India and relocated to Cochin and nearby towns in the 14th century. The Kadavumbagam synagogue, built by the veteran community known as Malabaris, was one of eight synagogues in this area.
A unique feature of Cochin synagogues is the presence of two reader's platforms: one, used on Sabbath and holidays, is located on the gallery, in front of the women's section and separated from it by a grill; the other stands in the center of the hall and is used for daily prayers. The synagogue was oriented northwest, toward Jerusalem. Wooden benches were ranged around the lower reader's platform and adjacent to the walls. The floor was covered with carpets or mats on which worshipers walked barefoot.
In the early 1950s, most Cochin Jews immigrated to Israel, and the Kadavumbagam synagogue Torah ark was transferred to Moshav Nehalim. The building, used as a workshop for the production of ropes, was in danger of being demolished. In 1991 synagogue interior was purchased for the Israel Museum and brought to Jerusalem for restoration and reconstruction.
From the Israel Museum publications:
Slapak, Orpa, ed., The Jews of India: A Story of Three Communities, The Israel Museum, Jerusalem, 1995, English / Hebrew
The Israel Museum, Publisher: Harry N. Abrams, Inc., 2005
Zalmona, Yigal, ed., The Israel Museum at 40: Masterworks of Beauty and Sanctity, The Israel Museum, Jerusalem, 2005
3x50@50: IMJ Collection Highlights, The Israel Museum, Jerusalem, 2015
Digital presentation of this object was made possible by:
The Ridgefield Foundation, New York, in memory of Henry J. and Erna D. Leir