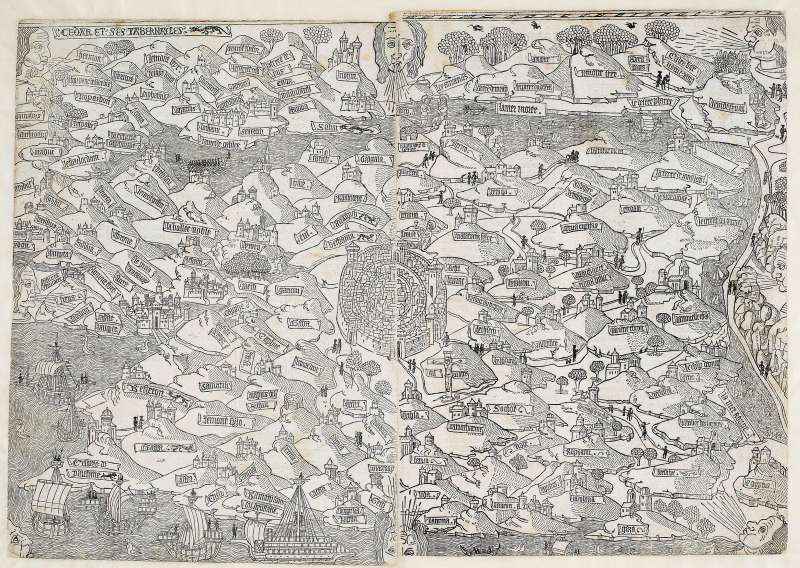 From: La Mer Des Hystoires, Pierre Le Rouge for Vincent Commin, Paris, 1488. French translation of Rudimentum Novitorum, Published in 1475 by Lucas Brandis de Schass

This rare woodcut comes from the French edition of a book by Lucas Brandis de Schass, Rudimentum Novitorum, a history of the world according to the medieval Christian theological view and are considered the first printed maps to be more than diagrams. Oriented to the east and drawn from a diagonal bird's-eye view, it extends from Damascus and Sidon in the north to the Red Sea. Symbolically Jerusalem is located at its center, depicted in the medieval pattern of a city encircled by a wall. Two additional walls have been added in accordance with Josephus Flavius. Acre is represented as the second city after Jerusalem, in commemoration of the Crusader period. Major scenes and characters from the Old and New Testaments are portrayed. Small silhouette-like figures represent pilgrims, while personifications of the celestial directions in the form of human heads frame the map.
The medieval text was written by Burchard of Mount Zion, a thirteenth-century Dominican priest who spent ten years in the Land of Israel and probably served as the broad basis for our map. The map by Brandis de Schass bears very little resemblance to previous treatments of this subject and therefore remains a singular document, an extraordinary relic in the cartographic history of the Holy Land. One of the deepest implications of the notion of "holy place" in mythology and theology is that it is the center of the world. The axis mundi, that pivot through which, according to various beliefs, heaven and the underworld are connected, is the center from which the universe evolved. According to Jewish tradition, this axis passes through Jerusalem, where the Foundation Stone (on which the entire world rests) and the Holy of Holies are to be found, and where man was first created. The absolute holiness of Jerusalem and the Jewish and Christian notion that it is the "navel of the world" is thus also expressed in the art of cartography.
From the Israel Museum publications:
Tishby, Ariel, ed., Holy Land in Maps, The Israel Museum, Jerusalem, 2001, English / Hebrew
The Jewish World 365 Days, from the Collections of The Israel Museum, Jerusalem, Publisher: Harry N. Abrams, Inc., New York, USA, 2004, English
The Israel Museum, Publisher: Harry N. Abrams, Inc., 2005
Zalmona, Yigal, ed., The Israel Museum at 40: Masterworks of Beauty and Sanctity, The Israel Museum, Jerusalem, 2005
Beauty and Sanctity: the Israel Museum at 40. A Series of Exhibitions Celebrating the 40th Anniversary of the Israel Museum, Jerusalem, Zalmona, Yigal, 2006
Exhibitions:
On the Map: Cartographic Images of the Holy Land, Israel Museum, Jerusalem, 01/12/2008 - 22/03/2009
The Beauty of Sanctity: Masterworks from Every Age, Israel Museum, Jerusalem, 29/03/2005 - 12/11/2005
Digital presentation of this object was made possible by:
The Ridgefield Foundation, New York, in memory of Henry J. and Erna D. Leir