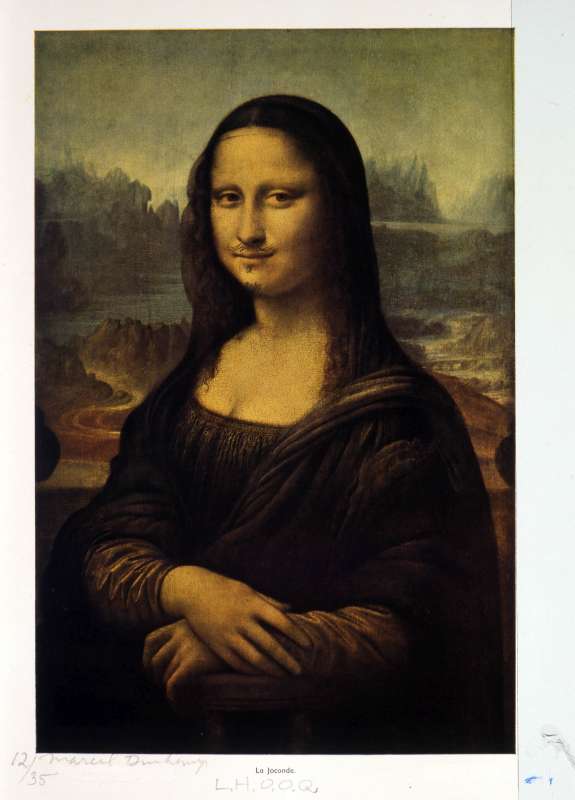 The original 1919 version of L.H.O.O.Q is a cheap color photographic reproduction of Leonardo da Vinci's Mona Lisa (ca. 1505), on which Duchamp drew a mustache and beard. L.H.O.O.Q is an early example of Duchamp's readymades (mass-produced objects defined as works of art simply by virtue of their selection by an artist). This radical new definition of the art object marked a turning point in the perception and conception of art in the twentieth century. It also expressed the spirit of the Dada movement, to which Duchamp belonged, as a desecration of the past.
The French pronunciation for L.H.O.O.Q is "elle a chaud au cul" ("she has a hot ass"), and so one of the most sublime-and chaste-portrayals of a woman in the history of painting becomes sexually suggestive. Duchamp adds a further twist by transforming the sitter's gender from female to male. In a 1961 interview he said, "The curious thing about that mustache and goatee is that when you look at it the Mona Lisa becomes a man. It is not a woman disguised as a man; it is a real man, and that was my discovery, without realizing it at the time."
The Israel Museum's L.H.O.O.Q replica is one of thirty-eight made by the artist for a limited-edition volume of Pierre de Massot's Marcel Duchamp, propos et souvenirs. This particular replica is inscribed with a dedication by the artist to the book's publisher, Arturo Schwarz, a close friend, expert on Surrealism, and author of the catalogue raisonne of Duchamp's oeuvre. This work is part of the collection of Dada and Surrealist art and documentation that Schwarz donated to the Museum in the 1990s.
From the Israel Museum publications:
Manor Friedman, Tamar (ed.), Dreaming with Open Eyes: The Vera and Arturo Schwarz Collection of Dada and Surrealist Art in the Israel Museum, Jerusalem (revised edition 2008), 2000
Zalmona, Yigal, ed., The Israel Museum at 40: Masterworks of Beauty and Sanctity, The Israel Museum, Jerusalem, 2005
The Israel Museum, Publisher: Harry N. Abrams, Inc., 2005
Kamien-Kazhdan, Adina, Surrealism and Beyond in the Israel Museum, Jerusalem, 2007
Beauty and Sanctity: the Israel Museum at 40. A Series of Exhibitions Celebrating the 40th Anniversary of the Israel Museum, Jerusalem, Zalmona, Yigal, 2006
Exhibitions:
Dreaming with Open Eyes: The Vera, Silvia and Arturo Schwarz Collection of Dada and Surrealist Art in the Israel Museum, Israel Museum, Jerusalem, 21/12/2000 - 09/06/2001
The Beauty of Sanctity: Masterworks from Every Age, Israel Museum, Jerusalem, 29/03/2005 - 12/11/2005
Surrealism and Beyond in the Israel Museum, Israel Museum, Jerusalem, 27/02/2007 - 14/08/2007
Picasso to Kentridge: Modern Masterpieces on Paper, Israel Museum, Jerusalem, 08/07/2021 - 31/12/2021
Digital presentation of this object was made possible by:
Ms. Joan Lessing, New York and Jerusalem