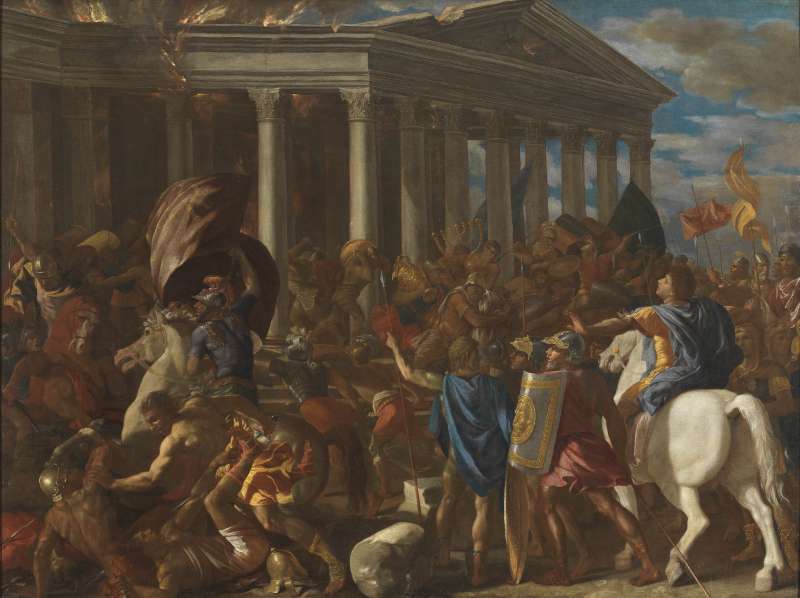 "…Caesar [Titus] shouted and waved to the combatants to put out the fire; but his shouts were unheard as their ears were deafened by a greater din, and his gesticulations went unheeded amidst the distractions of battle and bloodshed. As the legions charged in, neither persuasion nor threat could check their impetuosity: passion alone was in command..."
(Josephus Flavius, The Jewish War, VI.5-6)
This work from Poussin's early Italian period was commissioned by his patron Cardinal Francesco Barberini and offered as a gift to Cardinal Richelieu, the French head of state. At the time, Barberini was head of a papal legation that attempted in vain to negotiate an end to the bloody war between France and Spain. Poussin draws a parallel between his patron, the would-be peacemaker, and the enlightened pagan emperor Titus, who - according to the account of Josephus Flavius - tried unsuccessfully to prevent the ruin of Jerusalem and its Temple.
Classical Roman architecture and sculpture provided Poussin with visual inspiration: the facade of the Pantheon; the equestrian statue of Marcus Aurelius in the Capitoline; and the famous depiction of the menorah on the Arch of Titus. The composition is divided between the Temple in the background and the chaotic struggle, dominated by the striking figure of Titus on his white mount, in the foreground.
After Richelieu's death, this painting changed hands many times and eventually reached England. Its whereabouts were unknown from the late 1700s until 1995, when it was rediscovered, restored, and gifted to the Israel Museum in 1998.
From the Israel Museum publications:
Zalmona, Yigal, ed., The Israel Museum at 40: Masterworks of Beauty and Sanctity, The Israel Museum, Jerusalem, 2005
The Israel Museum, Publisher: Harry N. Abrams, Inc., 2005
Roitman, Adolfo, Envisioning the Temple: Scrolls, Stones and Symbols, The Israel Museum, Jerusalem, Israel, 2003, English / Hebrew
Beauty and Sanctity: the Israel Museum at 40. A Series of Exhibitions Celebrating the 40th Anniversary of the Israel Museum, Jerusalem, Zalmona, Yigal, 2006
3x50@50: IMJ Collection Highlights, The Israel Museum, Jerusalem, 2015
Exhibitions:
The Beauty of Sanctity: Masterworks from Every Age, Israel Museum, Jerusalem, 29/03/2005 - 12/11/2005
Digital presentation of this object was made possible by:
The Ridgefield Foundation, New York, in memory of Henry J. and Erna D. Leir