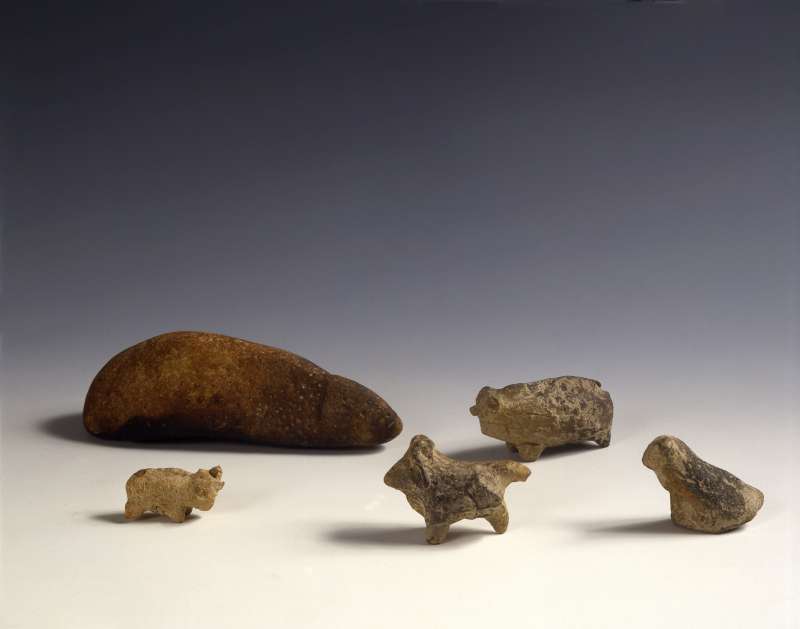 Animal figurines were numerous during the Neolithic period, when humans started to domesticate animals. The smaller figurines were naturalistically modeled in clay, while larger ones were carved out of stone.
The earliest domesticated animals were sheep and goats, but nondomesticated animals such as cattle, deer, frogs, birds, and mice were also sculpted. Judging by their relaxed postures or humorous expressions, some were probably used as toys, like the "bull" from Horvat Minha seen at the center of the photograph. Others, however, have a clearly ritual nature. Cattle figurines from Ein Ghazzal in Jordan were found beneath cattle bones. A few had been symbolically slaughtered by inserting flint bladelets into the heart and chest while the clay was still wet, and others were found with a groove around the neck resulting from a twisted fiber leash. This feature may indicate the aspiration of early humans to control or tame cattle by haltering.
The stone figurine from the Nahal Hemar Cave (upper left), perhaps representing a mouse, was carved from an elongated, pointed limestone pebble. It may have been intended as a magical measure to prevent mice from invading stores of grain and other foodstuffs in an agricultural society.
From the Israel Museum publications:
The Israel Museum, Publisher: Harry N. Abrams, Inc., 2005
Digital presentation of this object was made possible by:
The Ridgefield Foundation, New York, in memory of Henry J. and Erna D. Leir