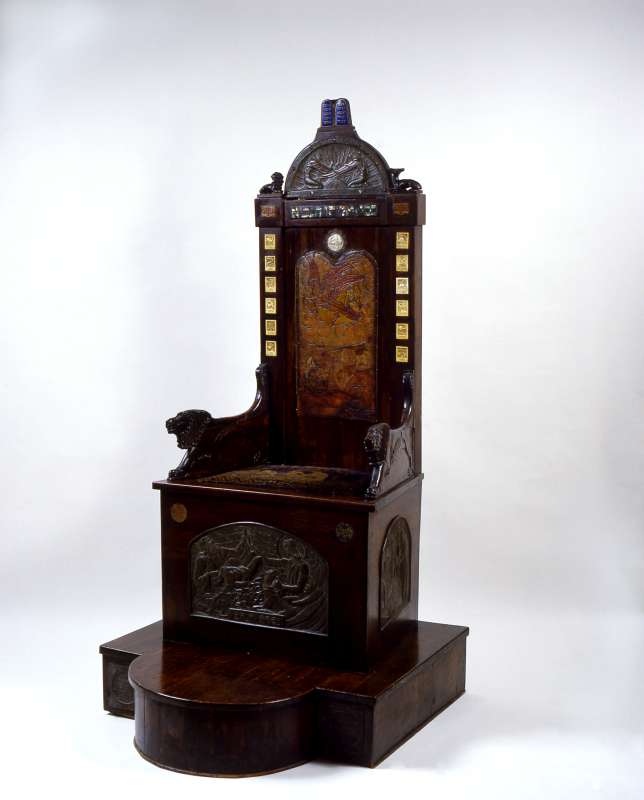 According to Jewish tradition, the Prophet Elijah is present at every circumcision, protecting the baby boy. And so "Elijah's Chair" is the name given to the seat of the godfather who holds the infant during this ceremony. The Elijah's Chair seen here is one of the most sumptuous items produced by the Bezalel School founded in Jerusalem in 1906. It took several years to create, with artisans from all of the school's workshops participating in the project.
Bezalel's goal was to create an artistic language that would instill national spirit, through the use of Zionist symbols and themes from the Bible and the Land of Israel. In this way, the early Zionists identified with Jewish history as both a religious and a national tradition, and linked the Jewish nation's future to its past in biblical times.
The chair's regal decoration features appropriate biblical scenes, emblems of the twelve tribes, and cherubs in classic Bezalel style. It is fitting that a chair/altar designed as a symbol of Jewish national revival should be used for the rite of circumcision, which symbolizes the ongoing covenant between God and the Jews.
From the Israel Museum publications:
Shilo-Cohen, Nurit, ed., Bezalel 1906-1929, The Israel Museum, Jerusalem, 1983
Zalmona, Yigal, ed., The Israel Museum at 40: Masterworks of Beauty and Sanctity, The Israel Museum, Jerusalem, 2005
Exhibitions:
Permanent Exhibition: Israeli Art, Israel Museum, Jerusalem, 25/07/2010 - 10/05/2015