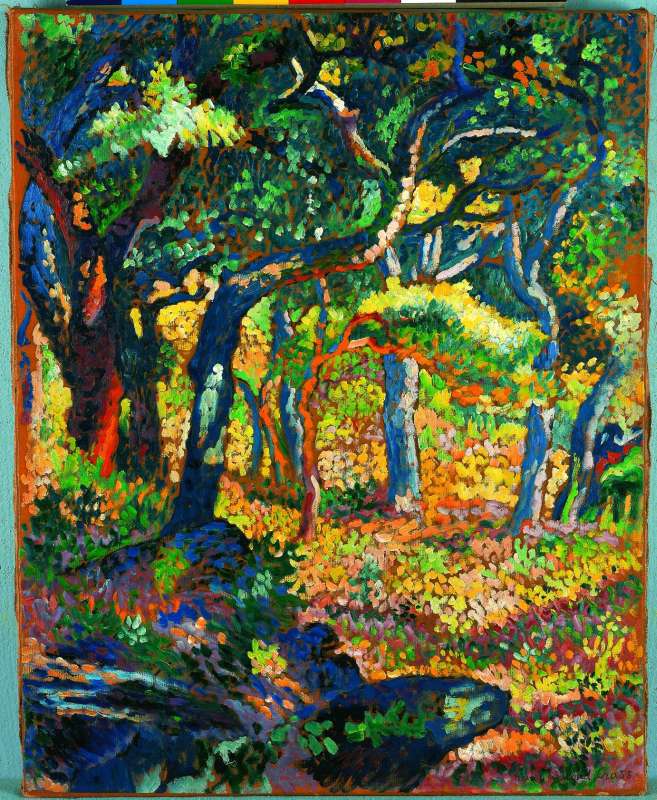 Henri-Edmond Cross was born on May 20, 1856 in Douai, a small town close to the Belgian border in northern France. He spent his youth in Lille and there, at the age of ten, took drawing and painting lessons with Emile-Auguste Carolus-Duran, a friend of Manet and the Impressionists. In 1878, Henri enrolled at Lille's Ecoles Académiques de Dessin et d'Architecture, and a few years later moved to Paris, where he pursued his studies in the studio of Emile Dupont-Zipcy and, more importantly, with François Bonvin whose somber palette became an early influence. In 1881, the twenty-five year old painter anglicized his paternal family name, Delacroix, to Cross in order to avoid confusion with his famous namesake, the late master Eugène Delacroix, as well as the now-forgotten Henri-Eugène Delacroix, who was exhibiting at this time. The early works of Henri Edmond Cross, as he now called himself, are executed in a realist vein and nothing in them foreshadows his subsequent rapture with colorism. Cross's gradual shift from earthy tones to more vibrant means of visual expression was occasioned through eye-opening encounters with several avant-garde personas, notably Claude Monet and Paul Signac, whom he met in the early 1880s in Paris and during trips to southern France.

Cross's avant-garde aspirations surfaced in 1884 when he became a co-founder of the anti-academic Société des Artistes Indépendants. Throughout the 1880s, the young painter flirted with progressive ideas in Paris and collaborated with vanguard exhibition societies such as Les Vingt, founded in Brussels in 1883. He did not, however, adopt a purely Neo-Impressionist style until 1891. That year Cross moved permanently to the Côte d'Azur. During the next two decades the painter remained committed to variations of the Pointillist technique pioneered by Georges Seurat and Paul Signac. The luminosity and vibrant color juxtapositions of his Mediterranean landscapes earned Cross the admiration of his fellow Neo-Impressionists, notably Signac and Van Rysselberghe, and eventually these pictures — vistas in which timeless utopia meets temporal modernity — would inspire the work of Matisse and the Fauves.

A remarkable sample of Cross's Neo-Impressionism sparkles in the midst of the Israel Museum's collection of Post-Impressionist art. The work, entitled simply The Clearing in Provence, is actually a preparatory landscape study for a large mythological figure painting titled The Clearing that is reminiscent of Matisse's La Joie de Vivre (1905-1906). The technical differences between the final work (1906-1907, 162 x 132 cm), which belongs to a private collection and the Israel Museum's landscape are remarkable. In the former, the pigment is applied in delicate, small dots that surreptitiously blend into one another creating an ethereal space in which the nude bodies of half-a-dozen frolicking females melt into surrounding landscape. In the latter, the brushwork is sculptural and expressively multidirectional, the color contrasts are stark and the entire picture surface is agitated, almost ablaze. In one respect, though, the preparatory landscape and the final figure painting are close kin: in neither is there space for space, only for inexcapable color and for utopian light created through color. As a pair, these two Clearings point to Cross's quest for pictorial peace and harmony through an almost expressionist recognition of the potent, sometimes harsh forces and forms of nature.
From the Israel Museum publications:
Impressionist and Post-Impressionist Painting and Sculpture, The Israel Museum, Jerusalem, 2006, English / Hebrew
Digital presentation of this object was made possible by:
Ms. Joan Lessing, New York and Jerusalem