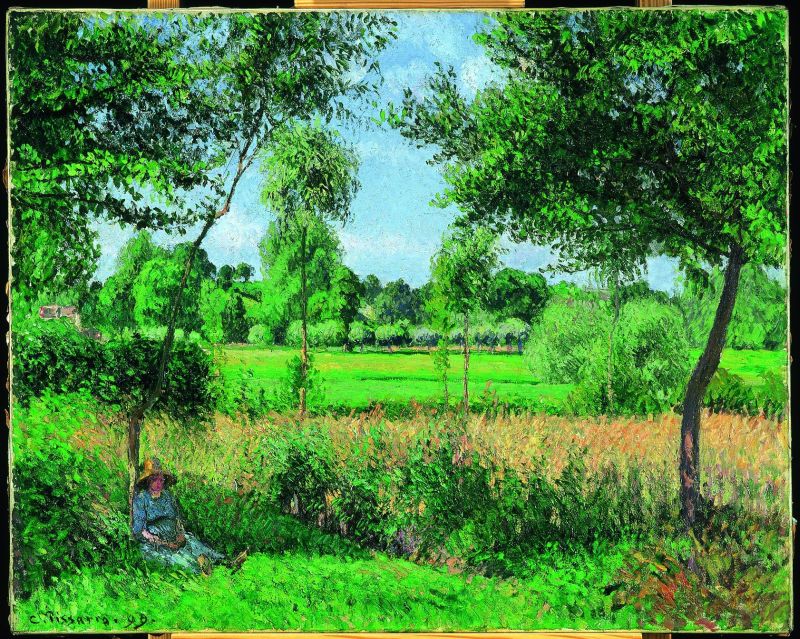 Though the twenty years Pissarro lived in Eragny were interspersed with sojourns to several cities, where he executed numerous series featuring urban motifs, his base remained in the country. It was there that he completed some 200 paintings of his immediate rural surroundings. In both the works done in the country and those painted in the cities, Pissarro's goal remained the same—to capture on canvas the fleeting effects of transient nature. Despite the difficulty implicit in attempting to fix what is intrinsically mutable, Pissarro tenaciously pursued this challenge. Harnessing his masterful technique, the product of a lifetime of experience and refinement, he returned again and again to the fields of Eragny, recording them in varying seasons, hours of the day, and weather.
In 1899, after having spent the winter painting in Paris, Pissarro returned to Eragny for the summer. Almost immediately, he began searching for an appropriate site to set up his easel. In June he wrote his son Lucien that he had gone to Argues but found it unsuitable: "It is too panoramic, while I am in search of nooks and corners..." By July 28, however, he was able to write his son about a series of paintings he was working on: "You ask whether I have made my decision for the season. Yes indeed: I am not budging from here; I have been harnessed to my work since June; I have begun some motifs in the field, some with figures. I have reason, I think, to congratulate myself on these things. I think they will be interesting." Morning, Sunlight Effect, Eragny is one of this group of some ten works to which Pissarro was referring.

All the paintings in this mini-series contain figures that are integrated into landscapes. Their presence is unobtrusive; they seem to melt into and become an organic part of their surroundings. These peasants, usually female, are shown at work or at rest, in self-absorbed states that preclude narrative interpretation. Unlike the peasants of Millet, to which Pissarro's peasants were frequently compared, these farm workers have nothing of the heroic about them. Rather than in open fields with impressive vistas, Pissarro shows them in intimate glades and meadows. He attempted to portray them as he observed them, avoiding all message, comment, and pretense. Their private world was a major theme in the last decade of his life, but it is presented without idealization or sentimentality.
The figure in Morning, Sunlight Effect is seated on a knoll, her back supported by a fragile tree trunk. Shadows from light screened through the leaves of a nearby tree play over her, linking her to the foliage. Behind, fields recede in horizontal bands, closed by a final row of trees that meets the sky. The woman rests from her labors, but all around an air of fecundity prevails in the blossoming green-gold fields flecked with touches of purple and burnt orange. This is further enhanced by the multifarious technique—a myriad of tiny touches that activate the surface. The sixty-nine-year-old artist's technical virtuosity finds expression here in the joyous, masterfully applied, rapid multicolored strokes of paint.
From the Israel Museum publications:
Impressionist and Post-Impressionist Painting and Sculpture, The Israel Museum, Jerusalem, 2006, English / Hebrew
Digital presentation of this object was made possible by:
Ms. Joan Lessing, New York and Jerusalem