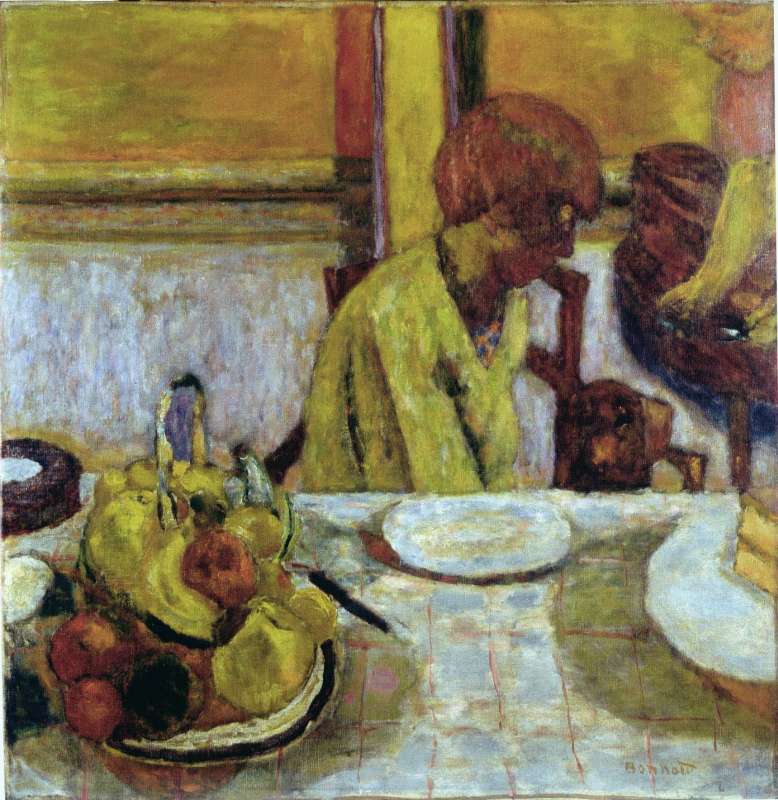 Pierre Bonnard was raised in a typical bourgeois environment. Though passionately interested in painting, he first studied law at his father's insistence. In 1889, however, with the sale of his first poster design, the family consented to support him in his desire to become an artist. By then he had already registered at the Académie Julian, where he forged close ties with a few young artists, among them Edouard Vuillard, who would remain a lifelong friend, Maurice Denis, Paul Ranson, and Paul Sérusier. All were interested in and impressed by Paul Gauguin's Symbolist ideas. Together with a few other like-minded artists, they formed a group known as the Nabis. Bonnard's early works, like those of his Nabi colleagues, contained flat areas of color, featured decorative compositions, and exhibited the influence of Japanese prints. Stylistically, however, Bonnard always went his own way, adopting ideas, but refusing to accept any system as dogma.
Bonnard's work from the early years of the twentieth century manifests a certain Fauve-related influence. The advent of Cubism, however, held little interest for him. Instead, he reverted to the very Impressionism against which he had rebelled in his youth. He visited Monet and Renoir frequently. Through his friendship with these aging masters, Bonnard's appreciation of the technical aspects of brushstrokes and the qualities of pigment was greatly enhanced. A new, sensual delight in textures and color is felt in his work from this period, which exhibits a tendency to dissolve form into particles of light.
During the years of World War I, a sense of dissatisfaction with his work led Bonnard to a renewed study of form and composition. The result was a greater emphasis on stability, linear accents, and sharp angles. Only after bringing form and composition under strict control did he permit himself to return to color, which now became even more brilliant than ever before.
Throughout his career, Bonnard preferred subjects culled from his intimate surroundings, and often painted similar scenes albeit with different accents. Many of his recurrent themes are present in The Dining Room. He frequently drew and painted his wife, Marthe, seated at a table or with their dachshund, and still lifes in isolation or as part of a room's setting. In our painting, Marthe's face is turned away from the viewer, seen in profile and covered by a shadow that suggests a pensive mood. The figure on the far right is truncated, seemingly in an arbitrary fashion, reminiscent of Degas's penchant for cropping. Only the little dog peers curiously at us.
All the protagonists exist in a flattened, shallow space, bounded behind by a wall whose geometric architectural elements lock the central figure in place and stabilize the composition. In front of them is a large table, tilted upward in Cézannesque fashion, the rectangles of its tablecloth echoing the angular background wall. In contrast to the figure's relative flatness, the fruit on the table, a grand example of Bonnard's talent as a still-life painter, is fully modeled through a careful manipulation of color alone. In fact, it is the color, as well as its mode of application, that comprises the work's most outstanding aspect. The entire painting glows with a golden light, and abounds with free and arbitrary combination of color harmonies and contrasts applied in short strokes and multiple, overlapping layers.
From the Israel Museum publications:
Rachum, Stephanie, The Sam Spiegel Collection, The Israel Museum, Jerusalem, 1993, English / Hebrew
Impressionist and Post-Impressionist Painting and Sculpture, The Israel Museum, Jerusalem, 2006, English / Hebrew
Sirakovich, Tanya, A Room of Her Own, The Israel Museum, Jerusalem, 2007
Exhibitions:
A Room of Her Own: Portraits of Women from the Israel Museum Collection, Israel Museum, Jerusalem, 12/04/2007 - 29/02/2008
The Sam Spiegel Collection, Israel Museum, Jerusalem, 22/06/1993 - 29/08/1993
Digital presentation of this object was made possible by:
Ms. Joan Lessing, New York and Jerusalem