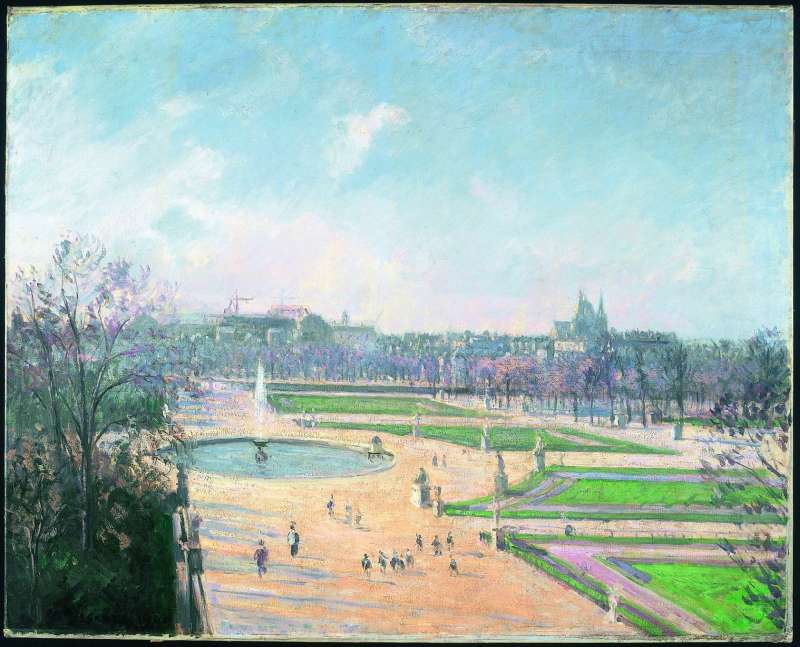 Although Pissarro had painted the quays of Rouen as early as 1883, his first systematic exploration of city series painting, which was also undertaken in Rouen, dates from 1896. Subsequently, he continued his investigations of this theme in Dieppe, Le Havre, and Paris, creating eleven series of city views, comprising more than three hundred canvases. Here, more than in any of his other endeavors, the desire to capture a constantly changing, optical reality is most apparent.
Pissarro, who for the majority of his career had been known as a painter of rural life, now found himself intrigued by the sights and movement of the city. It was also true that his dealer Durand-Ruel found that the artist's urban views were more salable. In addition, in 1888, Pissarro developed an eye problem, a tear duct inflammation, which plagued him intermittently for the remainder of his life and curtained his ability to paint outdoors. As a result, during bad weather, he had to be protected from the cold and wind behind a glass window. Initially he painted his city series from hotel rooms; later he rented apartments and stayed for more extended periods. His modus operandi was to shift his view sequentially right or left, creating a series of canvases that eventually encompassed a panorama of his visual field. Though the works were clearly related, he viewed each painting as capable of standing on its own.

A few months after completing Morning, Sunlight Effect, Eragny, Pissarro returned to Paris. The previous year, 1898, he had rented an apartment there, partly for financial reasons, partly for reasons of comfort. Eragny was cold and damp in winter, and he wanted to keep his family (his wife and younger children) together. To his son Lucien he wrote "I am going to buy some furniture so that we can go to Paris every winter as soon as the bad weather returns. I am also hoping that your mother, Cocotte, and Paul will be less bored than if they stayed on their own in Eragny, which is really not very jolly in winter." The apartment he settled on, 204 Rue de Rivoli, had window views of the Tuileries Gardens and the Louvre. The Tuileries series he executed there is composed of two groups of fourteen works each, one painted in 1899 and the other, which includes The Tuileries Gardens, Afternoon Sun, in 1900.
A combination of park and city, the Tuileries series is informed by an architectonic strength that derives from the planned nature of the gardens, designed by André Le Nôtre between 1664 and 1679. Pissarro's elevated vantage point emphasized its symmetrical layout and the interplay of circles and geometric elements. These are counterbalanced by foliage and the irregular line of buildings in the background, at the center of which is the Gare d'Orsay, then under construction, the crane visible against the sky. Pedestrians further animate the regular paths, introducing a living, human tempo. Here Pissarro makes use of thinly applied paint, which mirrors the cool, crispness of the day, and permits a clear, firm presentation that echoes the order and harmony of the garden.
From the Israel Museum publications:
Impressionist and Post-Impressionist Painting and Sculpture, The Israel Museum, Jerusalem, 2006, English / Hebrew
Digital presentation of this object was made possible by:
Ms. Joan Lessing, New York and Jerusalem